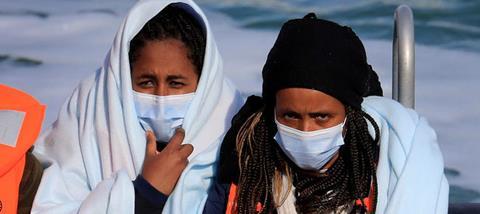 In early August, as a heatwave swept England and drove people out of the stifling confines of lockdown to the coast and its beaches, a very different group of people embarked on a journey to the seaside.
Some 235 migrants were intercepted trying to cross the English Channel by boat on 6 August, a record for a single day. More than 1,000 migrants were brought ashore by the Border Force in the first half of August alone. Since then, it is thought thousands more have attempted to make the treacherous crossing. Yesterday, we learned that two children and two adults have died after their boat sank off the coast of France.
While 7,400 people have attempted the crossing so far in 2020, this number is actually a fraction of the UK's overall immigrant population. Last year, 677,000 people moved to the UK as long-term immigrants and 34,000 people applied for asylum. Nevertheless, as the number of migrants attempting the perilous crossing climbed, the Home Secretary, Priti Patel, pledged to make the route "unviable", and said the Home Office was exploring military involvement. Prime Minister Boris Johnson described the crossings, which have been taking place since 2018, as "very bad and stupid and dangerous and criminal".
Risking Everything
Many of those who attempt the crossing, which is usually arranged by people smugglers, come from Iran, Iraq, Afghanistan and Eritrea. Sarah Teather, a former Liberal Democrat minister and chair of the All-Party Parliamentary Group on Refugees, now director of the Jesuit Refugee Service UK, explains that those who do try to reach Britain are a minority. Most stop in neighbouring countries such as Lebanon and Turkey, or in France, which received 119,000 asylum applications in 2019. Those few who do try to reach Britain usually have family or community ties, she says.
"They are asylum seekers. That's the first thing," Teather says, referring to the debate surrounding acceptable terminology. "And the problem is we've systematically closed all the safe and managed routes into the UK, forcing people into the hands of people smugglers. See it from a refugee's perspective: if you come from a country where all of your relatives have been killed by the Taliban and your only relative is an uncle in Cardiff, you're going to be prepared to take enormous risks to unite with the one family link you've got. If you've been cut loose from all your roots, all your heritage, you're going to risk everything to be close to people who you love and make you feel at home. From a Christian perspective this is really important: Christianity is a faith that recognises the importance of family and community. It's incumbent on Christians to read it through those eyes."
Refugees or Migrants?
Not all Christians accept that the people who attempt the dangerous crossing are truly afflicted. Ann Widdecombe, a former MEP for the Brexit Party, says that most are "economic migrants" looking for a better quality of life. "Our responsibility as Christians is to look after those who are genuinely fleeing persecution and are in need of asylum. Nobody would deny it. But the overwhelming majority of those coming over on boats are not fleeing persecution. Our reputation abroad is that if you can get in, you're unlikely to be removed. It doesn't help the genuine refugee if he's held up in the queue with 100,000 other migrants."
Jonathan Arnott, also a former MEP and a Christian, agrees. "Government's role is stewardship: to balance future economic prosperity, prioritise those most in need, and protect our national security. Those coming from Calais are overwhelmingly young, able-bodied men with sufficient financial resources to pay traffickers, arriving in the UK from a safe country. We should be tougher on this 'bad tree' of dangerous, criminal-backed routes – yet do far more to assist the millions of needy and vulnerable people stuck in appalling conditions in refugee settlements."
But for the Christians who work with migrants, the division of migrants into deserving and undeserving is troubling. "The phrase 'economic migrant' is a slur and a lie," says Rev David Butterworth, a Methodist minister in Birmingham. "These people are really desperate: that's why they're doing what they're doing. Nobody would carry two little children across the Channel in a rubber dinghy unless they were desperate."
Rev Butterworth's lobbying – with the blessing of his church – has seen Birmingham agree to resettle 550 Syrian refugees. To those who feel asylum isn't a faith issue, he says: "Wake up. What part of the good news says do not welcome strangers?" Rev Butterworth gained the support of the Methodist Synod for his work with migrants, and its network in Birmingham was among the first to offer to sponsor a refugee family. "But I still occasionally get letters from church people telling me: 'This is not in my name'. That is very hard to understand," he says.
Escalating Rhetoric
Evidently, Christians are divided about how involved churches should get in migration politics. Yet all those I spoke to believe that there is a biblical mandate to help the stranger in need. Churches could be instrumental in providing an alternative to people smugglers and deadly crossings, through resettlement schemes and sponsorship. Perhaps a second tragedy that has emerged is the weaponisation of asylum and immigration into a divisive issue that splits denominations and parishes apart. That is not the fault of the refugees; they are the victims of escalating rhetoric on either side of the debate.
Teather, who has seen the heart of government, warns: "Whether there's political capital or not in the short term from making a scapegoat out of the very vulnerable people who are crossing the Channel, I think it's important that politicians understand their responsibility for the greater common good. Politicians have the power to liberate or keep certain forces in check. They bear great responsibility for the moral condition of society."
This article originally appeared in the print edition of Premier Christianity magazine. Subscribe now for only £4.95/month