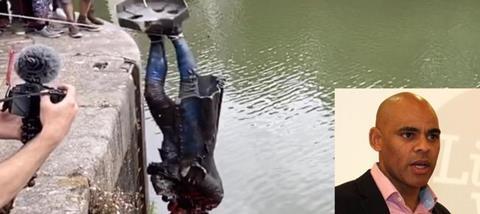 As an elected politician, I can't condone criminal damage. And I'm obviously concerned about the mass gathering at the weekend. But that statue of a slave owner was an affront to me. And the scale of feeling shouldn't be ignored.
Tearing down a statue is an incredible moment for Bristol. It's a moment that historians will talk about.
What the Bible says
We need to look at our political and economic system and learn the lessons from the Bible, because racism includes economic inequality.
Social reconciliation depends on economic and political redistribution of power. The story of Zacchaeus is about reconciliation, but it's dependent on him giving back the money he stole. Too often people see forgiveness and grace as cheap. It's free but it's not cheap.
Or look at Jesus in the temple: There's a system that has been set up to exploit the poorest and most vulnerable. Jesus says, "This is supposed to be a house of prayer for all nations, but it's been turned into a den of thieves." We have a planet that was given to us. But the raw materials and the economic structures have been turned into a means of exploiting people and creating a hierarchy.
Jesus drives them out. And it's premeditated. He goes away, makes a whip and comes back. So anger is not a problem. Outrage is not a problem. Driving injustice out of our systems is not a problem. But contrast that anger with the beautiful story in the next moment when the blind and the lame come to Jesus and he heals them. That story is told in all four gospels. It means something. We need to take note.
Dismayed by American Christians
There's a conversation to be had with Christians in the USA. And I don't mind taking the gloves off, because I think the Church urgently needs to talk about this.
I've been absolutely dismayed at the white conservative evangelicals, who prop-up Trump and have sold their souls in doing so.
How do people perceive the Church right now? If the testimony is 'we're prepared to sacrifice all our values for the sake of keeping a Republican in the White House', I think we're all going to struggle to recover from that reputation. I'm left wondering - like Martin Luther King did in his letter from Birmingham Jail - if we even worship the same God?
Holding the Bible or quoting from it is no sign that you have access to the truth.
I want to ask the people who claim to vote on moral issues: What about how black and brown people have a higher likelihood of ending up in jail, in mental health institutions or dead?
I don't mind naming names. Franklin Graham is an apologist for the President and I'm absolutely horrified by that. I think its absolutely shocking. I'm reminded of those Old Testament prophets who just spoke positivity into the ears of kings who were not following God's will. They spoke peace where there was no peace, and we can't do that. We're not supposed to be going out there and being palatable. We're supposed to tell the truth and be a voice for the voiceless, dispossessed and marginalised.
We go around claiming to be the people who have the message of eternal reconciliation with God - the year of Jubilee and the year of the Lord's favour. But if we can't be trusted to bring about earthly Jubilee with temporal issues such as economics and politics, how on earth do we think we have any hope of communicating eternal Jubilee?
Marvin Rees was speaking to Premier's Cara Bentley. He was elected mayor of Bristol in May 2016. On that day Bristol became the first major European city to have elected a mayor of black African heritage. He describes becoming mayor as another expression of a deeper commitment to building a fairer, more inclusive world. He began his working life with Tearfund, before working in the US with Tony Campolo at Sojourners. On returning to the UK he worked with BBC Bristol as a Broadcast Journalist, with the Black Development Agency supporting the BME-led voluntary sector and NHS Bristol's Public Health team on Delivering Race Equality in Mental Health.
Premier Christianity is committed to publishing a variety of opinion pieces from across the UK Church. The views expressed here do not necessarily represent those of the publisher