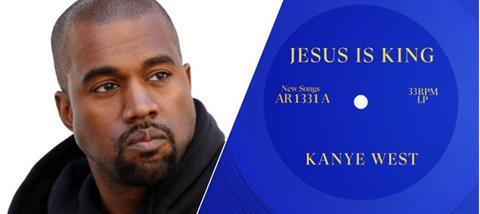 "I was never new 'til I knew of / True and living God, Yeshua / The true and living God / Somebody pray for me"
This is just one of many lines from Kanye West's new album Jesus is King, which is currently thrilling Christians everywhere.
Make no mistake, the hype is deserved. Jesus is King is a full-on Gospel album. Unlike the rest of Kanye's music to date, there isn't a whiff of questionable content or a syllable of bad language. Instead, this Christ-focused album is packed full of eternal truth. There's multiple references to "Jesus is Lord", direct quotes from scripture, solid theology and even a touching tribute to Chick Fil-A, who could surely use a boost, following the bad press they received last week.
The long awaited album also features Gospel music mega-star Fred Hammond on the track 'Hands On', from which the above lyrics are taken. The song is a rebuke to the many Christians who have poured scorn on Kanye's new found faith: "Said I'm gunna do a gospel album / What have you been hearin' from the Christians? / They'll be the first one to judge me / Make it feel like nobody love me / Told people God was my mission / What have you been hearin' from the Christians? / They'll be the first one to judge me / Make it feel like nobody love me."
I was convicted as I listened to those words. I have to admit I've doubted Kanye's faith. When rumours first started circulating of his conversion, I was skeptical. To my shame, I even doubted one of his pastors (and the man who presided over his marriage to Kim Kardashian) Rich Wilkerson Jr when I first met him a couple of years ago, and admitted as much when I wrote up the conversation for this magazine.
On the release of Jesus Is King, I clearly owe Kanye an apology. As far as I'm concerned, this album is a clear confirmation that Kanye West is a born again Christian. After all, "no one can say, "Jesus is Lord," except by the Holy Spirit" (1 Corinthians 12:3).
I'm just a Christian...everything
It's been fascinating to watch the reaction to Jesus is King over this past weekend. Plenty of figures in the mainstream media haven't known what to make of this development. Jimmy Kimmel hesitated as he inquired, "Would you consider yourself to be a Christian music artist now?" Kanye's reply couldn't have been better: "I'm just a Christian...everything."
Kanye was on similar form when interviewed by Zane Lowe. The artist said he'd asked people to pray and fast, and even abstain from pre-marital sex during the making of the record: "When people pray together and fast together, the power is increased."
Later, Kanye turned into an evangelical preacher: "My job is to spread the Gospel, to let people know what Jesus has done for me," he said, adding "I've spread a lot of things. There was a time I was letting you know what high fashion had done for me...but now I'm letting you know what Jesus has done for me. I'm not longer a slave. I'm a son now, I'm a son of God. I'm free."
Is he sincere?
It's difficult to argue with what Kanye has said following his apparently recent conversion. Of course, if we were to delve into his past statements and his old music, we'd find all sorts of worrying content. But beware those who try to discredit Kanye's newfound faith by digging up old quotes. If Kanye has been born again then the old is gone and the new has come. Let's celebrate the new, not judge him for the old.
I'm not advocating naivety. I've watched enough interviews with rap's most fascinating character to know West's behaviour can be erratic. It is possible this is just another 'phase' in the colourful career of Kanye. But it seems far more likely that the biggest name in pop music has had a real encounter with Christ and is now set on telling the world about it. So rather than pouring cold water on his profession of faith, shouldn't we be celebrating what is surely a miraculous answer to the prayers of many, not least the prayers of his own mother?
Even if I end up eating my words in a few months time as it turns out this was just a clever publicity stunt, we should take heed of the Apostle Paul's words in Philippians 1. After pointing out that some are preaching Christ out of "selfish ambition" and are not sincere, he adds "But what does it matter? The important thing is that in every way, whether from false motives or true, Christ is preached. And because of this I rejoice." (v15-18)
As Rich Wilkerson Jr pointed out during our interview, every moment of Kanye's life and career is put under the microscope of the media. Everything he does - good or bad - is commented on and critiqued. "In my time of getting to meet some high-profile celebrities I think you start to feel for them in a lot of ways. When you get close to someone, you start to see their story – and compassion comes." So while we can rejoice at Kanye's confession of faith, we should be careful not to place unreasonable demands on him. As every Christian knows from experience, just because you worship Jesus, that doesn't make you perfect. Let's not demand perfection from Kanye.
Heaven rejoices over every individual sinner who repents and puts their faith in Christ. So there's a sense in which Kanye's conversion is no different to any other person's. However, we must not close our eyes to the fact Kanye's influence is colossal. One youth pastor tweeted this weekend:
Because of the #JesusIsKing album, I've had more real conversations about Jesus with my lost friends who I grew up with, and with teenage guys I disciple in the last 24 hours than I have in 5 years.

Dear @kanyewest, God is using your album to spark Gospel conversations. Gracias!

— Rondell Treviño (@Rondell_Trevino) October 27, 2019
Something is stirring in the music industry. Justin Bieber is leading worship, Snoop Dogg has released a Gospel album called Bible of Love. And we've all been hearing Stormzy's 'Blinded by Your Grace Pt 2' on the radio for months...
God is at work. And given that Coldplay announced an expletive-laden album on the same day that Kanye West released an album praising Jesus, perhaps it's time to 'expect the unexpected' when it comes to faith and the music industry.
Have you got a view on Kanye's new album? The UK's biggest Gospel radio station, Premier Gospel, has made 'Hands on' their track of the week. Listen here and let them know what you think!
Enjoyed that? Get more articles covering news, culture, faith and apologetics in every print issue of Premier Christianity magazine. Subscribe now