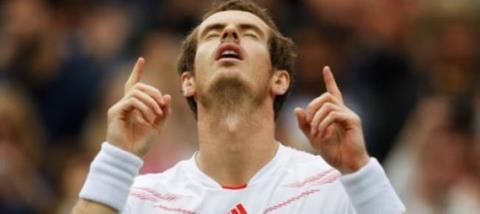 Novak Djokovic
One of just eight men to have won all four Grand Slams, Djokovic will be remembered as one of the true greats of the sport. Born in war-torn Belgrade, he began playing tennis at the age of four. He has previously described himself as an "orthodox Christian" but "less a religious person than a person of faith". In April 2011 he was given the highest honour by the Serbian Orthodox church for his "active love towards the Mother Church" as well as his humanitarian work. He described the award as the most important thing he's ever received. He carries a wooden cross at all times - even on court.
Simona Halep
Hailing from Constanta in Romania, she too began the sport at the age of four. In an interview published by the ATP, Halep described religion as an important thing in her life. "I believe in God, and, you know, I don't go to the church every week," she said, "but I believe in him, and I just have some [icons] with me and I believe in them."
Juan Martin Del Potro
In 2013 Del Potro had his briefcase stolen while he stood signing autographs. His biggest loss? Not money, not travel documents but his rosary beads which had been blessed by Pope Francis when the two met at the Vatican earlier in the year. Speaking about his faith in an interview with the Telegraph, he said: "I go to church in Argentina and I try to keep it up during the tournaments. Sometimes it is difficult to find a church, and then there is the problem that people follow you everywhere. But I try to be close to one whenever I can." Speaking about conversations with the Pope he described himself as a better person after the meeting.
Coco Vandeweghe
USA's Coco Vandeweghe credits her on-court success to her grandmother forcing her to preach at church. Speaking in 2015, she said: "She made a big deal of me being able to go [to] church and made me do talks in church so I could speak in front of a group of people and be comfortable with that at a young age." Vandeweghe made the semi-finals at the Australian Open earlier this year. Coached by former Wimbledon winner Pat Cash, she'll be hoping to emulate his success at the All England Club.
Lauren Davis
While Davis has never gone past the third round of a Grand Slam tournament, she is often seen thanking God on court and has been outspoken about what her faith means to her. In an interview with unashamedathletes.com she said: "After I gave my life to Christ, I went through one of the hardest times in my life and through it all, I became much closer to God. He was my solid rock and my firm foundation and the only one who truly could understand what I was going through. He was patient with me and he held my hand and loved me through it all. When I saw no end to my suffering, he encouraged me by giving me a vision of what I could be."
And the one you're all wondering about...
Andy Murray
One of Britain's most successful athletes in any sport. The former world number one has remained coy on the issue of faith despite his famous pointing-to-the-sky celebration. When asked about the meaning behind it, he said: "Well it's something for me and the guys that I work with. I don't really want to go into too much detail because I'll end up getting asked about it every single day."
"Whether it is [about religion] or not, I'm not going to tell anyone."
Click here to request a free copy of Premier Christianity magazine