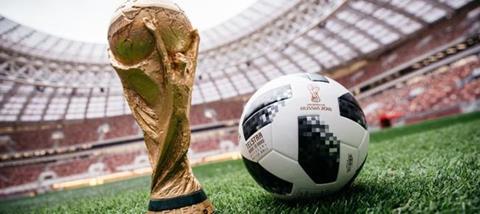 1. Willian Borges da Silva
Nationality: Brazilian
Club: Chelsea
Age: 29
Position: Attacking midfielder
The Chelsea superstar will be looking to put aside a disappointing domestic season with the Blues as he prepares to aim for World Cup glory with his national side, Brazil.
Willian has been one of a few standout figures for Chelsea this season. The attacking midfielder is blessed with electric pace as well as an abundance of jaw-dropping skills in his locker. With all the ability in the world to set the World Cup alight, Willian is just one of a number of outstanding talents in the Brazilian side. The team is one of the favourites to lift the trophy.
The 29-year-old is a devout Christian and has openly discussed how his walk of faith helped him through testing times throughout his life. Speaking to?The Standard, Willian recalled how he had to lean upon his relationship with God to help get him through the tragic loss of his mother.
"It has been the toughest season of my career. Everyone knows what happened to my mother.?It was very hard to play football after my mother passed away. I was so emotional and physically I didn't feel good.?I have had so much help, firstly from God, Jesus Christ, my wife and two daughters, my dad, my sister and friends."
It's important to remember that footballers are also human beings. They suffer like we suffer – all the money and fame in the world can't satisfy. As Willian continues his personal walk of faith with Jesus, it will be great to watch the Premier League star in action knowing that he is an ambassador of Christ.
Willian is one of the most talented footballers in Europe today, will he be one of Brazil's bright sparks this summer?
2. Juan Cuadrado
Nationality: Colombian
Club: Juventus
Age: 30
Position: Attacking Midfielder
The tricky winger, Juan Cuadrado is one of Colombia's biggest attacking threats. The Juventus star has been a sensation for the Italian giants after joining the Serie-A team despite a slow-start to life in the Premier League with Chelsea.
Cuadrado's pace and eye for a goal are without doubt his biggest assets. It will be interesting to see how Colombia fare in Russia after their formidable performance at the Brazil World Cup back in 2014.
The Colombian often uses social media platforms to share his faith with his followers. The 30-year-old posts images of him giving God the glory while on the pitch, kneeling down and raising his hands to the skies in awe.
Cuadrado often gives thanks and praise to God for all things that the beautiful game has gifted him and it's refreshing to see such a high-profile individual humbling himself in-front of the crowds. If he bags himself a goal, be sure to see how he celebrates because the boy has got some silky dance moves as well!
3. Keylor Navas
Nationality: Costa Rican
Club: Real Madrid
Age: 31
Position: Goalkeeper
Real Madrid and Costa Rica shot-stopper Keylor Navas will be entering what could be his final World Cup. At 31-years-old, Navas has a wealth of experience at both club and international level which will?surely help stand his side in good stead. But it's Navas' experiences off the field which have been the most influential in his life.
Speaking with Spanish newspaper?El Mundo,?Navas said, "My faith is the most important thing. I believe that, the moment I had a very personal relationship with God and I really knew what his Word said, it was not about religion.??It was about knowing that what the Bible tells us is what he has left us."
Football careers come and they go. They are short lived and players must do all they can do seize the moment. Despite playing for one of the greatest clubs on the planet in Real Madrid, Navas is still assured that his faith is the most important thing to him.
Costa Rica provided a huge upset in the last World Cup, helping dump out England in the Group Stages – but how will they get on this time around in Russia?
4. Odion Ighalo
Nationality: Nigerian
Club: Changchun Yatai
Age: 28
Position: Striker
The former Watford striker took the Premier League by storm when he propelled the Hornets up England's top division thanks to some outstanding performances. The Nigerian will be looking to emulate such form heading into the World Cup in Russia.
Ighalo has openly voiced how blessed he feels to be playing the game he loves. Speaking to?Cross The Line, Ighalo said his Christian faith means "a lot" to him: "Not just on the pitch, but in my life, everything I do. I have God first. I can't go out of the house in the morning without praying, thanking God for a new day. Some people cannot walk, some people cannot see or go out, so everyday I wake up I thank God for a new opportunity.?I also do a special prayer before a game too, so my life is all about God and praying to him and thanking him. I'm trying to do my best, I read my Bible too, I'm not perfect but I try and live my life for God."
The Eagles will be hoping Ighalo can tally up some goals to get the African side firing on all cylinders in Russia this summer.
5. Radamel Falcao
Nationality: Colombian
Club: Monaco
Age: 32
Position: Striker
Widely viewed as one of today's great strikers, Colombian forward Ramdel Falcao will be leading the South-American side's front line in Russia. The veteran striker has had an illustrious career in Europe, playing for the likes of Atletico Madrid, Monaco, Chelsea and Manchester United. While Falcao's form may have taken a dip during his spell in England, it's hard to criticise a player who has scored goals for fun throughout his career in some of the world's top leagues.
There's no doubt Colombia pose a bigger threat with Falcao in their ranks, the striker is deadly in-front of goal and will be looking to prove any doubters wrong at the World Cup this year.
While many fans will pay attention to Falcao's impressive goal-scoring stats, others will have seen him in the limelight for other reasons. The former Manchester United loanee is also a Christian and one that certainly doesn't shy away from his faith. The 32-year-old has been pictured taking off his jersey to reveal a vest top with, "Believe and you will see the glory of God" written on it. Falcao makes the most of his high profile to share his passion for Jesus with his followers and football fans across the world.
He is a youth group leader at his evangelical church in Buenos Aires and even met his wife there. He is also heavily involved in projects to help disadvantaged children.
As well as being a phenomenal footballer, it's quite evident he's a half decent guy too!
Ollie Baines is the co-founder of Cross The Line (xtheline.co.uk) a faith and football organisation that looks to share the Gospel. His first book Cross The Line: Christian footballers talk God, faith and the beautiful game it out now
Click here for a free sample copy of Premier Christianity magazine