This week marks one year since Russia triggered the largest armed conflict in Europe since 1945. As the war continues, Emma Fowle takes a look at the people and places still affected, and how the Church is helping
A year after the first Russian rockets landed on Ukrainian soil, the toll on Europe's second-largest country has been immense. Intense shelling, particularly in the east and south, has reduced large swathes of the country to rubble, with cities such as Kyiv, Zaporizhzhia, Kharkiv and Dnipro paying a particularly heavy price. Exact numbers are still hard to come by, but estimates from the Ukrainian government and the United Nations (UN) indicate that tens of thousands of people have died.
From the now-infamous siege of Mariupol (February-May 2022) to the blockading of ports and the targeting of energy infrastructure, hospitals and civilian populations, Russia's invasion of Ukraine has caused the largest refugee crisis in Europe since the second world war. According to the UN, at least 5.9 million refugees have now fled the country, and another 8 million have been internally displaced. Within one month of the start of the conflict, more than half of Ukraine's children had lost their homes.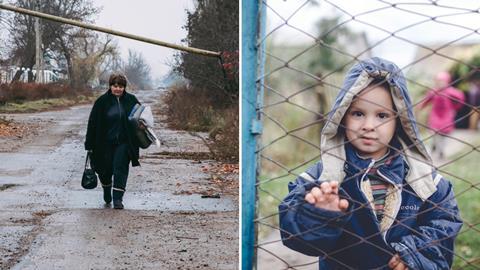 I HAVE NEVER SEEN SO MUCH EVIL AND SO MANY GOOD DEEDS AS I HAVE OVER THIS PAST YEAR
As the bombs continue to fall, Christians inside Ukraine, in neighbouring countries and here in the UK have been doing what the Church should always do best: be the hands and feet of Jesus.
A practical response
Out of 35.6 million people who were living in Ukraine at the start of the conflict, the UN estimates that 17.6 million now need humanitarian assistance. For Mission Without Borders, who have been working in Eastern Europe since 1990, longstanding relationships with local church partners were key to a quick response.
As winter temperatures plummet to -20CF and war continues to take its toll, they provided the following stories of heartache and hope from within Ukraine:
Misha Vavelius - a writer and photographer from Ukraine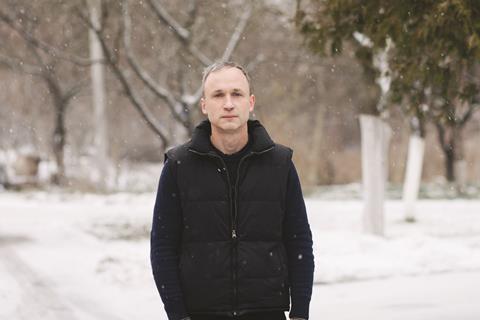 What has changed in these months? Ourselves. There has never been such unity among our people. Everyone is helping and supporting anyone who's in bigger need than themselves. We have begun to pray a lot, because we believe that God's protection can stop the missiles that hit our homes.
We have been learning to be more thankful: for electricity a couple of hours a day, for warm radiators in the house, for a hot meal. We are thankful for the people from abroad who donate generously and try their best to support us. I am amazed at the fact that worldwide, people have united to keep Ukraine alive through this cruel war.
The Bible says: "Do not be overcome by evil, but overcome evil with good" (Romans 12:21). I've never seen so much evil and so many good deeds as I have over this past year. Our belief is that good will overcome evil.
The Orlovs - a refugee family from Kherson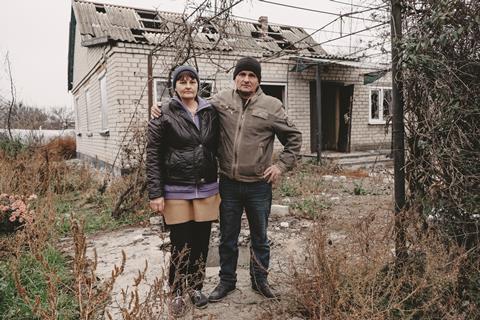 The war began and we suddenly found ourselves on the frontline. It was a nightmare we couldn't wake up from. Everything we used to love was erased by bombings and shelled to the ground. Thankfully we managed to escape to a safer area.
Over time, our frustration turned into anger, our anger into resentment. Then sadness and a slight hope came. Then the hope became stronger and turned into a deep longing for victory and peace. Peace became the most desirable and precious thing to all of us.
In the Bible, Jesus is called the "Prince of Peace" (Isaiah 9:6). When my mind recollects the unrelenting bombardment, the horrifying destruction that I saw, and my neighbours lying covered in blood, my only comfort is setting my heart to focus on the Prince of Peace.
Our village was recently liberated, and it became safe to return. We will rebuild our village, no matter how difficult it may be, and it will become our personal victory.
Volodymyr Brychka - a pastor from Rivne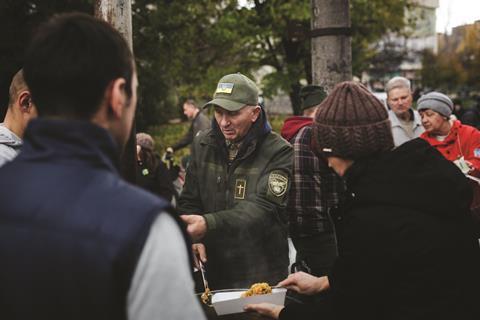 I will always remember the first weeks of this war, when thousands of people needed to be evacuated because Russian troops were destroying our towns and villages, and we were doing our best to help as many people as possible get out of that horror.
One time, we were evacuating children from an orphanage. The route was dangerous due to constant shelling. There wasn't enough space in the bus for everyone, so each person had a terrified child on their lap, who they were trying to calm and comfort. I will never forget that evacuation operation.
We are witnessing huge needs – and a huge need for God's light to be poured out on people who have lost loved ones, who no longer have a place to live, who have become injured and who are suffering from the traumatic experiences they've endured. It is a big challenge. Prayer is vital and will keep our hands strong and able to work. I am extremely grateful to all our friends from abroad who support us. Your help has had an incredible impact.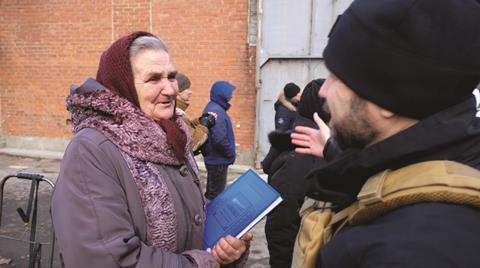 500,000 BIBLES
Alongside practical aid, Anatoliy Raychynets of the Ukrainian Bible Society says there is also a very real need for spiritual assistance in Ukraine. Based in Kyiv, his organisation has been distributing food, delivering medicines, ministering to frontline troops and people in bomb shelters, rescuing the elderly from the ruins of buildings and giving out Bibles. Lots and lots of Bibles.
In the past eleven months, they have distributed half a million Bibles, he says. Young and old, those whose own Bible has been destroyed by bombs and those who have never read or owned a Bible in their lives are eager to read the word of God. Despite the hardships facing Ukrainians, there is genuine spiritual hunger in the nation, he says.
Raychynets recently visited Kramatorsk, a city in Donetsk that has seen heavy shelling. He asked the pastor if there was anything he especially needed. "He said: 'Bring us hope.'"
"Of course, people need humanitarian aid," he continues, "but I think, maybe even more [they need] words of hope, encouragement." Wherever he travels, he says, when people find out that he is a Christian: "People are running to talk, to pray, to ask questions."
Raychynets also visits the frontline, distributing military-edition New Testaments and praying with soldiers. They cannot make it to church, he explains, so the Bible Society goes to them.
In one video, Raychynets and a group of soldiers pray the Lord's Prayer. As they stand together in a circle, bombs can be heard in the background. Despite this, the group appears unmoved. "I learned through all this time that when we pray or read the Bible, a special peace comes to our hearts," explains Raychynets. "I am privileged to be part of this very special ministry."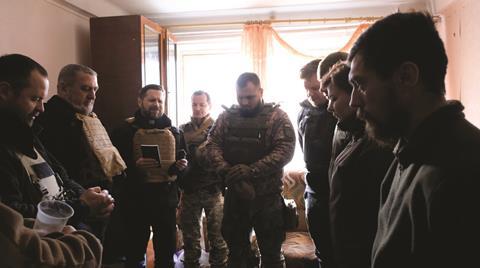 Finding sanctuary
In the UK, Krish Kandiah, who set up the Sanctuary Foundation, says the response of the Church has been "absolutely breathtaking". Having worked with refugees for many years, he set up the Sanctuary Foundation after the "frustrating" speed of the British government's response to the Ukrainian refugee crisis. In an "incredible outpouring of hospitality", 29,000 people pledged support within days of the campaign launching.
"Many of those people coming forward were from churches, Christian individuals and families," he says. "And so we made that offer to the UK government, and said: 'Look, civil society, churches, individuals – we want to help you. Why can't we do this together?' The Homes for Ukraine scheme was born. The government opened its own portal, and 100,000 people signed up in a matter of days."
Nearly a year later, more than 107,000 Ukrainians have been placed in homes across the UK – a response that Kandiah says is unmatched in the history of our nation. "The closest equivalent would be the Kindertransport in 1939, when 10,000 Jewish children were offered accommodation in ordinary folk's homes."
A place of pilgrimage
A few miles outside Tavistock, West Devon, sits St Michael de Rupe, the fourth smallest parish church in the UK and the highest working church in England. Sitting atop Dartmoor's Brent Tor, the tiny twelfth-century church may seem an unlikely gathering place for a Ukrainian community. But, during the summer of 2022, Rev Hazel Butland noticed that several Ukrainians were regularly visiting the church, named after the patron saint of Kyiv, to pray.
"It made us realise how important the patron saint was to them and, therefore, how important the church was to them as well," says Rev Butland.
In September, the team adapted their Michaelmas service to include bilingual Bible readings and a time of prayer for Ukraine. "It was amazing," says Tania, a Ukrainian who moved to Tavistock with her family a year before war broke out. "They thought about this, and contacted our community, inviting us to join them for the service."
"We didn't think anybody would turn up," says Rev Butland, "but seven Ukrainians came. They formed a circle and read Psalm 23 to each other in Ukrainian, and that felt very powerful. And then we prayed."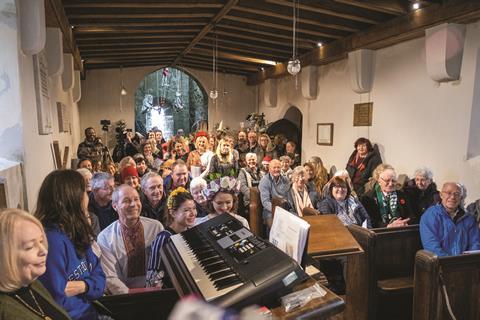 The event was so successful that the church hosted an Orthodox Christmas Day service on 7 January 2023. It included a Ukrainian nativity play by local children, carols and readings in both languages and a twelve-dish Ukrainian Christmas meal. One hundred and one people, including 63 Ukrainians, packed out the tiny church, which usually seats just 40.
"The service meant a lot," says Tania, "because it was the opportunity for us to feel connected to our country and share our traditions." It is "very important to have faith," she adds, explaining that religion gives the refugees strength to continue.
Despite its rural location, this part of Devon has seen a strong response from local churches working together – Quakers, Methodists, the United Reformed Church, CofE and others – to welcome refugees. And it is clearly having an impact. "The Christian community was among the first who offered support," says Tania, "and the most helpful."
Although she was not a regular churchgoer in Ukraine, Tania now attends Bible study and church services at the local Methodist church. She says she likes going to church in the UK. "They include you, even if you don't know how to behave, what to do," she says. "You get supported and welcomed." Across the Diocese of Exeter, 82 Ukrainians have been placed with 32 local families.
As well as praying for peace in Ukraine, Tania "would also ask the Church to pray for Russian people".
"I understand some people now hate Russia," she says, "but I can't hate them. What's happening now is very sad, but I don't want the Russian soldiers to die either. It's awful. I feel equally sorry for both countries," she says.
Do not grow weary
As the war stretches into its second year, the Sanctuary Foundation are urging Christians not to "grow weary in doing good" (Galatians 6:9). From the early days of seeing 29,000 host homes sign up in a week, "now we're lucky to get five or ten a month," Kandiah says. Alongside welcome, they are also working on projects to help refugees – whether from Ukraine or elsewhere – into work and long-term housing.
As well as the impact it has on those we help, putting our faith into action can also profoundly impact our own relationship with God. One lady who attended a Sanctuary Foundation webinar started a support hub for Ukrainians and their hosts. Through her work, more than 300 people have now found homes.
"Just last week, she messaged me," says Kandiah, "and said: 'You know, my faith wasn't really doing anything, but being involved in this, and meeting so many Christians who have a heart to share God's love for others, it's made me want to know more. Can you help me sign up for an Alpha course?'" When people get involved in God's work, it "unlocks something", he says. "When there's an opportunity to help people in need, the Church shines the brightest. It's just an amazing thing to witness and be part of."
A prayer for Ukraine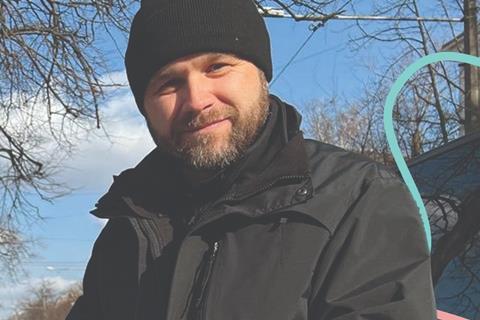 Heavenly Father,
We pray together for the situation in our land. Lord, we pray for your protection.
We pray for a miracle; to bring back peace to Ukraine, to the people who suffer so much because of war.
We pray, Lord, that the enemy will run from our land and that you will protect all people who are defending our common hope.
Lord, bless everyone, and let your peace be in our hearts and in our minds.
Let tears be taken away with your hand from many people who feel pain right now.
We pray in your holy name.
Amen.

Emma Fowle is assistant editor of Premier Christianity and editor of Voice of Hope, Premier's quarterly devotional magazine. Emma is a trustee for Christian festival Creation Fest and lives in Cornwall with her husband and two teenage daughters. She loves to read, swim in the sea, play netball and lift weights with her dad.
View full Profile