Faced with the aftermath of a pandemic, rising food bills and soaring energy costs, more people are finding themselves struggling to make ends meet. Premier Christianity brought together three leading activists for a roundtable discussion on how the Church can provide hope, practical help and campaign for change
The number of low income households has tripled since the start of Covid-19. According to the Joseph Rowntree Foundation report, 4.5 million people have taken on extra debt to get through the crisis and a third of low income households are behind with bills. There are 1.8 million children now living in 'very deep poverty' (where the household income can't cover basic neccessities). And the pressure on finances looks set to continue as families are hit by soaring food, petrol and energy prices. Inflation is now at a 30-year high, and an increase in national insurance and the scrapping of the pension triple lock will further impact those on low and fixed incomes.
The Trussell Trust, the Christian organisation that runs most of the UK's food banks, has seen a 74 per cent increase in demand for emergency food over the past five years. Meanwhile, the End Fuel Poverty Coalition believes energy price rises could force half a million more people to choose between eating and heating. Faced with so much need, is this an opportunity for the Church to be the hands and feet of Jesus, or by continuing to plug the gaps are we simply propping up a broken system? We sat down with three prominent Christian campaigners to discuss the issues.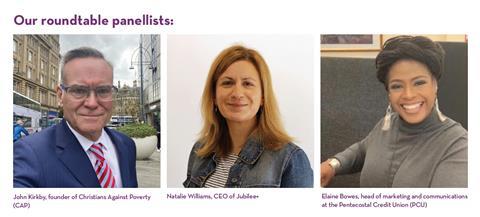 'Unprecedented' is a word that many of us have become sick of during the pandemic, but are people facing unprecedented financial pressure at the moment? What are you seeing on the ground?
Natalie Williams, CEO, Jubilee+: We're seeing so many different factors coming together. For those already in poverty, they're being pushed deeper into it. Those who were on the cusp have been thrown headlong into it. We're seeing people who've never experienced poverty experiencing it for the first time. People are devastated because they never imagined they would fall into rent arrears, need a food bank or call CAP. We're seeing a lot of people saying: "I've given to these different organisations financially. I'm someone who has regularly helped others and, suddenly, I'm in a situation where I [need help]." It has hit everyone hard, and it's going to get worse. It's not just the lack of economic resources, it's also the impact on levels of hope, and therefore mental health. It really is a crisis on all fronts.
Elaine Bowes, Pentecostal Credit Union: Our members are mainly from black African and Caribbean communities that are nearly twice as likely to be living in poverty than other communities. Through the pandemic, they were less likely to be furloughed, because a lot were working in the gig economy. One day they had a job, the next day they didn't. We worked with them to improve their financial resilience, to ensure that people understood about budgeting and were prepared for what's coming, that they understood what support was available.
Christians Against Poverty (CAP) surveyed 900 clients across the UK during the pandemic and more than a third said that they regularly had to go without meals. That seems like a huge number. Is it much higher than usual?
John Kirkby, founder of CAP: We're working with some of the poorest people in society, so you get those shocking statistics that really bring home the reality that hundreds of thousands of people are living in. You could very easily be overwhelmed by the tsunami of pain. But the thing that CAP has always done, and the Church does really well, is deal with what's in front of you. The anxiety, the fear of the unknown, can be dealt with just by sitting down with people, just by a budget. People are changed by people, and there are no better people in the world than people in churches who have a heart to help. So I refuse to be overwhelmed by it, but I'm conscious that the reality is very, very difficult.
IT'S THE FRUIT OF DECADES OF NOT TREATING THE POOR RIGHT
The food writer Jack Monroe recently tweeted the price rises of ten household basics over the past year (see illustration). She highlighted the fact that the 5.4 per cent inflation rise actually impacts the poorest disproportionally. Are you seeing that with the people you work with?
John: Someone gave me a huge speech about the pandemic being a leveller recently. I mean, give me a break! If you went into the pandemic struggling, you're coming out in a desperate situation. If your budget has got £5 of leeway in it, and things go up by £5, you're done. It's the fruit of decades of not treating the poor right. But at the end of the day, we have to roll our sleeves up. We can't be the ones that are overwhelmed, we've got to be the ones that bring hope.
Elaine: Communities that were already experiencing inequalities are facing even deeper inequalities. The fuel crisis is impacting poorer families more because they spend more on fuel. So when prices double, that's a serious impact – 43 per cent of people on universal credit are in food insecurity. That's a huge number of people. I would normally say: "Go back to your budgets, look at what you can change," but that's not going to work. For people who are in real crisis, the government does have to intervene. And as the Church, it's our role to lobby, to say: "You need to do something because this is a crisis."
THIS IS NOT A SURPRISE FOR JESUS. I'VE JUST GOT TO BELIEVE HE'S GOT A SOLUTION THAT'S AS BIG AS THE PROBLEM
Many people are either passionate about social action or feel we need to campaign more for political change. Is one approach better than the other?
Natalie: We firmly believe that if we're doing one without the other, we're not doing the whole of what God has called us to do. I could think of so many Bible verses, but Micah 6:8 "And what does the Lord require of you? To act justly and to love mercy and to walk humbly with your God" – these are the things we're called to do. If we don't campaign, we will be constantly trying to help people who are falling into crisis, again and again. If we say: "It's on the government to change legislation," then that's not the whole story. And if we say: "It's on the Church to pick up the pieces," that's not the whole story, either.
We try to equip churches to do both. To be literally loving your neighbour as yourself, using your own money, skills, time and energy for the good of others, but to not think: We mustn't say too much. We don't want to rock the boat. Actually, we must rock the boat when it needs rocking! The Bible tells us we're supposed to defend the rights of those in poverty. It's absolutely biblical that we should use everything at our disposal – our voices in terms of campaigning and lobbying, and our hands and feet in terms of practical action.
If ever there was a time for us to step up and campaign, it's now. We need to do it with humility, love, grace and mercy – which is really hard when you feel strongly – but we're followers of Jesus, so we've got to do it the way Jesus did. But we mustn't miss this moment. Not because it's an opportunity, but because it will be an absolute crisis for so many people if we don't.
I've heard it said that ethnic minority communities don't engage in political lobbying as much because they often feel disenchanted with the system. What's your experience within the churches that are part of the Pentecostal Credit Union?
Elaine: We have organisations that are encouraging black-majority churches to become more political, in
terms of using all our agency around politics to press for change. And I think that it's changing, but not at the level we need. It certainly doesn't match what the churches were doing during the pandemic. The number of churches that were immediately supporting their communities…the Church has amazing capacity in that way. But we haven't seen the political lobbying that needs to go with that.
Local authorities were saying how amazing churches were during the pandemic, but a lot of our churches weren't getting support from grant funders. They were first on the scene, supporting communities, having to deal with a lot of additional pressure. The government was giving out Covid [relief] money, but it wasn't coming through to our churches. Grant funders have this issue about proselytising and evangelism. Just because you are a Christian organisation, they ask: "Are you really using this money to work in communities, or are you actually using it to grow your ministry?"
THE UNEQUAL IMPACT OF INFLATION
Jack Monroe, aka @BootstrapCook, first shot to fame writing about her struggles, as a single parent on benefits, to provide healthy family meals for less than £10 per week. She's since released several cookery books, is a vocal campaigner on food poverty issues and supporter of The Trussell Trust.
She recently took to Twitter to share the percentage price increases of several food staples over the past year, in order to highlight the unequal impact of food price rises on those on the lowest incomes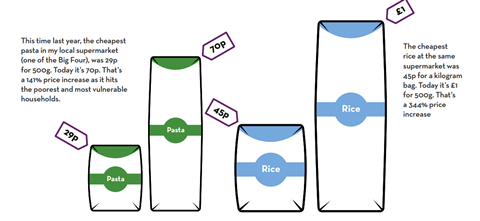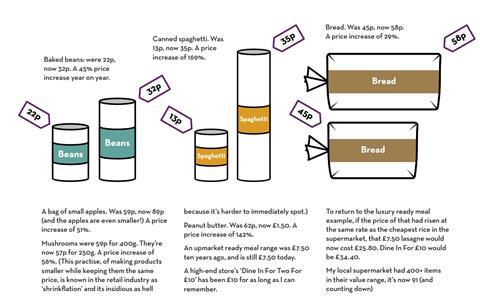 That's a question that comes up a lot. How far do funders feel it is appropriate to share your faith? What do we feel is appropriate?
Elaine: Being out there in community and meeting that need is the ministry in itself. You are evangelising, just because you're there. That has certainly been my experience of seeing people coming to Jesus – just because the people who stretched out their hands at that time were the Church. That's terribly powerful.
Natalie: I feel like I'm on both ends of the spectrum. Let's help people, and if we can't talk about Jesus, let's help people anyway, because people are made in the image of God and they are worth our help, whether they're interested in Jesus or not, whether we can talk about him or not. If there's any opportunity to tell someone about the reason why I've got hope in my life, I want to share him. But if we go the other way and just talk about Jesus and don't help people, the Bible says: "If one of you says to them, 'Go in peace; keep warm and well fed,' but does nothing about their physical needs, what good is it?" (James 2:16) – it's pretty sobering stuff.
John: Thirty years ago, I was living in a bedsit with two little girls, aged nine and six, struggling to feed them. Along comes a guy called Paul, and first of all, he showed me the love of Christ in his actions. But he also told me. Three generations of [my family] have been transformed, not by Paul helping me when I couldn't feed my children, but by Paul helping me feed my children and telling me about Jesus Christ.
Why would we not want to help someone find Jesus Christ? Share your life by helping people, and then share your faith. It's not offensive, it's yours. Talk about what faith means to you. You have a right to speak about it. You don't have to be embarrassed about it.
I'm not ashamed of the gospel, and I'm not going to throw away my confidence in the gospel, because the Bible tells me that I shouldn't. "We do not belong to those who shrink back and are destroyed, but to those who have faith and are saved" (Hebrews 10:39).
In your experience of running CAP over the past 20 years, has your stance on evangelism caused you problems?
John: Mainly from Christians, but yeah, I've had quite a few problems with it! We received lottery funding and everybody said: "Oh, you shouldn't!" Then there was a complaint that we offered to pray with people, so [the National Lottery funders] investigated and found that a holistic approach to people's spirituality was completely in accordance with [their guidelines]. At the end of the day, people say: "Well, you're CAP, doors will open for you." The only doors I'm interested in are the doors of poor and needy people, the doors of churches and the gates of heaven. And let me tell you, they get flung wide open.
Elaine: We get locked down all the time when we go for grant funding because of our name. A number of years ago, somebody suggested that we change the name, and the membership came out thundering: "This is the Pentecostal Credit Union, and we are staying the Pentecostal Credit Union and all that that means."
John: Come on! Preach it! We believe in the power of God, poured out on us so that we would praise him and give him glory. "The Spirit of the Sovereign Lord is on me, because the Lord has anointed me to proclaim good news to the poor. He has sent me to bind up the broken-hearted, to proclaim freedom for the captives and release from darkness for the prisoners…They will be called oaks of righteousness, a planting of the Lord for the display of his splendour" (Isaiah 61: 1-3). A display of our splendour? No, a display of his splendour!
So in the face of great need, what can Christians do to better serve their communities right now?
Natalie: I am praying for all Christians to get such a radical, deep grasp of the mercy of God that we can do nothing but pour out mercy upon mercy on those around us in need. I want all of us marching forward, an army of mercy-bringers, who give mercy in a way that the world can't, like God gives it; new mercies every day. No matter how you got into your situation, when you cry out in your distress, we respond with mercy. That's what I hope we're going to see.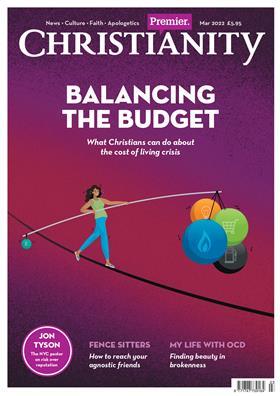 Elaine: That is exactly what I would like to see!
John: This is not a surprise for Jesus. He knows what needs doing. I've just got to believe he's got a solution that's as big as the problem. In the meantime, I'm just going to help whoever's in front of me. God is able to do abundantly more than we can dream or imagine. I've seen it with own eyes in my own family; I've seen it across the ministry of CAP. Fundamentally, what we carry is hope. And if we can bring hope that's eternal, God will bless it, and we'll have an impact. But buckle up. This is going to be one heck of a rollercoaster ride. It is going to be very, very difficult, but we're in the business of difficult, in Jesus' name.

Emma Fowle is assistant editor of Premier Christianity and editor of Voice of Hope, Premier's quarterly devotional magazine. Emma is a trustee for Christian festival Creation Fest and lives in Cornwall with her husband and two teenage daughters. She loves to read, swim in the sea, play netball and lift weights with her dad.
View full Profile