Angels let us know that God is with us and reassure us that we need not fear. And that's a message that our communities need now more than ever, says Sarah Wickett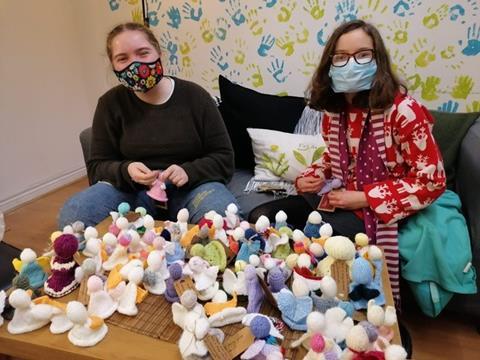 A few years ago, my father, who is a widower, rang me to tell me he had received a lovely surprise. In the morning, when he opened his curtains, he saw something hanging from a tree in his garden. He went outside to investigate and discovered a knitted angel. On its label, it said: "Happy Christmas!" along with an explanation that it was a gift from the local Methodist church.
My Dad, who doesn't attend church, was delighted with his angel. He felt valued because someone had cared enough to make it for him and leave it as gift for him to find. I was so glad that the local church had made a positive impact on my dad that Christmas. And his experience inspired me to want to do the same for other people.
Messengers of hope
But why knit angels? In the stories of Jesus' birth, we are told how angels - God's messengers - came to bring people good news at times when they were often confused or anxious. They came to Mary when she was told she would become pregnant (Luke 1:29-33), to Joseph when he was deciding whether to end his relationship with Mary (Matthew 1:18 -21) and to the shepherds when Jesus was born (Luke 2:8-12). Each time, the angels reassured them with the phrase: "Do not be afraid" and explained that God was with them.
We pray that, as people receive our angels, they will know that God is with them
Knowing that they are not alone is a message that our churches pray people will find comfort in, especially as we live with the ongoing challenges and uncertainties of the Covid-19 pandemic. As Christians, we believe that God is with us in difficult times: when we feel scared of getting ill; when we experience the pain of separation from family and friends; when we are exhausted by continual adaptations to our work patterns; when we are disappointed that events are postponed or cancelled and when we grieve for loved ones who have died. We pray that, as people receive our knitted angels they, too, will know that God is with them, and that they do not need to be afraid.
People in our church started knitting angels back in October. It has been a multi-generational project that has involved our whole congregation. One older man who couldn't knit contributed by buying balls of wool from local charity shops. Our church knitting group has been meeting weekly, helping each other and encouraging new knitters. Many individuals have knitted their angels at home.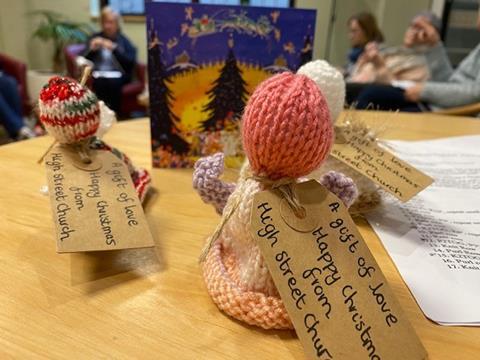 A gift of love
Our youth group have written labels for each angel. Their message says: "A gift of love. Happy Christmas from High Street Church". People of all ages have joined me in distributing the angels throughout our community. Our church is in the middle of the local High Street, so we have blessed our town center neighbours, giving angels to local businesses; we wanted our local shop workers to know how much we have appreciated their hard work in this challenging year.
The angels reassured them and explained that God was with them
We also distributed angels to local care home residents and staff. We wanted them to know that they are not forgotten, that we see them, love them and are praying for them. And we left some on the doorsteps of houses, hoping that they will brighten someone's day. Our other church, Batford Methodist church, gave some to the local coffee shop who had allowed them to use their outside seating area for church gatherings during the pandemic.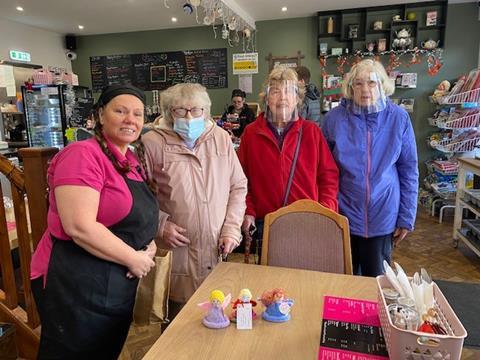 I love the array of multi-coloured angels. Each one is unique, just like us. Each has been made with love and reflects the personal touch of the individual who created it, just as we are made by a creator God with love and flair. We pray that the people who receive an angel will know that the church cares about them, and that we are facing the ongoing stresses and strains of the pandemic with them. And that, as they feel the soft, comforting texture of the wool, they will be comforted by the love of God this Christmas.

Deacon Sarah Wickett is a minister at High Street and Batford Methodist churches in Harpenden. A key aspect of her work is connecting the church with the community. She is keen to find ways in which the church can work alongside the community and be a force for good, to be a blessing. Yarn blessing the community through knitted angels is an example of her work.
View full Profile