A series of 'delightfully informal' Christian gatherings are having a profound effect on the residents of these estates, reports Tony Cummings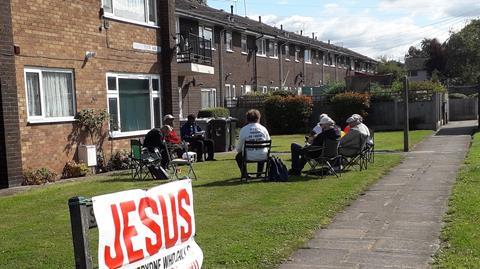 I walk along Oxford Street. It seems deserted and though there are plenty of parked cars there are none moving down the road and no crowds of shoppers. In fact, there are no shops. For this is Oxford Street, Crewe, not London, on what the locals call the "Derby Docks" housing estate built in the 50s.
It may be only 158 miles from the capital's shopping epicentre but economically this Oxford Street is a million miles away.
Around 70 per cent of the people who live on this estate are on benefits and it, and Crewe's other housing estate, Brookhouse, has more than its share of need and deprivation. But as I approach the corner of Oxford Street I hear voices ringing out through the rain, "Great is thy faithfulness! Morning by morning new mercies I see."
There by the waste bins sit nine people on folding chairs, joyfully singing.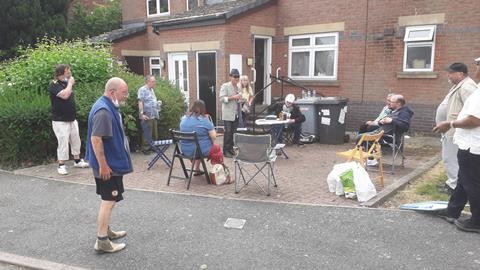 The Love Crewe Prayer Station has two meetings every Thursday, one at Smallbrook Walk, Brookhouse Estate, at 10am and one at Oxford Street at 11am. They began in June 2020, and these delightfully informal gatherings have steadily grown. They consist of prayer, Bible reading, worship and a 10-15 minute message.
Such is the determination to exercise the priesthood of all believers (1 Peter 2:4-5) that several of the core Prayer Station team are happy at a moment's notice to bring a word of testimony. During the meetings two or three team members deliver food parcels (made up by arrangement with a local church food bank), pass out tracts and occasionally Bibles and bottles of water.
it's an easy access for those who wouldn't feel comfortable going into a church building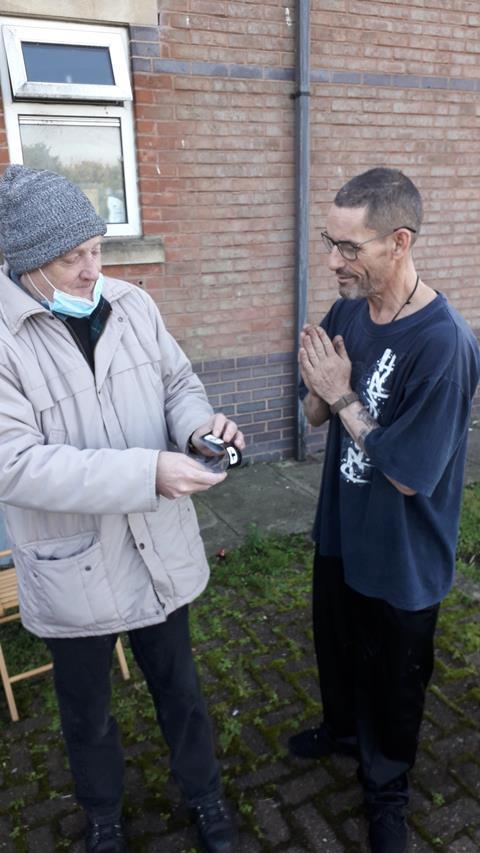 Almost every week they are joined by different men or women living on the estate who are happy to sit, even in the drizzle, and join in a bit of the praise and prayer. This week it's Jacko who sits with us.
Jacko first got to know retired teacher-turned-evangelist Ian Whitwood when, from a table at Crewe indoor market, Ian would distribute tracts and gossip the Gospel with shoppers and street people. When the pandemic shut that down, along with another initiative (a drop-in centre providing cups of tea, biscuits and Christian literature for away fans visiting the Crewe Alexandria home games) Jacko lost contact with Ian. He was delighted to find a kind of open air church on his doorstep and Jacko now collects his food parcels from the Prayer Station.
Jacko isn't a Christian, "enjoys a drink" and, like many others on the estate, is working through issues in his life. Over a coffee after the meeting he asks a team member for prayer for the pain he's experiencing from his recent hernia operation.
Speaking about the Prayer Station's history, Ian tells me, "When the second lot of pandemic restrictions lessened and the government announced six people could meet together in the open air, my prayer and Bible study partner John Bones and I felt God's prompting for us to start a little meeting on the estate outside John's house. After that first meeting in June 2020 we've never looked back. We started the second meeting at Smallbrook Walk and the same thing happened - people on those estates were encountering the love of Christ and on a few occasions coming to believe in him for salvation. We meet at both locations every Thursday, when it's raining, even when it's snowing. People attend from several different churches or no church at all."
these meetings are a living manifestation of Jesus' love
The focal point of each meeting is prayer for the people living on these estates. But not exclusively. On my visit team member Graham shared about the particular needs of the Philippines currently experiencing lockdown and other nations mentioned in prayer were Israel and Afghanistan.
The sense of God's presence at the Prayer Station meetings is sometimes intense and occasionally one or two people from outside the area search out the Prayer Stations obscure locations.
A key member of the Prayer Station's Hosting Team is Nichola Richardson, a one-time missionary and mother of seven who hosts a 10am Zoom meeting on Tuesday mornings. I ask Nichola why the open air Love Crewe Prayer Station meetings have been so successful. She replies, "Because they were started and continue to be led by the Holy Spirit. And for people on the estates it's an easy access for those who wouldn't feel comfortable going into a church building. We don't make any appeals for money, we don't ask for regular attendance and people feel comfortable to join us for a few minutes or for the full 45 minutes. We are welcoming to people though we realise that relationships are sometimes built over weeks and sometimes over years. Christians are called to love people and through his Spirit these meetings are a living manifestation of Jesus' love. They're not 'religious'. They're real. And people are drawn to them."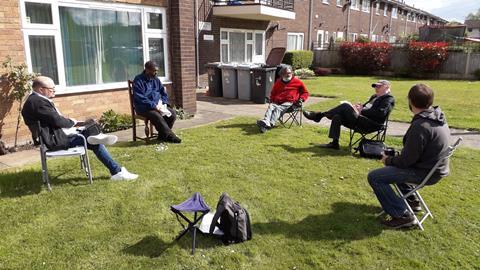 I watch Nichola talking to estate residents who are clearly drawn to her gentle presentation of spiritual truth.
The Love Crewe Prayer Stations are having an impact on the estates where they meet. Ian speaks about the one-time drug dealer and lapsed Christian who, after two suicide attempts, recommitted to the Lord and had an empty flat fitted out with furniture with the help of team members. Getting into his stride he also mentions others who have received help from the team - a lady who relocated to the area having fled an abusive relationship; a young mum with two daughters deserted by her husband unable to work regularly due to seizures; another lady who has broken years of scratch card addiction; Mike (aka "Metal Micky" due to his numerous rings and piercings) who is now a Christian, and many others who drift in and out of the meetings asking for prayer or material help.
And alongside the new converts and those returning to the faith of their youth there are others at these meetings who are finding that sitting on a folding chair in a problem housing estate singing hymns and worship songs and praying for personal needs and occasionally about national disasters isn't a religious duty. It's a source of joy to all those who take part.

Tony Cummings' journalistic career started in 1963 when he started a black music fanzine originally called Soul, then Soul Music Monthly and finally Shout. By 1971 he was writing occasionally for Record Mirror and then in 1973 joined Black Music magazine. He later became the editor of Christian music magazine Cross Rhythms.
View full Profile