From deep biblical truths to sharp social commentary, the world of Christian music has produced some heart-stopping, soul-rendering, conscience-pricking lines. Veteran music journalist Tony Cummings shares his ten favourites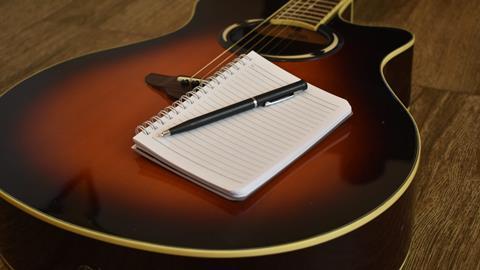 Christian hymns and songs have a rich heritage. Through my decades in music journalism I've heard many. Here are my proposals for the top ten greatest Christian lyrics:
1. 'Crown him with many crowns' - Matthew Bridges
Written in 1851 these lines from a classic hymn depict the heart-stopping majesty and enormity of a Creator God who speaks and galaxies are created.
Crown him the Lord of years / The Potentate of time / Creator of the rolling spheres / Ineffably sublime
2. 'Indescribable' - Laura Storey
More recently, songwriter Laura Storey found a new way of conveying the beyond-words wonder of the 'potentate of time' in her song, 'Indescribable'. The sheer unfathomable enormity of the Godhead was cleverly encapsulated in Story's Christian music hit of 2002. A song describing the indescribable is daring indeed.
Indescribable, uncontainable / All powerful, untameable / Awestruck we fall to our knees as we humbly proclaim / You are amazing God
3. 'The great American novel' - Larry Norman
The pioneer of Christian rock music, once called "the poet Laureate of Jesus rock" by Time magazine, reached his creative peak in 1971. The song 'The great American novel' with its withering critique of a nation spending billions on a moon landing but unwilling to feed its poor was a mainstay of his live set until Norman's death in 2008. The song's other targets - the Ku Klux Klan ("the sheet you wear upon your face is the sheet your children sleep on") and how US money says "in God we trust" yet prayer in schools is banned - still ring true today.
You say all men are equal, all men are brothers / Then why are the rich more equal than others / Don't ask me for the answer, I only have one / That a man leaves his darkness when he follows the Son
4. 'And can it be' - Charles Wesley
Charles Wesley's self-imposed task of setting all the Bible's major doctrines to song so that his elegant hymnody could teach often-illiterate congregations was one of the foundation stones of the Wesleyan revival. In the approximately 6,000 hymns written by John Wesley's brother 'And can it be' continues to convey the glorious reality of an escape from the dungeon of unbelief and sin.
Long my imprisoned spirit lay / Fast bound by sin and nature's night / Thine eye diffused a quickening ray – I woke, the dungeon flamed with light / My chains fell off, my heart was free / I rose, went forth, and followed thee
5. 'Whatever happened to sin' - Steve Taylor
The Christian counsellor write, quote / It's the only human choice ahead / If you can't support it / Why don't you abort it instead
So begins the first song on the first album by a then-unknown Christian singer/songwriter, Steve Taylor. In the 80s and 90s, Taylor was to wear the same prophetic mantle which made Larry Norman such a salient force in church circles in the 60s and 70s. Like Norman, Taylor's main lyrical concern was critiquing the Church for its theological liberalism, racism, materialism and many other misdeeds. His classic worship song 'He Reigns', recorded by the Newsboys, shows Taylor's righteous anger was based on reverence for a God still reigning in a sin-torn world.
6. 'Precious Lord, take my hand' - Thomas A Dorsey
Dorsey had been making a living as the piano-playing accompanist of blues singer Ma Rainey and as Georgia Thom, half of a jazz blues recording duo. After a spiritual awakening in 1929 Dorsey began writing songs which were a key building block in modern gospel music and, through that, soul music. This is his finest. Its stark imagery of reaching out for the divine hand speaks to all cultures.
Precious Lord, take my hand / Lead me on, let me stand / I am tired, I am weak, I'm alone / Through the storm, through the night / Lead me on to the light / Take my hand, precious Lord, lead me home
7. 'Adam, Where Are You?' - Don Francisco
Don Francisco was a popular figure in the 70s and 80s US contemporary Christian music scene. Francisco's speciality was turning Bible stories into narrative songs, an approach that could be corny doggerel with lesser songwriting talents. He reached a creative pinnacle with 'Adam, Where Are You?', which depicts the tragic events in the Garden of Eden culminating in the anguished cry of God as Adam and Even hide in their shame.
But the master of deception now begins with his dissection of the Word / And with all of his craft and subtlety the serpent twists the simple truths they've heard / While hanging in the balance is a world that has been placed at their command / And all their unborn children die as both of them bow down to Satan's hand
8. 'The Lion And The Lamb' - Leeland Mooring, Brenton Brown, Brian Johnson
Hundreds of thousands of songs have been written down the centuries where Bible verses, truths and imagery wrought from scripture have been organised into structures of metre and rhyme suitable to be sung. Only a small number of this multitude will, of course, ever be heard and sung by many, and fewer still are those which will find receptive congregations beyond the generation for which they were written. Maybe the work of Bethel Music's Leeland Mooring, Brenton Brown and Brian Johnson will, in future decades, be considered on a par with the classics of Wesley and Watts. Or maybe it won't. But for now, it deserves acknowledgement as a skilled mining expedition of timeless truth from the Old and New Testaments.
Our God is the Lion / The Lion of Judah / He's roaring with power / And fighting our battles / Our God is the Lamb / The Lamb that was slain / For the sins of the world / His blood breaks the chains / And every knee will bow before the Lion and the Lamb
9. 'The rain keeps falling' - Andrew Peterson
Singer/songwriter Andrew Peterson here offers a narrative song of an itinerant musician wrestling to find an end to his season of darkness and a way back to a love he'd once known but then neglected. "I've been calling and calling, but the rain keeps falling," he cries. But then after his paean of pain and self-disgust, he at last hears the words which will bring an end to his turmoil and darkness: "Peace, be still."
There's a woman at home and she's praying for a light / My children are there and they love me in spite / Of the shadow I know that they see in my eyes / And the rain keeps falling / I'm so tired of this game, of this songs of the road / I'm already ashamed of the line I just wrote / But it's true and it feels that I can't sing a note / And the rain keeps falling
10. 'The servant king' - Graham Kendrick
Graham Kendrick is, to countless believers, one of the founding fathers of modern worship music - although he's also had his critics. One attack by a newspaper columnist and high church advocate accused Kendrick of dumbing down worship and turning it into trite banality compared to the glories of the old hymns. One poetic stanza in Kendrick's classic 'The servant king' surely demonstrates how utterly unfounded such criticism is. Graham's incarnational musing is timeless poetry.
Come see his hands and his feet / The scars that speak of sacrifice / Hands that flung stars into space / To cruel nails surrendered

Tony Cummings' journalistic career started in 1963 when he started a black music fanzine originally called Soul, then Soul Music Monthly and finally Shout. By 1971 he was writing occasionally for Record Mirror and then in 1973 joined Black Music magazine. He later became the editor of Christian music magazine Cross Rhythms.