As the popular series returns to our screens, Max Avard reviews the first episode of Pilgrimage and finds that kindness, not drama and controversy, makes for reality TV gold.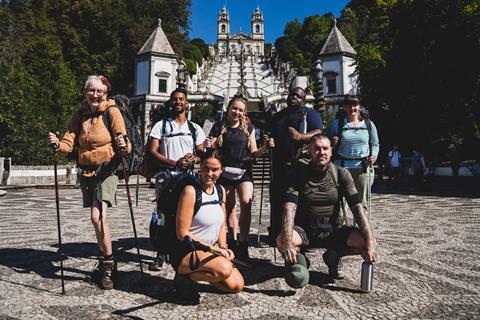 After past series featured celebrities trekking across Spain, Italy, Turkey and Scotland, BBC Two's Pilgrimage is back for its fifth series.
The latest outing finds seven well-known faces - of differing religious beliefs - travelling along the northern route of the Fátima Way in Portugal, exploring spiritual questions as well as basking in the sunshine and enjoying healthy amounts of Portuguese cuisine.
Among the cast of pilgrims are Pentecostal born-again Christian, Shane Lynch of Boyzone fame; reality TV star and agnostic Vicky Pattison, practicing Catholic and University Challenge whiz Bobby Seagull and actor Su Pollard, who was raised in the Church of England.
Their destination is the Sanctuary of Fátima, a previously small village which has become one of the most popular Catholic pilgrimage destinations in the world, welcoming 70,000 pilgrims every year.
Panoramic shots of Northern Portugal's rolling hills, sun-soaked vineyards and fields of wildflowers are often breathtaking. But it's the genuine affection between the celebrities that makes this series worthwhile.
Bringing together people from all walks of life and faith backgrounds, the show captures the quiet power of kindness and seeing the best in one another.
It's such a wholesome programme. Nothing was fake. The conversations we had were deep, were honest
Not long after meeting for the first time in the border city of Valença, the fresh-faced and slightly naive celebrities come to terms with the physical demands of the walk. But instead of bickering or becoming frustrated with each other, they illustrate what sharing the load and carrying each other's burdens looks like - both literally and figuratively.
When comedian Nabil Abdulrashid struggles with the arduous trek up the hills, Shane immediately offers to carry his backpack. When he runs out of precious water, it's not long before Vicky Pattison sacrifices her own. In these small moments, the show provides a framework for reality TV that puts kindness, not controversy, at the top of its agenda.
Speaking after the press preview of the first episode, self described cultural Jew and Eastenders star Rita Simons said: "I just wish there was more of a market for watching people in harmony together". Where other reality programmes can be manipulated to ignite conflict and pit people against each other, Pilgrimage celebrates people simply getting along. It's evident there's an audience appetite for this kind of programming too. The previous series was the BBC's highest-rated religion title in 2022, with an average audience of 2.1 million.
"We have enough conflict in the world. We don't need to create it on our TV screens," added Nabil. "You can learn a lot more when you watch people cooperating, living cohesively."
It's refreshing to see conversations around fundamentally different perspectives on life held so openly and respectfully. "It's such a wholesome programme. Nothing was fake. The conversations we had were deep, were honest." says Bobby.
For those who came in knowing Jesus, the pilgrimage strengthened their faith, particularly for former Boyzone member Shane Lynch: "This is a show of humanity, encouragement, care and love, ". Shane was born and raised Catholic but during his time with Boyzone became "anti-god" and previously admitted to being involved with ouija boards and clairvoyants. He credits his wife, who he married in 2007, for "showing me the light" and leading him to Jesus. He now prays daily - and can't imagine a life without Christ.
Elsewhere, Su Pollard, who made her name in the sitcom Hi-De-Hi!, says God has been "a great friend" all her life while paralympic skier Millie Knight, raised in church, said she "definitely" believes in God.
The impact of the 15-day-long pilgrimage is most noticeable in Vicky Pattison. The influencer and former Geordie Shore star says being part of the programme was "a proper privilege" after more traumatic experiences in "stereotypical reality TV". Entering the pilgrimage as an agnostic, Vicky remains full of questions, but she's more curious than ever before: "I've always wanted to think that there was something bigger than me but I just didn't know what it was. I still don't know, but I have a real desire to find out. I think it showed me I'd really love to have faith.".
While the spiritual journeys of each cast member are unique, the shared experiences of the trip will last a lifetime. It's clear life-long friendships have been built: "The best thing for me is definitely the friendships that we've made." says 24-year-old Millie Knight, "I can't believe the incredible people I've met". And perhaps most miraculously, no one's left the WhatsApp group.
The first episode of Pilgrimage airs this Friday on BBC 2 at 9pm and will be available later on iPlayer

Max Avard is a freelance journalist and MA Broadcast Journalism student at City University in London.
View full Profile