Scarlett Moffatt has already spoken about how Pilgrimage helped reignite her Christian faith. As the first episode of the new BBC series airs tonight, Emma Westray reviews the show, and gives her take on where God can be found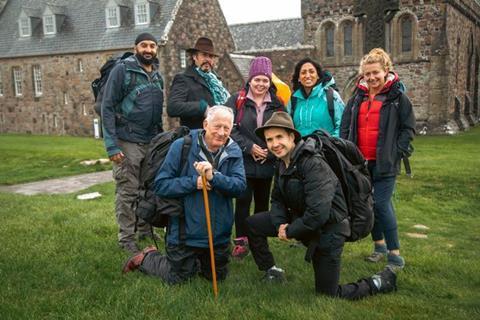 Seven celebrities from different faith backgrounds have come together for BBC Two's new series of Pilgrimage, which airs tonight.
Set the challenge of travelling from Donegal, Northern Ireland to Western Scotland, the participants - which include interior designer and self-declared pagan Laurence Llewelyn-Bowen and the Christian star of Gogglebox Scarlett Moffatt - walk a route inspired by St. Columbia, patron Saint of Derry. The journey will end in Iona, where he died in 597 AD.
The three part series is set to tackle a range of topics such as faith, privilege, individualism and security, as well as the physical and mental challenges each pilgrim faces along the way.
Among the brave few are Islamic comedian Shazia Mirza; well-known cricketer and Sikh Monty Panesar; the former TV presenter and agnostic Nick Hewer; Emmerdale actress and practising Jew Louisa Clein and Paralympic tennis player and unlabelled 'believer' Will Bayley.
Starting the journey in an optimistic, yet thoughtful mood the celebrities begin with different expectations. "I'd hate to think at the age of 77, I'm short changing myself," admits Nick, as he waits for his fellow pilgrims. Meanwhile, Scarlett comments, "There's a stigma attached to religion" as she reflects on her own beliefs and times where her friends thought her strange for believing in God.
Each member of the group has a unique perspective on faith. None of them share parallel beliefs or the same religious worldview. This is all to the credit of the producers, who have deliberately selected a diverse group of people who can nevertheless still gel and work together. The result is a spiritually challenging and stimulating trip.
Despite the differences that could potentially intimidate the participants' very sense of self – this is exactly what brings the group together – in an unexpected way. God can be seen in their interactions – even if not very obviously, or in the manner you might expect.
When approaching the Gathering Stone, thought the birth place St. Columbia, Monty considers how important it is to share a prayerful moment with Scarlett. "I felt like I had to do that," he muses, reflecting on the 'oneness' of faith. Using a rather apt cricket analogy, he compares a connection with God to being at one with his cricket ball, grass and wicket during important matches.
An appreciation for different faiths is also highlighted when Louisa and Scarlett accompany Monty to the Gurdwara, in Derry. His reflection on how this spiritual community brought him inner peace in times of difficult mental illness is incredibly moving, and it's also refreshing to see both women experience a renewed understanding of the scope of faith.
Another poignant moment is captured when Scarlett has an unexpected epiphany during a time of individual prayer. In holding her cross, she becomes overwhelmed by the experience, realising that she has relied on God in times of struggle more than she fully appreciated.
"I wouldn't have got through the hard times [without God]" she admits. Indeed, given her recent statements in the press, it seems the show has helped reawaken Scarlett's own Christian faith.
The show highlights how religious experiences can be very personal and subjective. It can be difficult to share or express the way we feel about God. By its very nature, 'faith' is unpredictable, and even difficult to interpret in places – but so are people, and this is something that becomes apparent throughout the pilgrimage.
Not everyone will fit the mould of what a person of faith 'should' be, and perhaps that's not so scary. It becomes clear throughout the journey, as the group spend more and more time in creation and nature, that God was ever present – perhaps as eighth person.
The one constant enjoyed by the participants on this unpredictable journey was one another. As Monty commented: "Having good human beings around you [and] having good relationships is so important. We [are like] a Christmas tree with lightbulbs and we all have different colours, but the energy that flows through us, is all the same".
The first episode of Pilgrimage airs on BBC 2 at 9pm tonight and is available afterwards on iPlayer