Films play a big part in shaping our culture, says Nathanael Smith. So it's good for Christians to know what's going on and engage with the issues they raise. Here's his guide to the big hitters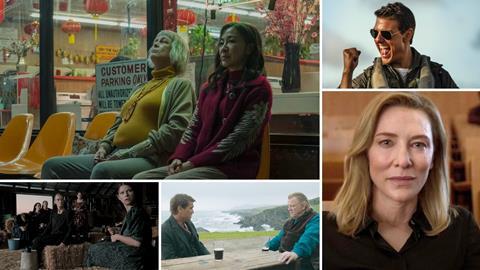 The Oscars are on their way and it's like the Champion's League final for people (like me) who were never very good at sport. Cinephiles around the world (well, mostly the USA and the UK) pore over the nominations, debate their relative merits and make predictions based on hype and other awards ceremonies.
I've always argued that this is the kind of thing that Christians should have an eye on - often these are the films that are shaping our culture and acting as a thermometer for which themes and ideas are hottest right now. So here's your quick Christian guide to just a few of the big hitters this year, so that you can sound informed, even if you haven't seen all the films yet.
Everything everywhere all at once
This dazzling indie sci-fi has somehow become an awards favourite, despite featuring extended sequences of people with hot dogs for fingers. A bored mother running a launderette gets dragged into a multiversal battle, tapping into all the lives she could have lived to become something like a superhero. Now she knows Kung Fu, but can she reconcile with her daughter?
There's so much to love in this chaotic, dizzyingly inventive film. The heart of it is a call for kindness and connection in a world that doesn't make much sense. There's a nihilistic edge to all of this, depicting the universe(s) as cold, uncaring and too vast for our lives to have much meaning, but the film's response of compassion softens the blow.
Who is it for? Fans of high-concept sci-fi mixed with absurdist humour
What will it win? Possibly Best Picture, Original Screenplay, Best Actress and Best Supporting Actor.
What to say about it round the water cooler: "It's about intergenerational trauma, but also bagels."
Should I watch it? Yes, with a caveat. At times it is crude and grotesque, so read the IMDb parents' guide if you're worried.
The Banshees of Inisherin
One man decides that he no longer wants to be friends with another man simply because he finds him a bit dull. That's the simple premise at the heart of this bleak comedy about life, faith and friendship on a tiny Irish island. Christians may find the scenes in the confession booth, as one character wrestles with 'the despair', to be particularly moving.
Banshees is hilarious and upsetting in equal measures, anchored by four wonderful performances. For those to whom that appeals, this will provoke thoughtful discussion on what we value most in life and how we relate to others. It's magnificent.
Who is it for? That friend of yours who is prone to making dark jokes. You know the one.
What will it win? Best Actor for Colin Farrell, maybe Original Screenplay. Outside chance of Best Picture.
What to say about it round the water cooler: "Sure, it's about friendship, but it's an allegory for the Irish Civil War."
Should I watch it? Yes, if you don't mind feeling very sad.
Top gun: Maverick
This belated sequel to the throwaway 80s action movie is essentially propaganda for the US Navy. But it's undoubtedly the most entertaining propaganda I've seen in a long time.
Who is it for? Dads who say: "They don't make 'em like they used to!"
What will it win? Probably a load of technical awards like Best Sound Mixing.
What to say about it round the water cooler: "Did you know they actually filmed the actors in real fighter jets?"
Should I watch it? Judging by its box office success, you probably already have.
Tár
This talky, thoughtful drama is a morally murky look at cancel culture, following the downfall of a star conductor, Lydia Tár, as she faces allegations of sexual misconduct and abuse of younger women. It's full of esoteric conversations about classical music, but don't let that put you off; the escalating sense of unease makes the drama beneath the surface incredibly compelling. Lydia is no anti-woke hero, but nor is this a progressive diatribe, and that ambivalence makes this essential viewing for anyone wrestling with the idea of 'cancel culture'.
Who is it for? People who get into debates in pubs.
What will it win? Cate Blanchett is Michelle Yeoh's big rival for Best Actress.
What to say about it round the water cooler: "Some people thought Lydia Tár was a real person, but I definitely didn't."
Should I watch it? Switch your brain on and settle in, this one's a winner.
Women Talking
I'm yet to see Women Talking, and it probably won't win any awards, but this one is worthy of your attention. It's about women in a Mennonite community who come together to address the sexual abuse perpetrated by the men they live among. Reviews have been unanimously strong and the cast is terrific but, more than that, I've seen it described as an exploration of what forgiveness looks like in the most challenging circumstances; that sounds like a film that can't be missed.
Who is it for? Fans of thoughtful cinema with big ideas.
What will it win? It's only nominated for two awards, so hopefully it will take Best Adapted Screenplay, but that seems unlikely.
What to say about it round the water cooler: "No women were nominated for Best Director? Not even Sarah Polley?"
Should I watch it? If you want more films depicting faith, forgiveness and difficult topics, get out to see this on week one.