Despite the devastating scenes in Kiev, God's miracles are everywhere and people are hungry for the Word of God, says Anatoliy Raychynets, of Ukrainian Bible Society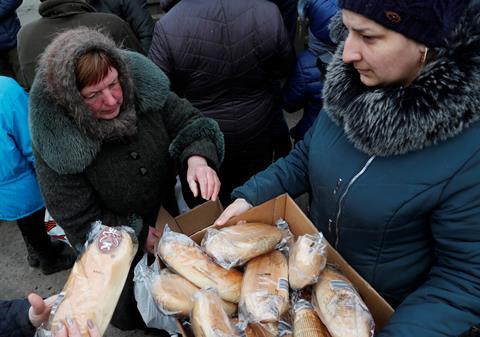 We had a lot of attacks today. Since 4am until now. The situation is really difficult. It's so painful to see.
Day by day, women with small kids are running, here, outside our office, on the street, trying to find a basement to hide themselves from the bombing. Many people are crying out for help to come out of Kiev. I met people yesterday who didn't have bread for four days. Elderly people who cannot go outside, who have illnesses. They they're just sitting in their apartments and waiting for a miracle. They call our volunteers "angels" when we find them the medicine and bread they need.
You never feel safe now in Kiev. You can hear shooting. They're bombing and sometimes it's so close that I think the Bible Society office is shaking. We don't know if we are safe inside.
The bread of life
Yesterday, we were outside in a park, delivering bread to people. I had children's Bibles in my vehicle, to distribute in the basements where women and children were hiding. But one lady saw them and asked: "Are they Bibles? Can I have one please?" And other people – 80 or 90 - just came to the to the car and asked: "Can I have one?" One man, in his 70s, stood there with his bread in one hand and the Bible in his other hand and said: "I think the Bible is more important than daily bread, for me personally now. I never prayed before. I have never been to church, never read the Bible. But now it's time to come closer to God." We've met so many people in the last two weeks who have never read the Bible or prayed before, but now they're asking "Are you from the Church? Please pray for us," - on the streets, at homes, everywhere.
Your prayers are already bringing results. Miracles are saving a lot of lives
People are searching for faith because they know that a miracle must happen to relieve this situation. We don't see any diplomatic or other solutions. We just know deep inside us that only God can stop this horrible war.
As a pastor, it's so painful when you see the suffering of so many people. Thousands of people run to hide in the subway station outside our office; I saw so many women and small children crying, asking for help. One lady said: "Do you have any medicine? My child has a fever and we don't have anything." It cuts to your heart. The darkness is so powerful now. It is all evil and darkness here. And then one lady said: "Thank you that you're bringing light here into this darkness. Thank you for what you're doing." And I just remind myself of John 1:1-4 where we read about the light coming into the world: "The light shines in the darkness, and the darkness has not overcome it." Darkness never has victory over light. So we bring light. We need to bring more and more light into this horrible darkness.
Praying for peace
We are very grateful to all of you who are standing with us in prayer and solidarity. We see a lot of Christians around the world standing with us, praying for Ukraine, sending help here. But what we are asking and praying for - and asking all our Christians brothers and sisters to tell their governments - we need to lock the sky, because we are losing a lot of lives. Bombs and missiles come from the sky to the cities. You saw the news yesterday from Mariupol, other cities in Ukraine and here in Kiev. It's our cry. Stand with us in prayer.
I've personally seen so many miracles in the last 16 days: bombs falling down or rockets that don't explode. A lot of lives have been saved because of that. Russian tanks left because they're empty of fuel, and soldiers running away. In Odessa, on the Black Sea, for four days there has been a big storm and the Russians could not come closer to the city to shoot rockets. So pray. Your prayers are already bringing results. Miracles are saving a lot of lives.
I think Ukraine will come out of this situation a strong Christian nation who trust in God
This difficult situation is already changing our nation. It's changing us our attitude and values. People are standing together, helping each other. I see so much of God's love here, in spite of war; how people are acting towards each other, sharing small pieces of bread with each other. They are driven by the love of God.
I think Ukraine will come out of this situation a strong Christian nation who believe in God, who trust in God, who pray together. All churches - Orthodox, Catholic, Protestant and evangelical – we are standing in prayer together. It's very powerful. All of us understand that only God's miracle can stop the war in Ukraine.
Watch the Bible Society video of Ukrainians praying Psalm 31 from bomb shelters around the country