Masha was forced to flee Borodyanka, Ukraine, when the city was destroyed by Russian bombing. A member of the Calvary Chapel church there, she is now being housed by the Calvary network in Budapest, Hungary. One month on from the Russian invasion of Ukraine, she shares her story of the war so far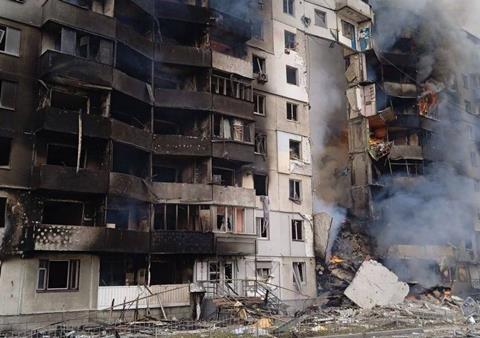 I will never forget the first morning of the war, when I was woken up by the explosions at 4:30am and the news that we are at war. Queues in supermarkets, traffic jams the likes of which we've never seen, and fear in people's eyes.
I will not forget the third day, when people used cloth to carry the wounded to the hospital in front of our house. As the police carried bloodied children in their arms, they shouted: "Save them, however you can, but save them!"
I don't know if I'll ever be able to go back, but I know that God has something planned for our country
I will not forget the fifth day, when I saw from the window how the oil depot in our city exploded.
I will not forget the sixth day, which gave me a few seconds of cardiac arrest and a fear for life. After an hour and a half of calm, a Russian military plane flew over our house. With a terrible rumble, it dropped a rocket on a nearby street. It was repeated several more times, and kept going every day after that. You don't know when it will happen; when the rocket flies again, all you can do is either run to the cellar, or, if you don't have time, sit and pray: "God, don't let it fall on us."
I will not forget the hours in the cellar with relatives, animals, neighbors, acquaintances… The thoughts that creep into my head. Panic attacks that you try to fight. Constant tears that burn your skin, and sore eyes. Nerves hurt the heart, head; hands shake. Hundreds of messages and calls. It's scary to go to bed, but your body shuts down for an hour and a half or two, and you wake up to the singing of birds and more shooting.
And then, the city is destroyed; everything is destroyed. What you see with your own eyes on the streets of your city, your brain simply refuses to accept. Ruins, corpses, death, enemies.
That's it. Life there is not possible.
Evacuation
I will not forget how we drove out, right under the bullets, because we had to. People are forced to leave homes, relatives and friends, and then Ukraine. How long? No one knows. And all thanks to the "liberators" and "saviors".
The kinds of losses suffered by millions of people, and me personally, and our country - for these kinds of losses there is no forgiveness. Why have these people destroyed everything and everyone - expelling free people from their native land? What is it for? Will it be over? There are more questions than answers. Anger, pain and the desire for revenge are greater than ever.
And it does not get easier, not a drop.
I just want to go home…
Praying into the unknown
Pray for Ukraine and for all the towns that are being destroyed. So many people are stuck. Humanitarian aid cannot get there, because the Russians have occupied these towns and cities. I have friends who are still in Borodyanka, in the basements, under the ruins of buildings. Some of them died because they have had no water and they have been there for seven days. They cannot get out, because the city is Russian right now.
Please pray for God to somehow stop this war, to stop what Putin is doing, and for this evil to be out of Ukraine. It's hard to see how families have to be separated. Lots of my friends are mothers with kids; they had to leave, and stay far from their husbands and fathers. Pray for our country to still be there, and for Ukraine to remain strong through all of this.
What you see with your own eyes, your brain refuses to accept. Ruins, corpses, death, enemies
I have no idea when it's going to end - when I'll be able to go back home; if I'll ever be able to. I don't know what to expect, but I know that God has something planned for our country. And I know that our people are strong. I am amazed at how people are united now and how so many people are praying. So many countries are with Ukraine. I have friends who are not believers - they don't go to church but they're sending me messages like: "Praying for you."
I know so many people who didn't believe in God, but now they're saying that he is the only hope they have. So I am thankful for that. But it's a terrible situation. It still doesn't feel like reality, and I don't want Ukrainians to get used to this reality.
Masha's story has been shared with the permission of Calvary Chapel Costa Mesa and the Calvary Network

Masha Holina is from Borodyanka, near Kyiv, Ukraine. She works as a translator and at Jeremiah's Hope, a Christian non-profit that seeks to provide God's hope, healing and practical help to the orphans, at-risk youth and vulnerable people of Ukraine.
View full Profile