When Rev Anne Beverley started making TikTok vidoes for the seven young people in her church, she did not expect to become an internet sensation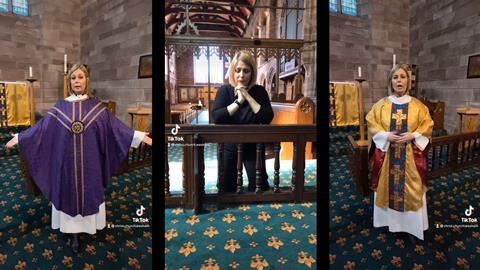 We began our TikTok account in 2019, before lockdown began, as a way of connecting with our own teenagers. We weren't really providing much for them, other than our normal Sunday morning worship, and we wanted to find a way of giving them some Christian content. We figured that the best way to connect with our teenagers was to be where they are - and most of our teenagers are on TikTok.
Over the next four days, the video went viral, ending up with 1.7 million views!
We posted a couple of videos, just some pieces of scripture and little bits of teaching. Towards the middle of 2020, as TikTok began to take off, we posted a video. It wasn't anything very serious and we didn't think any more about it. But over the next three or four days, the video went viral, eventually ending up with 1.7 million views! At this point, we realised that, we ought to start to take this a little bit more seriously.
Going viral
Since that time, we have created between four and six videos every single week. We've currently got around about 85,000 followers, and between 4,000 and 4 million people see each of our videos! The videos last between 15 and 60 seconds and tend to be very short, sharp messages about how much God loves you. TikTok is not the place for a deep theological debate, but it's an awesome place to scatter some seeds.
It's a great way of telling an audience that is primarily non-Christian that God loves them, that he cares for them, that he has a plan for their lives and wants a relationship with them. It's been a great way of introducing people, who don't come to church, to things that happen inside the building. It's been a great way of connecting with people who are surprised and shocked, even in today's society, that women can be priests.
A Christian spin
Some of our videos are just very silly things, or we do TikTok trends and put a Christian spin on to those. Other videos have been praying for a particular world event, or for a particular group of people. For example, we prayed for our children as they went back to school after lockdown. We have prayed for countries that have been struggling with natural disasters, civil unrest and war.
TikTok is not the place for a deep theological debate, but it's an awesome place to scatter some seeds
We also ask individual people if they want us to pray for them. That's been incredibly successful. We've had lots of prayer requests come through the comments on our videos - so much so that we've had to create a group of people from our local church (we call them our TikTok prayers) and every day, they go through the comments. Every time somebody asks for prayer, they pray for that person. And this means that hundreds of people are being drenched in prayer.
Being where they are
When we began posting on TikTok we had absolutely no idea how big this was going to get and what was going to happen as it grew. It certainly wasn't something that we planned! We've made mistakes along the way, but the ministry has gone from strength to strength. We've been able to reach people with the gospel message who we would never have been able to reach.
Social media, whether we like it or not, is the place where the majority of our teenagers and young adults are. If I want to reach those people with the gospel message, then I have to reach them in a way that they can identify with, where they can hear the message in their language. And TikTok has really enabled us to do that.

Rev Anne Beverley is vicar of Wesham Christ Church, Lancashire. You can follow her on TikTok at @ChristChurchWesham
View full Profile