When John and Jade Reynolds posted their first video on TikTok, they weren't expecting much of a response, but just months later their Christian content is reaching millions. John explains how God took their humble offering and multiplied it – and how you can use this social media platform for the Kingdom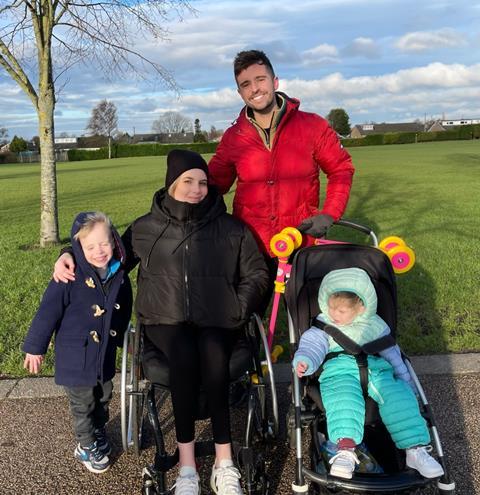 In April this year I started posting videos on the social media app TikTok. Just one month later, three of them had reached over 1 million views. Two were 'story times' – a very popular genre of video on TikTok where the creator, you guessed it, tells a story.
Despite having only 100 followers in early April, as of today, I now have over 161,000. One video has been viewed 23 million times! I'll be honest with you, I still don't really know what the secret is, but I believe it has something to do with the power of stories.
The story of my first date with my now wife 'First date with a wheelchair user (spoiler alert: I married her)' garnered over 1 million views in a little over two days.
But the story I want to highlight here is the video which recounts a funny and deeply spiritual moment with my son, which now has over 5 million views.
The willow tree
When we had our first born, Elijah, my wife and I received a willow tree statue of a mum and dad standing up holding a child. Elijah (now six) questioned whether it was a visual representation of our family. I told him it was and, confused, he asked: "Why is mummy standing up?" (My wife is paraplegic and a permanent wheelchair user.)
I explained that it was just an ornament and it didn't matter too much, to which he replied: "Do you think maybe we should break its legs off?" My wife and I burst out laughing and said: "Oh no, we don't want to break it! And it doesn't matter. It's still lovely isn't it?" He replied: "Yeah…" before adding thoughtfully: "Maybe it is our statue for when we are in heaven and mummy can walk again?"
The comments were almost unanimously things like: "what a rollercoaster of emotions!" and "I laughed and then I cried". But some were along the lines of: "So beautiful! I love his faith!" Which, if I'm honest, summed up exactly how I felt when he said it.
Why Tiktok?
Beginning as dance app Musical.ly, TikTok is now much broader than dance alone. Whether it's comedians, impressionists, singers, dancers, models, experts or more – you can find it on TikTok. Essentially a cabaret night rolled into an app, TikTok is the fastest growing social media platform in the world.
Over 1 billion active users share a wide variety of content and the average user opens the app eight times a day. But given that 60 per cent of TikTok users are Gen Z (nine to 24 years old), why did I, as a 33-year-old father of two, sign up?
People may reject a theory or a belief, but they can't reject our story; it's ours
Well, for two main reasons. Firstly, as a youth pastor, I think it's important to be present and aware of the current cultural landscape – both in person and online. Many fear the online world but I believe that, much like our non-digital lives, we don't need to abstain from online life as Christians. Instead we exercise wisdom and model Jesus. Whether we like it or not, social media is here to stay and we are better off managing its risks and capitalising on its advantages than ignoring it all together.
The second reason I joined is because I believe we have a huge opportunity. As Christians, we're called to share our faith and to witness a life made different by Jesus in every avenue of existence. We carry the good news and the Holy Spirit everywhere we go. At home, with our friends, playing sport, at work and online.
So how can we, as Christians, make the most of online opportunities? Especially when the culture of social media doesn't exactly lend itself to the calm and respectful exchange of ideas? I believe the answer is to tell stories.
The story-time genre is popular on TikTok because stories are hard-wired into our design. We're captivated by them. We're designed by order, not chaos, and as such, we crave a happy ending. Stories have power. They grab our attention. We're compelled to hear the end of them and they're deeply relational, allowing us to be known.Not only that, but people don't get to reject our stories. They may reject a theory or a belief we hold. They can reject an idea or an invitation, but they can't reject our story; it's ours.
Often, we find stories connect us to others and are shared. Look at the gospel. The story of Jesus is God's story, but it isn't just God's story. For those that accept it as truth, it becomes their story too.
Does it work?
In short, yes. We've been humbled by how God has used our simple videos. We've had countless opportunities to answer questions about our beliefs, share aspects of our faith – like why we waited until marriage to have sex - and to share our testimonies - all with total strangers, on a platform we would not have had without TikTok.
In response to requests from followers when I shared a video about the youth and community work we're doing in Blackburn, we gave our audience an opportunity to donate money and items from a wish-list. So far, we've received over £500 and have been sent gifts such as school bags, pencil cases and sleeping bags. All from strangers who have felt moved to give to what our church is doing because of what they've heard on TikTok.
It has given us the opportunity to promote our faith-based podcast 'Bring to Light' where we have honest conversations about faith and life. As a result, the hour-long episode where my wife Jade shares how her faith sustained her when she became paralysed has had almost 2,000 downloads. And finally we've even had a wonderful family join our church because of TikTok!
Don't doubt what God can do through you and your story. Whether that's in person or online – God is bigger than it all and is in the business of taking our humble offerings and multiplying them for his glory.

John Reynolds is a theology graduate and Emerging Generations Lead at St Luke's Blackburn. He is married to Jade with whom he has two children. John and Jade host the faith-based podcast Bring to Light.
View full Profile