Church incomes could plummet within a matter of months, says Paul Houghton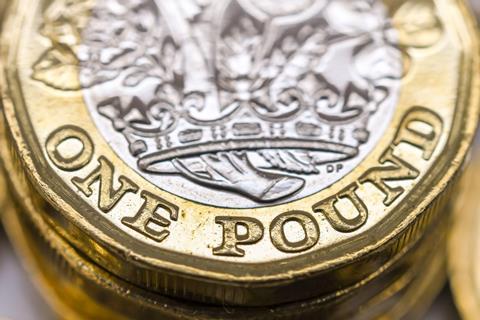 With the cost of living increasing steeply, churches are beginning to consider the potential impact on congregational giving. And with good reason. If a church member's giving is dependent on what they have left at the end of the month, the biggest inflationary hike in four decades could cause church incomes to plummet within a matter of months.
As Christians, we are aware of the Lord's call to generosity, including in the area of financial giving. 2 Corinthians 9 teaches, "Remember this: Whoever sows sparingly will also reap sparingly, and whoever sows generously will also reap generously. Each of you should give what you have decided in your heart to give, not reluctantly or under compulsion, for God loves a cheerful giver." This conscious attitude of sacrificial generosity is spoken of throughout the Bible and is a foundation that many life decisions are made upon.
Because of this, we will rightly have been taught to give financially and regularly to our local church. For most active and vibrant churches, this regular giving from members of the congregation makes up the vast majority of their income, and is essential for the overhead running costs of church life, including building costs, staff salaries and events.
A typical church will have been paying around £2,500 in gas and electricity per year, but with increased prices that utility bill is almost certainly going to increase to £3,500 or more. But what is much harder to estimate is the bigger challenge of reduced gift income, when the congregation themselves feel the pinch of financial stress.
Kingdom Bank, whose core activity is to provide mortgages for churches, is interested in monitoring whether churches are entering financially challenging times. We have calculated that, if a household were to cut its giving by a quarter of the forecast squeeze in household disposable income, the typical UK church would face a loss of almost one third (£22,000) of its annual income. Coupled with the church's own increasing overhead costs, churches may be about to bear the brunt of a double whammy of financial strain. The grim reality is that current rapidly increasing living costs may be a greater financial challenge for UK churches than the Covid pandemic.
Forecasts from the Centre for Economics and Business Research predict a fall in annual disposable income of just over £2,500 per household – the biggest fall since records began. That translates into households being roughly £200 worse off per month. So the big question is how will we, church members, respond.
Giving to the work of the church should be a joyful act of worship, not another cost that sends Christians into debt
Putting it bluntly, in the pecking order of monthly spending, what priority will we place on giving versus holidays, new clothes, meals out and the entertainment subscription?
The best of us will have organised our finances around our regular giving: deciding first what to give based on income after tax before any deductions, and then we will have chosen accommodation and expenditure accordingly. This means that for most people accommodation costs (including utility bills) and taxes are essentially fixed costs that can't easily be flexed. So, when these prices suddenly increase, Christians can find themselves in the red each month. In these cases, it will be understandable for church members to lower or pause their financial giving, as we do not want people to be giving from a place of legalism or detrimental responsibility when their personal finances are evidence of real pressure and hardship. Giving to the work of the church should be a joyful act of worship, not another cost that sends Christians into debt, when the money coming in just doesn't stretch far enough to cover basic needs.
It is worth underlining that there are many other ways to be generous to your church family, including with your time and gifts. Cutting back on financial giving doesn't need to be the end of your service in the local church.
For some this will be a moment to reduce our monthly giving. And for others this is the moment to step it up
It will be important to give time to consider how we can make changes which reflect the importance of sacrificial financial partnership in gospel ministry. Most Christians are about to feel the pinch of increased living costs, but for some it will be less debilitating than for others. Indeed, those of us who can afford it will want to increase our giving to support those under strain. So, whether or not we're struggling to make ends meet, every one of us should be asking: what changes can I make in these challenging times as part of my service of the Lord and my investment in the work of my local church? For some this will be a moment to reduce our monthly giving because, even after sacrificing the non-essentials, the household budget just doesn't work. And for others this is the moment to step up to support others in the glorious gospel partnership of your church family.
As Christians, we are called to be countercultural. In a society focussed on individualism and personal satisfaction, this looks like giving sacrificially to benefit, help and support others. Matthew 6:21 tell us "Where you treasure is, there your heart will be also", which shows how telling our personal finances can be in showing our understanding and practice of the love displayed in the gospel.
Let's get practical: is your heart more prone towards loving your Christian family or ordering a Friday evening takeaway? Perhaps now is a moment of choice? For some of your Christian neighbours the takeaway will no longer be an option because money is too tight, and their giving has also been trimmed. Although increasing your giving to cover others' reduction may mean that you too need to go without your Chicken Tikka Masala, sacrificial giving is part of our worship of the Lord, shows grace and love to others in our church family, and is itself a wonderful blessing.
In making financial sacrifices in our day-to-day spending habits, we can help churches weather the approaching financial storm. We are called to give out of a love for God and a love for those around us, so let's make a priority of ringfencing our financial giving to the church, and be quick to sacrifice the non-essentials.

Paul Houghton joined Kingdom Bank as CEO in 2020 and leads the Bank's strategic thinking and planning as it seeks to serve UK churches. He has 20 years of leadership and management experience in financial and professional services and also sits on the Council of Oak Hill Theological College, chairs the Board of Governors at Birkdale School in Sheffield, and is an active member of his local Anglican evangelical church in Sheffield. He enjoys walking in the Peak District, cooking, and messing about in boats.
View full Profile