This year's Games brings with it an important challenge for the Church, says Carolyn Skinner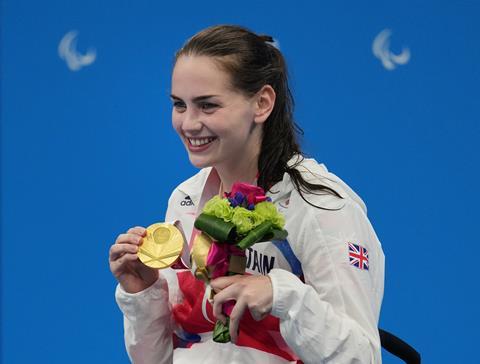 #ImpossibleToIgnore
That is one of the hashtags currently trending around the Paralympics and Team GB.
For far too long the disabled community and disability sport has been largely ignored. But as the eyes of the world are on the Paralympics in Tokyo it is another reminder of the power of sport to address critical issues in the world today.
Research has shown that Paralympic athletes are key to challenging perceptions of disability. They have become heroes, inspirational role models, and opened our eyes to issues which need to be addressed.
In my role as a sports chaplain, I have had the privilege of serving at several disability sport events since the Winter Paralympics in 2010. That event was a huge learning curve for me in my understanding and appreciation of disability sport. Despite ongoing efforts to raise awareness, it still felt like disability sport was under the radar. I didn't know anyone that could name a Paralympian. I served at events where there were hardly any spectators present. However, I witnessed a watershed moment at London 2012 when stadiums were packed, faces of Paralympians were on buses and billboards, and they became household names. Ellie Simmonds, a Paralympic swimmer said that it was the pinnacle of the Paralympic movement, and that finally Paralympians were treated the same as Olympians.
the Kingdom of God is one of diversity and inclusivity
This year is another breakthrough with the most TV coverage of the Games, and the largest number of disabled presenters ever seen on UK television, courtesy of Channel 4.
Another addition this year is the launch of the largest ever global disability campaign called WeThe15. The campaign raises awareness of the fact that 15% of the population has a disability, and it aims to improve inclusion and end discrimination of people around the world by 2030.
The journey that I have been on in my understanding of disability is one that continues to challenge me but one that I must embrace and commit to learning. There is also a challenge that the Church needs to not ignore. Many churches still have a long way to go in making themselves accessible and addressing issues of inclusion and representation. I hope that we will see changes in the church over the coming years too.
As I reflect on the Paralympics, and see the memories pop up on my phone, I vividly recall an evening at the chaplaincy centre at the Paralympic Games in London 2012 where the room was made up of a whole mixture of nationalities, varying levels of disability, elite athletes and volunteers, all with a passion for Jesus. We didn't have a translator, but as we did our best to pray and worship together it was something truly beautiful. It was a place of acceptance, equality and unity, and felt like a little taste of heaven.
I have become a passionate supporter of disability sport and as I eagerly watch the events this fortnight I am reminded once again how we are all made in the image of God, how the Kingdom of God is one of diversity and inclusivity.
The Bible gives many examples of God's heart for the marginalised in society. Campaigns such as WeThe15, and events such as the Paralympics, reflect the values of God's Kingdom. God is a God who gives value, worth and dignity to every human being. He is the one who gives us purpose, meaning and fulfilment, who looks at us and sees the vast potential within us. He delights over each and every one of us.
My hope is that the Paralympics will have a record number of viewers, inspire a generation, and lead to lasting impact, shifting mindsets for years to come.

Carolyn Skinner is CEO of Third Space Ministries and Pastoral Support Lead for Gym Chaplaincy at Sports Chaplaincy UK. When not working she can be found running in Richmond Park, drinking coffee with friends, wearing flipping flops and searching for sunshine!
View full Profile