Every year, a group of Christians gather together to serve the world's most famous tennis queue. Carolyn Skinner reports on what God has been doing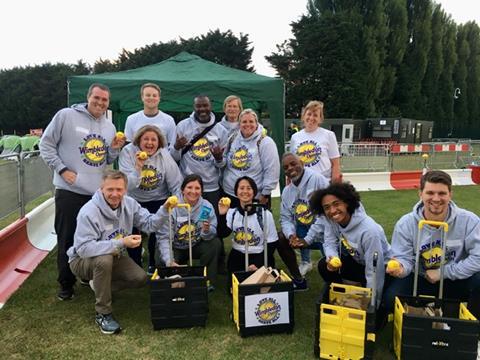 Each July, a corner of South West London gears up to eat strawberries and drink Pimms, cheer on the British hopefuls, and stand in extremely long queues. The Wimbledon Tennis Championships is a uniquely British tradition and, as it descends upon SW19, there is something special about being part of it.
At Third Space Ministries, we love to welcome people from all around the globe to the most famous queue in the world, and demonstrate something of the kindness of God to them. We gather together a team of volunteers (mainly from local churches) and, playing on some tennis terminology, call what we do 'Love All Serve All'. But our branding also has a deeper underpinning; we firmly believe that this is what Jesus came to do, and what he calls us, as his followers, to do also.
Tennis fans come in the hope of getting a seat on centre court, but go away having encountered the living God
In Wimbledon Park, thousands of tennis fans queue overnight in the hope of getting a ticket to see their favourite tennis celebrity, or to just soak up the atmosphere of the iconic All England Club. For nearly 20 years now, the Love All Serve All team have headed down to the queue each evening to give out gifts, be a listening ear, and pray and chat about life and faith.
A gift from God
One of the things we give out are tennis stress balls, on which we write words of truth and hope, such as 'faith', 'loved', 'joy', 'peace', or a short phrase, such as "stay strong". We pray over these balls and trust that God will use the words written on them to connect with a point of need in someone's life.
As we give out these gifts, we ask people if the word written on their ball means anything to them. It is amazing to see how it opens the door to a deeper conversation about the things of God!
We have also produced a tennis-themed Gospel of Luke with a quiz inside. When it feels appropriate, we hand these to people who want to find out more about what we believe. There is a lot of time for reading in the queue for Wimbledon!
Sometimes, Christians can feel daunted about sharing their faith, but we are often welcomed with cheers, smiles, and a catch up if it's an annual visitor. The atmosphere in the queue is so good natured that it is a joy to become part of annual tradition that is Wimbledon. That's why we do this year after year - and are glad to be back again for a second year after the pandemic hiatus. And by taking part, volunteers see their own faith grow, as well as their confidence in sharing it and their understanding of how they can be used by God.
Sowing a seed
Over the years, we have been encouraged to see healings and salvations, but this is mainly a seed sowing exercise. It's not about how many people we talk to, or how many Gospels we give out, but about truly valuing the individual in front of us and seeing people as God sees them. Our aim is to bring down barriers and change people's perception of God and church.
We have seen divine encounters, as God has led our team to people with whom there is a natural connection. We have seen people laugh with us and cry with us. As we sit with those who need comfort, we are able to demonstrate that there is a God who loves them, knows them by name and who cares deeply about their situation. As we pray, we invite God to reveal more of himself and there is often a tangible sense of peace and comfort.
It's not about how many people we talk to but seeing people as God sees them
Last year, one lady took a stress ball on which was written: "Have faith". She couldn't quite believe it. She rolled up her sleeve and revealed a tattoo which said exactly the same thing. Only God can create these moments! Our team chatted and prayed with the lady and her partner.
I love the fact that tennis fans come to Wimbledon in the hope of catching a glimpse of a celebrity or getting a seat on centre court, but often go away having encountered the living God!
The Love All Serve All team will be at the Wimbledon tennis queue again this year throughout the tournament. We believe that prayer is vital to what we do, and would love you to pray for the volunteers, for meaningful conversations with fans and some beautiful God encounters in SW19.
Hear Carolyn Skinner on Inspiration Breakfast with Esther Higham here
To find out more, visit Third Space Ministries website


Carolyn Skinner is CEO of Third Space Ministries and Pastoral Support Lead for Gym Chaplaincy at Sports Chaplaincy UK. When not working she can be found running in Richmond Park, drinking coffee with friends, wearing flipping flops and searching for sunshine!
View full Profile