The Church is made up of Christians from a myriad of different professions, and yet their ordinary tales of God at work rarely get told. In this series, we bring you stories of faith on the frontline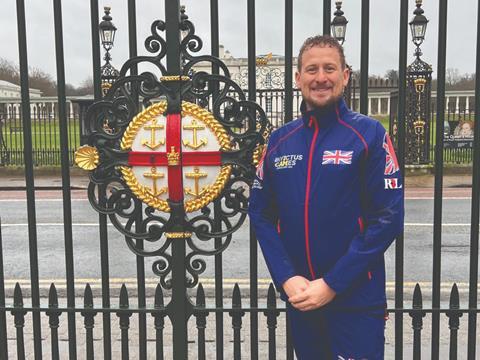 My name is Scott Robertson and I'm preparing to compete in the Invictus Games in Düsseldorf, Germany, in September. Invictus is an international multi-sport event for wounded, injured and sick servicemen and women (both serving and veterans). The word 'Invictus' means 'unconquered', which is a reminder of what's possible, post injury. I'll be competing in indoor rowing, table tennis and sitting volleyball.
I was in the army for 14 years, where I reached the rank of sergeant. I commanded ten soldiers and did two tours of Afghanistan. The second tour was especially challenging. I was awarded the Queen's Commendation for Valuable Service, but I also developed post-traumatic stress disorder (PTSD). I pushed on for six years before I was medically discharged. That's when my life really fell apart. I was in a dark place and couldn't look after myself very well. In January 2022, I discovered Jesus and began following him. That has been life-changing.
Invictus isn't about the medals, but sport and competition are good and to be celebrated. I will train hard, give my best and compete for the glory of God. I know that any victories that come my way are from God.
I struggle with meeting new people and going to events, but God enables me to do this. I carry a Bible wherever I go; I pray before training camps and meetings. I listen to worship music. This helps orientate and equip me, and helps me compete. I am able to reflect the character of Jesus and show kindness, gentleness and grace in situations with veterans who can't hold their tongues. I am able to support others because of what God has given me.
In the army, you're taught a set of values that are profoundly Christian, and I seek to carry those with me into the games. Integrity, selfless commitment and courage are all significant.
I've had opportunities to talk about Jesus with people, including a competitor from Nigeria and another guy who's interested in hearing more. This is part of who I am, because Jesus has been central to my recovery.
Please pray for my preparation for the Games. Pray that I will do my best, and that God works in and through me.
Scott was speaking to Paul Woolley

Paul Woolley is the chief executive of the London Institute for Contemporary Christianity (licc.org.uk), an organisation working to catalyse a movement that envisions and empowers Christians to live as disciples in their everyday lives
View full Profile