When Chatburn Methodist Church wanted to find new ways to engage with their local community they asked Harriet Roberts, an award-winning marketing expert, for advice. Her first move was to turn to the popular pub chain Wetherspoons. Here's why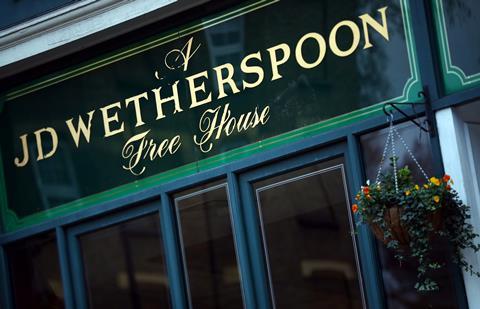 I sometimes drop my daughter off for Sunday morning youth theatre rehearsals and, rather than drive home and back, find myself a quiet corner in the local Wetherspoons. I order a coffee and scrambled eggs on my app, log into the Wi-Fi, plug in my earphones and catch up on work or a Bible study. At 10am on a Sunday, the place is buzzing.
I have relatives in their mid-70s who are life-long Catholics. Like many, they have not gone back to their local church since lockdown, preferring instead to shop around online. But they visit their local Wetherspoons a couple of times each week, buying a refillable brew and whiling away a few hours reading the newspaper. They are on first names terms with the bar manager and have become friends with all the regulars.
I reckon you'd find Jesus in Wetherspoons
Society has a love/hate relationship with Spoons and its founder, Tim Martin. I know people who wouldn't be seen dead in the place. But love it or loathe it, I'm convinced that churches can learn from them. It can't just be the cheap beer that pulls the punters in: all of life can be found in a Wetherspoons. There's workmen in overalls, old guys playing dominos, families having tea and young mums with push chairs. There's business guys in suits on their laptops and students out for a night on the town.
I work all over the UK, and there's always something safe and familiar about walking into a Wetherspoons. I like the anonymity and the space to just be who I am and do what I want. I like the lack of pressure to check in or even speak to anyone. I like knowing what to expect on the menu and not having to dress up. I feel comfortable and accepted. And, after paying for your first cheap coffee, you can refill for free all day.
So, in attempting to build better connections with their local communities, what lessons can the Church learn from one of the UK's largest and most successful pub chains?
Warm and welcoming
I recently discovered an unofficial fan website dedicated to Wetherspoon's carpet designs. It sounds weird, but carpets are important: they can totally change how a space feels. Old churches can be cold, and often impractical for any kind of social mission work. It's not a great start if you have to keep your coat on because of the draught. At Chatburn, we installed a new carpet which stretches from the front door through the length of the building, to add warmth and make the space more welcoming. Now, when new people come in, they often ask: "Is this a church?"
Flexible spaces
Wetherspoons has lots of different spaces and seating options for people to choose from. There are booths, dining tables, stools at the bar or high top tables. At Chatburn, we needed flexible, zoned spaces, so we created different areas with beanbags and bookcases, soft lighting, sensory equipment and comfortable, high-backed seats with arms for older folk. Yes, many churches may have now ditched the pews, but if you have only replaced them with rows and rows of upright chairs, is there really that much difference?
Generous hospitality
You don't need barista skills to serve good, free coffee (not the instant stuff!) A filter jug with hot plate will do just fine. We've replaced the 1950s cups and saucers with big, bright mugs and we even do frothy milk! We bless everybody with free toast and the best butter throughout the week. It doesn't take much to welcome people in and make them want to stay.
All ages
One reason that churches are dying is that the Sunday school is kept separate. Then, once children grow out of their activities, there is no easy transition into the adult service. Wetherspoons isn't Charlie Chalks - it doesn't have a ball pond or separate children's menu. The kids are welcomed alongside the adults. And our church doesn't feel like a nursery, but we don't put the children's stuff away in the cupboards at night either. We run intergenerational coffee mornings to encourage old and young to mix. We want Chatburn to be the hub of the community, rather than the pub!
Heritage heroes
Where churches are closing, decaying and leaving urban blight, Wetherspoons is rescuing, repurposing and reusing heritage. Rather than being left to rot, investment is keeping these buildings alive. Not far from us, Wetherspoons have repurposed the Winter Gardens in Harrogate, the old Regal cinema in Rochdale and even a Methodist chapel in Darwen. The managers are encouraged to take part in town centre partnership meetings and serve as committee members in Business Improvement Districts. We need to make sure our church buildings bless our local communities too, and our church members and leaders are at the heart of civic life. Where can we serve on committees, get involved in local life and add to the economic and social wellbeing of our communities?
Embracing technology
Like Wetherspoons, many restaurants and fast-food outlets now have technology that allows you to find a table, order online and have your food and drink brought to you in a Covid-secure way, without having to interact with anyone. Many churches have had to embrace technology to connect through lockdown, but how many have continued to develop this, build on what they have learned or offer Covid-secure access for those who cannot – or are not ready - to go back into the building? Strategic digital communication that supports our mission is vital. Pay for these skills if you don't have them - they are so important in a world where content is king and marketing messages are everything.
Open all hours
When we researched the needs of Chatburn village, we found there was a need for after school activities. LEGO Church, which attracts up to 20 families, includes a Bible-based activity, storytelling, prayers and action songs. And we've moved our weekly worship from Sunday to Wednesday to better meet the needs of our community.
What does the Bible say about filling our churches? I've checked … nothing!
What does the Bible say about filling our churches? I've checked…nothing! But I reckon you'd find Jesus in Wetherspoons. In Matthew 22:1-14, the parable of the wedding feast explains that God wants a full house and intends everyone to be invited. Of course, when Jesus talks about a feast, he's talking about the kingdom, not a building. Our mission is not to be focussed on filling our churches but to go out, find where it hurts, then use our spaces to serve. To create a sense of community and familiarity in an increasingly uncertain and unfamiliar world. We're focussing on that at Chatburn, and praying that God will do the rest. Cheers!

Harriet Roberts is a local preacher and mission enabler with Clitheroe Methodist Circuit, Lancashire. She works as a freelance town centre events and creative communications consultant, and is an award-winning place marketing expert.
View full Profile