As a response to the declining value placed on our Christian heritage, Nick Fletcher MP has tabled a motion in parliament to discuss the value it brings to society and the hope offered in Christ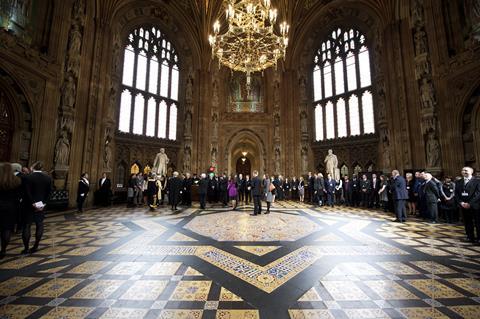 Last Easter, as I walked around my home town and Westminster, I saw more evidence of the Easter bunny than I did of the cross.
Recently, the London School of Economics (LSE) became the latest university to announce that it would be dropping the terms 'Easter', 'Christmas' and 'Michaelmas' from their academic calendar. It seems that many institutions want to erase or ignore their Christian heritage.
In conversations everywhere, the Lord's name is taken in vain, and no-one seems to care.
Christianity is the foundation on which we have built this wonderful country
Religious literacy has been declining for decades. Every Christmas and Easter, the newspapers will report some new poll showing that fewer and fewer people understand even the most basic claims of the Christian faith.
A different view
Yet, at the same time - and particularly here in Parliament - I see the imprint of Christianity everywhere I look. The beautiful buildings of Westminster, the laws that we MPs seek to make our own individual mark upon; when we look carefully, we see that they reflect our Christian heritage back at us. And that heritage is good and beautiful.
So, in time for this Easter, I resolved to raise this issue in Parliament.
The basic historical and legal facts about our Christian heritage and constitution are receding from our collective cultural understanding. I wanted to ask: Does this matter? My own answer is: "Yes". Firstly, for constitutional and cultural reasons. Secondly, from the point of view of faith and what it brings to our lives.
It is important for MPs and ministers to hear this message because, while the recent census showed fewer people identify as Christian, it is still the faith of the majority of people in the UK. We are a Christian country, and are set as such in legislation. Therefore, our first reference point should be the majority of Christian people who make up our great nation.
Constitution and culture
Throughout British history, the Church has pioneered some of the most profound and positive social changes to bless these islands.
It was the biblical idea of God as the ultimate law-giver that underpinned the Magna Carta, providing the foundation stone for individual freedom and establishing the principle that no one, not even the King, is above the law.
When we look carefully, we see our Christian heritage reflected back at us. And it is good and beautiful
It was his Christian faith that moved English philosopher, John Locke, one of the most influential of Enlightenment thinkers, to develop our understanding of religious tolerance.
It was William Wilberforce's Christian beliefs that compelled him to fight for the abolition of the slave trade.
It was Christianity that inspired Hannah More to set up free schools for the poor.
I could go on.
Here in Parliament, above each entrance to the central lobby, the patron saints of each country that makes up our United Kingdom are celebrated in murals. The tiled floor contains the words of Psalm 127: "Unless the Lord builds the house its builders labour in vain."
We should be proud of our Christian heritage, and we should remember our Christian values in the work that we do. We should cherish the Christian faith because it is true. And because of what it means for each and every one of us.
Christian hope
The two greatest instructions in the Bible are taught in Luke 10:27. Jesus said: "Love the Lord your God with all your heart and with all your soul and with all your strength and with all your mind" and "Love your neighbor as yourself."
My neighbour is everyone. In here, in Parliament, from all parties - and everyone across the globe too. All of us. I could not do my job without the help of my faith and the guidance it gives me every day.
So this Easter I wanted, with colleagues, to reflect upon our Christian past. And also on our Christian future – and Christianity's central message of faith, hope, and love.
Christianity is the foundation on which we have built this wonderful country. I believe it would be a disaster – constitutionally, culturally and spiritually - to let it fall by the wayside.
So let us all remember what Christ did for us on Good Friday, but also remember to share the good news that Easter Sunday brings, too. New life in Christ is available to all who believe.

Nick Fletcher is the Conservative MP for Don Valley. He is a member of the all-party parliamentary group (APPG) on issues affecting men and boys, and the cross-party Commons education committee.