Blasphemy is so endemic that even sticking to 'U' rated movies won't prevent Christians from stumbling across it. It may not seem a big deal to movie makers, but Charlie Gobel says Christians shouldn't take it lightly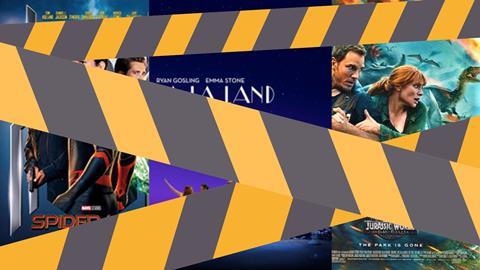 I don't know where I've been for the last 50-plus years, but I just noticed something that almost all movies have in common.
Whether it's a comedy (National Lampoon's Vacation); or an action movie (Mission: Impossible - Fallout); lighthearted family fare (Mrs Doubtfire); a superhero extravaganza (Captain America: Civil War); a musical (La La Land); a time travel saga (Back to the Future); a natural disaster epic (San Andreas); or even a sentimental hero movie (Forrest Gump), it's there to behold.
He is not to be mocked by blasphemous dialogue passed off as entertainment
Classic movies have it (The Godfather); "B" movies have it (Piranha 3D); gigantic money-making movies have it (Avengers: End Game) and horrid flops too (Bad Santa 2). Just about every famous actor, old or new, has willingly played a role in the phenomena, from Robert Redford to Bradley Cooper, Meryl Streep to Scarlett Johansson, and thousands more besides.
A bolt out of the blue
Taking the Lord's name in vain has, of course, been prevalent for quite some time but, somehow, it just struck me like a bolt of lightning. Since the start of the pandemic, I've found myself slowly going down a spiritual growth path, and perhaps I've also been watching more TV. Suddenly, I realised that nearly every movie I viewed contained either a "God damn", "Jesus!" or "For Christ's sake!" uttered out of context and in exasperation or frustration.
My guess is that writers, actors and directors would argue: "So what's the big deal? This is how people speak." But is that true? Does everyone use those derogatory words and expressions in normal conversation - and to the extent with thich they appear in almost all movies? I think not. By allowing and promoting these practices, the film studios are not taking into consideration the many viewers who may be greatly offended by them.
Vote with your remote
That same group of writers, actors and directors would probably tell anyone who doesn't like these utterances to just turn the film off. And actually, that is what I now do. As soon as I hear a phrase demeaning God, I click the remote and away it goes. Often within just a matter of minutes of it starting.
But this means I no longer get to watch many of my once-favorite flicks, classic films like Jaws, Iron Man, Fast and Furious 7, Big, Bridge of Spies, Independence Day, The Perfect Storm and Spider-Man: Far from Home. Even Jurassic World- Fallen Kingdom is out (I was extremely surprised to see Chris Pratt as the culprit).
And the very saddest part of all of this, and what puzzles me more than anything, is why Hollywood feels compelled to add blasphemy to their dialogue when it's really not necessary.
God rightfully demands that his name is revered
In One Fine Day, George Clooney could very easily scream "dammit" as he's racing to catch the departing boat, instead of the "God dammit" he shrieks twice. The gist of the scene would not have changed.
And in Draft Day, when Kevin Costner is speaking to another NFL general manager, he could simply have uttered: "Tom, at least act like you called me!" instead of adding the name of our saviour right before that of the character he was addressing. The audience would have understood.
A righteous command
"Thou shalt not take the name of the Lord thy God in vain" (Exodus 20:7, KJV) is a directive that God felt was so important that he included it with "Thou shalt not steal" and "Thou shalt not kill" as part of his ten commandments to all of us.
He rightfully demands that his name is revered. "Great is the Lord and most worthy of praise," says Psalm 48:1. He is not be mocked by the blasphemous dialogue that Hollywood tries to pass off as entertainment.
Let's hope and pray that someday soon, film makers and scriptwriters will display the same amount of respect for its God-fearing customers as it does for everyone else. Then we'll all be able to enjoy the movies again, right up until the closing credits!

Charlie Gobel is a retired businessman, having spent the last 30 years as a senior vice-president for several major investment firms. He is also a writer, and has been published in Best Life Magazine, Parent Guide Magazine, BC, The Magazine and The Record.