Britain's Tyson Fury has just become world boxing's heavyweight champion having beaten Wladimir Klitschko. The controversial character also claims a Christian faith. Justin Brierley investigates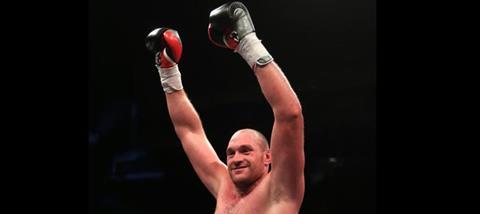 When Premier Christianity magazine put together a list of 33 influential Christians aged 33 and under it included Tyson Fury. The piece caused controversy, partly because of some of the language quoted by Fury, but mainly because Fury himself is a controversial character.
'Jesus was a man's man. He was a carpenter. He worked every day, he went out and spread the word of God and wasn't afraid of dying.' These are the words of the unbeaten 27-year-old heavyweight champion boxer. 'God has given me a talent to box, so I'm going to fulfil it with all my potential and just keep going as far as God will allow me,' he says.
Tyson, who was named after Mike Tyson, was born into Irish Traveller heritage. He proclaims his faith on the description of his Twitter account (@Tyson_Fury) saying ' I follow Jesus' and frequently posts faith-filled pictures and quotes. Shortly before his match with Klitschko he tweeted "Absolutely buzzing for tonight, I've been laying down most of the day, Feeling great, blessed be the Lord Jesus Christ".
Tyson has spoken of how his conversion to Christ came through his uncle, Ernest, a pentecostal preacher. He is always up front and willing to talk about his beliefs to the press. Speaking to the BBC he said: 'I'd like to think that God is going to forgive me for everything... But you wake up in the morning and there is sin everywhere. It's a hard road to walk but God gives me the strength every day to batter the devil.'
I'd like to think that God is going to forgive me for everything
So isn't it great? Boxing's top heavyweight athlete is an unashamedly committed Christian. But... and it's a big 'but'... Tyson's foul mouth also often lands him in trouble. In his worst moments he is even capable of shocking homophobia and casual death threats. We won't reproduce the sentiments expressed in some of his tweets but if you want to inform yourself you can go here.
Fury is a conundrum. He is as much known for his hot head as his Christian faith. We can thank God for someone who clearly has a strong faith in Christ and has enormous influence over millions of people... but nor can we condone the behaviour that he often exhibits online.
So how do we respond? Perhaps a grace-filled approach needs to be taken... Jesus welcomed everyone, foul mouthed sinners included, and Fury has never claimed to be a Christian role model. God uses all kinds of imperfect channels as means of his grace (you and I included). Yes, Fury needs to be challenged about some of his statements, (and if and when I meet him I plan to do so), but as he himself points out: 'I could [reach] more people in one evening than a million churches around the world. God is using me to talk to everyone and tell them the good news. I'm evangelising to everyone.'

Justin Brierley is an author, speaker and broadcaster. His book The Surprising Rebirth Of Belief In God: Why New Atheism grew old and secular thinkers are considering Christianity again (Tyndale House) is now also a podcast documentary series. For more information, visit justinbrierley.com
View full Profile