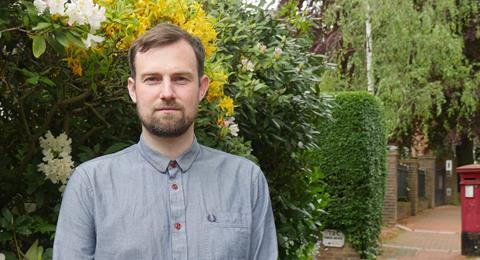 There are many clichés that I could use to talk about waiting. 'Good things come to those who wait'; 'patience is a virtue'. But for schools - and teachers - waiting for direction on trans issues, the old adages don't do much to placate frustration at the delay in government guidance on the topic.
The truth of the matter is that clarity on transgender issues cannot come soon enough.
This week, Joshua Sutcliffe was barred from teaching in English schools for "inappropriately expressing religious beliefs" and "repeatedly using female pronouns to refer to a pupil who identified as male".
Joshua's case serves as a reminder that on this matter, Christian teachers – and, in fact, all education professionals - still operate within a vacuum. In 2018, the government promised schools guidance about transgender students. Yet despite several years of discussion, the government has yet to issue guidance to schools on how to accommodate students who identify as trans or who are questioning their gender identity.
I regularly hear from teachers who feel silenced and intimidated because of their beliefs
A survey commissioned by the BBC through the tool 'Teacher Tapp' asked almost 7,000 teachers in England a series of questions about their experience with transgender pupils. About 8 per cent of primary school teachers said they taught trans or non-binary pupils, with 75 per cent of secondary teachers saying they do. It's obvious that trying to navigate concepts of parental responsibility, inclusion, safeguarding and matters of conscience is an increasingly complex - and common - problem for the profession.
Some may suggest that Joshua's misconduct hearing is a pivotal point in the debate around the correct way to treat trans pupils, not to mention compelled speech and the place of Christian views in the wider education system. The headline news that a Christian "gets struck off for misgendering" is sure to be chilling for many Christian teachers. But despite what some media outlets imply, it is unlikely that the case will carry any major landmark implications.
There are legitimate questions about the prudence of Joshua's decision to appear on national TV to discuss his case while an investigation was supposed to be taking place, and it is unlikely that every Christian would behave as stridently in the classroom or express their Christian views in the same way. Joshua was accused of acting inappropriately in showing a particular video without giving the pupils the opportunity to discuss the alternative view. The case is complex, and Joshua is currently appealing the decision with the support of the Christian Legal Centre.
The real issue
What is perhaps more pertinent are the myriad of Christians in education who express disquiet and unease at the somewhat less punitive - though not insignificant - ways their beliefs are often marginalised and policed. At the Association of Christian Teachers (ACT), I regularly hear from teachers who feel silenced and intimidated. I hear from colleagues who have resigned their roles because they cannot work within their school's policy on transgender pupils. I hear from members that they have been removed from certain responsibilities in teaching PSHE or RSE because of their Christian views on gender and sexuality.
As Christians, we must take our legal responsibilities seriously. Teachers must provide a balanced and impartial account of controversial issues in their lessons. Christians must make every effort to build positive relationships with their students. It's usually not necessary to refer to someone with a third-person pronoun while in their presence, and trust between colleagues can be built by honest conversations with line managers about matters of conscience.
But could it be that many schools are guilty themselves of failing to provide impartial accounts and handling of controversial issues - the very accusations levelled in this case. Are traditional, biblical views permitted a place at the table alongside other ideologies? The answer, according to statutory provision, is "yes". But in practice, this is often not the case.
Many schools promote viewpoints that are contrary to Christian beliefs without offering opposing ideas. In a recent survey, only 14.8 per cent of ACT members informed us that gender theory, which claims that biological sex and 'gender identity' are two distinct factors, doesn't feature at all in the curriculum content. And only 20 per cent reported that when contentious or political issues such as gender theory, feminism, abortion are brought to the attention of pupils, they are offered a balanced presentation of opposing views.
Hope for clarity?
For every one teacher such as Joshua Sutcliffe, there will be thousands of other Christian teachers who hold to the same biblical beliefs about gender and sexuality. And though they may not communicate these beliefs in precisely the same way, each of them, sooner or later, may have to make costly decisions, whether the repercussions are minor or major.
Could it be that many schools are guilty themselves of failing to handle controversial issues impartially?
By the summer term, the prime minister has pledged to publish new government guidance on how teachers should respond to transgender issues. Murmurings are hopeful, with indications that the guidance will include the pragmatism of the Cass Review and the NHS interim service specification, which were very cautious about social transition.
An ACT member reminded me recently of a quote attributed to Valery Legasov, a Russian scientist best known for his work in containing the fallout from Chernobyl: "Every lie we tell incurs a debt to the truth, sooner or later that debt is paid".
Christians need to be careful and respectful, but respect cannot extend to endorsing false ideas or self-deception. I certainly hope, and pray, that the government's guidance will adhere to the principle taught in 1 John 3:18 of "let us not love with words or speech but with actions and in truth."

Lizzie Harewood is CEO of the Association of Christian Teachers. She previously spent 12 years as a secondary school English teacher. Her passion is to equip Christians to be salt and light in the nation's schools. Outside of work, Lizzie supports her husband as he pastors an evangelical church in Yorkshire. The rest of her time is taken up with being a busy mum of two kids, trialling experimental recipes and drinking good coffee!
View full Profile