In the last 30 years, the number of countries where Christians face extreme levels of persecution has almost doubled. As the United Nations marks the international day for commemorating victims of religious persecution, Daniel McIlhiney explains what has been happening in Pakistan, and how Christians can pray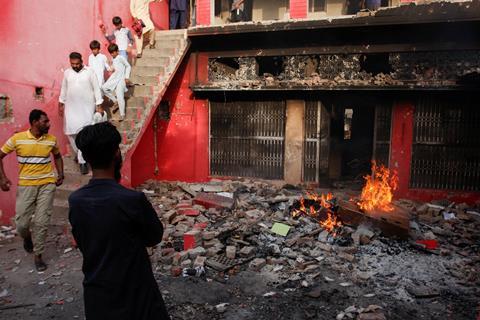 Last week, two Christian brothers were accused of blasphemy in Jaranwala, Pakistan. This resulted in the large-scale destruction of the Christian community in that area. It was alleged that offensive slogans had been scrawled in red pen across pages of the Qur'an. However, those who made this accusation also claimed that the two brothers included their names, addresses and national identity card numbers in their desecration – quite why they would have included such incriminating information is, as yet, unclear.
The local Muslim community, led by local, armed clerics, proceeded to burn down historic churches in the area, torch and loot Christian homes and property and desecrate a Christian graveyard; countless people were forced to flee in fear of their lives. The attack lasted for ten hours.
Fear and loathing
In Pakistan, both Christians and minority Shia Muslim groups live in perpetual fear of being accused of blasphemy. Under the infamous Section 295 of Pakistan's penal code, this crime is punishable by anything from a few years in prison to death. In 1990, the Federal Shari'a Court ruled that the only fit punishment for blasphemy against the Prophet Muhammad is execution. Therefore, blasphemy is a de facto capital crime – although the sentence is not thought to have ever been carried out. Nonetheless, false accusations are rampant, and frequently used to settle personal scores. This often results in mob violence; as of 2021, at least 89 alleged blasphemers have been killed extrajudicially.
Today, at least 360 million Christians face extreme levels of persecution: that's one in seven
It has long been known that public displays of Christian faith leave individuals and properties vulnerable to attack in Pakistan. However, the ferocity and speed with which local communities responded to what may well be an unsubstantiated accusation of blasphemy is alarming. Police arrested over 100 individuals involved in the attacks and cases have been filed against hundreds more. High-ranking members of the government, including the interim prime minister, Anwar ul Haq Kakar, have condemned this incident.
In addition, both brothers have been arrested for blasphemy and are currently being held in police custody. They join large numbers who are often imprisoned for long periods of time as judges, who fear being viewed as lenient, refuse to hear their cases.
Forced conversions
Last week's violence is just one of a series of concerning developments in the country. During the Covid-19 pandemic, Christians suffered extreme discrimination, particularly around the distribution of emergency aid and medical support. Not only were they denied food, water, medical treatment and vaccinations, some radicals attempted to force conversions through food distribution by requiring those who wanted aid to recite the Shahada (the Islamic confession of faith); in refusing, some starved to death.
Forced conversion remains a central issue for the Christian community. Young Christian girls or children of vulnerable converts are abducted, forcibly "married" and converted. Recently, the Pakistani parliament rejected a bill that would criminalise forced conversations, despite a 177 per cent increase in cases in 2020.
Christians in Pakistan are no strangers to violence. An estimated 1,000 honour killings occur each year
Christians in Pakistan continue to be regarded as "Chura" (an offensive term meaning 'filthy'). This means that demeaning work is often reserved for Christians, and Christian children in schools are often forced to clean toilets. As a result, families are kept in poverty, with unpayable debts and often end up in "bonded labour" – a type of slavery still rampant in Pakistan. This exclusion is re-enforced from a young age with educational material inciting hatred and violence against Christians.
Christians in Pakistan are no strangers to violence. An estimated 1,000 honour killings occur each year and random attacks are not uncommon. This month marks the one-year anniversary of a drive-by shooting that targeted a playground in a Christian colony in Mastung, Balochistan; one died, and three others were wounded.
On the rise
Christian persecution is on the rise worldwide. Today is the United Nations' International Day Commemorating the Victims of Acts of Violence Based on Religion or Belief. Around the world today, at least 360 million Christians face high to extreme levels of persecution: that's one in seven.
Open Doors began documenting Christian persecution 30 years ago. Then, there were "only" 40 countries in which Christians experienced very high or extreme levels of persecution; today, that number has nearly doubled to 76.
Today, let's remember our persecuted brothers and sisters in prayer:
Pray for Christians in Pakistan who are left to rebuild their homes and churches. Ask that God will bind up their wounds and give them comfort.
Pray for those accused of blasphemy, that they would be treated justly and that any false accusations against them would be shown as such.
Pray for the persecutors, that they may have their hearts softened and eyes opened to the love of God.