Despite child marriage being illegal in Pakistan, more than 1,000 girls are kidnapped, married to much older men and forced to become Muslims every year. Following International Day of the Girl Child, Tehmina Arora says Christians should be leading the way in crying out for the protection of religious minority girls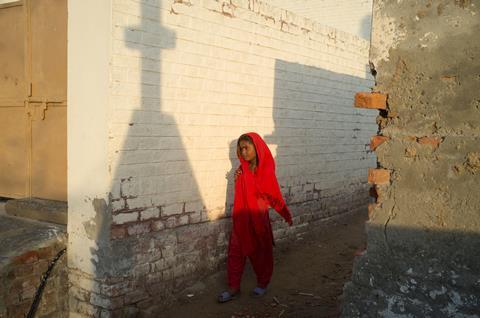 Every girl wants to enjoy the adventure of adolescence free from fear or risk of harm. And yet so many are deprived of this fundamental right. Each year in Pakistan alone, 1,000 young girls - typically between 12 and 15 years of age - are abducted from religious minority communities and forcibly married.
Hidden in plain sight, this human rights atrocity confronts thousands more in countries across South Asia. Young girls across the region are abducted from their homes and villages to be forcibly wed and thereby "converted" from their faith. Although an issue that affects all communities, Christians or other minority religions are particularly vulnerable, targeted to be forcibly converted to Islam.
Pakistan has ratified international legal conventions expressly prohibiting child marriage. Yet it still continues
Their backgrounds are immensely varied, but their storylines share a common thread. A girl is abducted, and then married to her abductor or to a third party as part of a conversion process. The victim's family files a report at the local police station and, all too often, is met with hostility from the authorities or refusal to register the case at all.
Even if the case is registered, this far from guarantees justice. Police will generally still refuse to rescue the girl. Implicit here is the thinking that she is better off a Muslim. This tragic chain of events plays out time and again, despite clear legal provisions prohibiting child marriage. Courts too are reluctant to prosecute, in large part due to fears of the mob violence that conversion cases engender.
Sadaf's story
In 2019, the horror of forced marriage and conversion came to pass for Sadaf, a young Christian Pakistani girl. Kidnapped on her way home from school, Sadaf endured two years of captivity in a forced marriage. Her harrowing abduction shows how police and courts abetted the abductor's crimes under the guise of religious conversion and marriage.
Sadaf's parents worked relentlessly to secure her freedom, weeping when she recorded a statement stating that she wished to remain with her abuser. The fear in her eyes made it clear that she was afraid for her life. She was forced to deny a medical examination to determine her age, and subsequently handed back to her "husband," with all abduction charges quashed.
Throughout the onerous legal proceedings surrounding her case, the court failed to recognise Sadaf's real age, accepting her statement, made under clear duress, that she was 18 years old. The court even ignored her official birth certificate, as well as the blatant forgery on her certificate of conversion to Islam. Despite all evidence pointing to the contrary, the system adhered to the narrative that Sadaf was an 18-year-old "adult" who became a Muslim of her own will.
One can hardly imagine the terror that this child and her parents faced. After she eventually escaped and returned home, Sadaf revealed that she was subjected to mental and physical torture: "He would curse and beat me for no reason. I was given food only once a day and was not allowed to go out of the house. He also forcibly aborted my baby when I got pregnant as a result of rape".
Forced to flee
But the family's plight did not end when their child returned. In addition to the ongoing legal battle to recognise the annulment of the "marriage", they have been forced to flee their house. After they came home to find their belongings cast out into the road, the police still refused to take any action against influential Muslims harassing them.
The forced marriage of children, coupled with forced conversion, places girls at high risk of violence and abuse, and violates their fundamental human rights to education, health, and freedom of religion. In addition to clear national law, Pakistan has signed and ratified international legal conventions expressly prohibiting child marriage. Yet it still continues.
Christians or other minority religions are particularly vulnerable, targeted for conversion to Islam
This week, we mark the International Day of the Girl Child. It is imperative that the Christian community calls attention to the horrors of forced marriage and conversion. We must cry out without reserve that girls need the protection of the law and the care of their families.
Sadaf should not have had her childhood forever marred by these crimes. Her friends – and girls everywhere - should be able to walk to school without fearing the same fate might befall them, simply because of their Christian faith. If this week is meant to celebrate girls, it's imperative that governments take all possible steps to put an end to this tragedy. All girls deserve an equal shot at a future, no matter their beliefs.