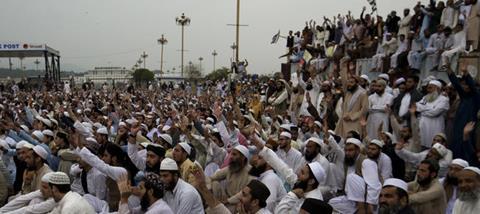 The story of Asia Bibi highlights the plight of many Christians in Pakistan – not only those who have been accused of blasphemy.
For years now, Pakistan has been a nation of concern for Release International, which supports Christians persecuted for their faith around the world.
In recent years, the culture of intolerance and persecution has been growing. Attacks are on the rise.
Although Asia Bibi has been declared innocent by the highest court in the land; although the country's top judges have thrown out the case against her, saying it's full of inconsistencies and lies, extremists continue to call for this innocent woman to be hanged. Asia Bibi is guilty merely because she has been accused. She has been accused merely because she is a Christian.
Along with her murder, these extremists have called for the killing of the Supreme Court judges who acquitted her. They have called for mutiny in the army and the overthrow of the government. Previously, they have assassinated politicians and judges of good faith who dared even to call for debate on the blasphemy laws. These extremists have declared that anyone supporting a blasphemer is also guilty of blasphemy, and thereby deserving of death.
Release has long called for these laws to be repealed, and will continue to do so. Come what may, these blasphemy laws should no longer be imposed on people of other faiths, denying them that most basic of human freedoms, the freedom of belief and religion. But it is not just the law that needs to change, it is the culture which gave rise to it.
Time and again, Release has seen attacks against Pakistan's Christian minority on the pretext of blasphemy. A cry goes up, a mob gathers and innocent people are killed. A disproportionate number of those accused are from the Christian minority, whose lives, like Asia's, have been destroyed by the mere accusation.
Christians in Pakistan are now braced for reprisals, not because of any proven guilt, but simply because, like Asia Bibi, they are Christians. They fear that in Pakistan today, every Christian is regarded as a blasphemer or blasphemer-in-waiting, whose continued existence can no longer be tolerated. These Christians wonder: after Asia, what will follow?
Release calls on Christians everywhere who enjoy freedom of faith, to be mindful of our brothers and sisters in Pakistan where the oxygen of that freedom is in short supply. We must continue to hold them in our hearts and in our prayers.
Paul Robinson is the chief executive of Release International, which supports persecuted Christians worldwide.
Enjoyed that? Get more articles covering news, culture, faith and apologetics in every print issue of Premier Christianity magazine. Subscribe now for HALF PRICE (limited offer)