Contested cultural moments can provide great opportunities for a Church that bears a message of good news, says Peter Lynas. As we head into 2023, here's his analysis of the biggest issues confronting Christians, and how we can respond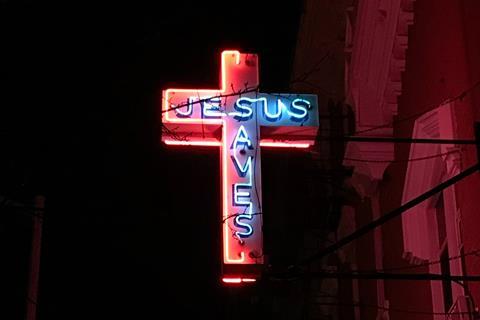 I suspect that 2023 will shape up to be a tough year. I am not claiming any particular prophetic insight, just good old proverbial wisdom. The NHS is overwhelmed, strikes are widespread, the economic situation is difficult and the war in Ukraine seems no nearer to resolution.
But the challenges ahead are not unique to us as Christians, and I believe they also provide us with huge opportunity to tell the world a better story.
Here's my guide to the issues the Church may be dealing with this year, and how we can respond:
1. Census
The census results will continue to trickle out over the year. Despite our increasingly secular culture, 46.2 per cent of the population ticked the 'Christian' box. We know from other research that about six per cent of the population are practising Christians – people who read their Bible, go to church and pray regularly. These figures remind us that a large section of the population - another 40 per cent - are open to Jesus but not committed. That's an opportunity.
Are we going use culture to deconstruct the Bible or are we going use the word of God to reconstruct our culture?
The latest census release tells us that 1.5 per cent of the population identify as gay and lesbian and 1.3 per cent as bisexual. When it comes to transgender, 0.5 per cent of the population reported their gender identity was different from their birth sex. These numbers are based on hard data and are much lower than many predicted. We will get lots more figures over the year, but this research does help us to see things in context.
2. Sexuality
The issue of sexuality will be front and centre next month as the Church of England synod meet. Hopefully this will result in some clear conclusions; a fudge won't satisfy anyone. It is time for bishops to recognise that their job isn't to listen to culture and get on board, but to lead the Church in following Jesus.
The Church needs to admit it has got this area horribly wrong at times, and then set out a positive, biblical vision for marriage, sex and sexuality. Marriage is a witness to the eternal love of Christ for his Church, and is intended to be a faithful, self-sacrificial and life-long covenant between one man and one woman. It's time to decide - are we going use culture to deconstruct the Bible or are we going use the word of God to reconstruct our culture?
3. Gender
Speaking of culture, we are facing even bigger questions with Scotland passing a recent self-identification bill. This allows people as young as 16 to change their gender without medical or legal checks. Amendments proposing safeguards were blocked as ideology trumped evidence.
The UK government seems unlikely to follow suit as the bill undermines the basic human rights of women, children and parents. It is fascinating, as Christians, to be on the same side as JK Rowling, the Equality and Human Rights Commission and the growing scientific consensus.
Scotland has also indicated that it intends to pass an extreme anti-conversion therapy bill. Christians are clear that coercive practices are wrong and should already be illegal. But now, mainstream therapists and others are raising concerns about the ban preventing them helping children and young people who are confused and struggling.
These are challenging areas, but slogans simply aren't enough. Trans people have human rights - and that is something we should all support - but it is very different from the slogan suggesting trans rights are human rights. There is no agreed set of trans rights and besides, the whole idea is that human rights are universal - they apply to everyone. Everyone has the right to life, a fair trial, freedom of conscience and religion and so on. Different rights for different groups is the wrong way to go.
4. Right to life
The UK has a mixed record on rights. We offer some of the least rights and protections in the world to the unborn child. You might think our abortion laws are normal, but allowing abortion up to 24 weeks' gestation makes us the outlier - 12 weeks is the norm.
Also, new laws have created no-prayer zones near abortion clinics resulting in a lady being arrested recently for praying silently near a closed abortion facility. I pray that in 2023, the Church will begin to speak up for both lives in any pregnancy and that we will work with others to ensure freedom of speech on contested issues.
Opportunities
If this all sounds a bit pessimistic, there are big opportunities in this contested and chaotic cultural moment.
The sexual revolution has failed, leading to pornography addiction, hook-up culture, fewer marriages, family failure, people having less sex and young people being less sexually fulfilled. But this presents the Church with a unique opportunity to offer a healthy, positive alternative vision for relationships based on commitment and marriage.
The NHS is struggling, and so it is encouraging to see the archbishops are bringing forward proposals to reform social care.
The economic situation is uncertain, but it is great to see the Church at the forefront of responding though initiatives such as Christians Against Poverty, Warm Welcome, food banks and many others.
It is fascinating, as Christians, to be on the same side as JK Rowling, the Equality and Human Rights Commission and the growing scientific consensus
As more of us work from home and more of life goes online, churches will need to continue to navigate the possibilities and limitations of online church. How do we maximise the potential provided by technology without losing the incarnational reality of being in person?
While continuing to deconstruct some of cultural 'stuff' that got added to the gospel, we need to find better ways to help people with the journey of reconstruction.
Good news for all
With information overload and a fractious social media space, I do sometimes wonder how people manage without a relationship with Jesus and his invitation into the good, true and beautiful God story. It brings order from the chaos, life from the emptiness and hope from despair; I don't think I could cope without it.
A lot of things have been exposed but we have a kingdom that cannot be shaken. That is not designed to be an arrogant claim t the moral high ground, but a statement of truth and reality in a post-truth world.
As Lesslie Newbigin noted: "The relativism which is not willing to speak about truth but only about 'what is true for me' is an evasion of the serious business of living."
The challenges of life require truth and some good news - which should suit us just fine.

Peter Lynas is the UK director the Evangelical Alliance and co-leads the Being Human project.
View full Profile