The $20 million 'He Gets Us' Superbowl ad is the largest advertising spend by a religious group in history. It's an alabaster jar-like sacrifice, says Gareth Russell, and completely necessary if we want to reach a generation of people who have never been to church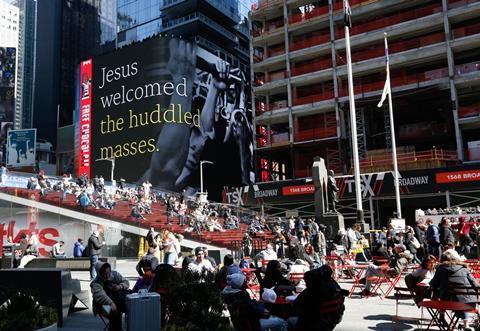 The American Super Bowl is famously hallowed ground for advertising agencies. In 2021, an estimated $545 million was spent on in-game adverts during the showcase event. With millions of eyeballs guaranteed, brands vie for prime spots to sell their wares and raise their profile.
But this year, jostling for attention among the latest iPhone or Tesla ads is a message a little closer to home for Christians.
He gets us. Jesus gets us.
The $20 million 'He Gets Us' Superbowl ad is the largest advertising spend by a religious group in history. And it is part of an even bigger one. As part of a wider, three-year campaign, the group is expected to outlay $1 billion in total.
In a post Christian context, provoking people to think about Jesus is a noble and vital aim.
The messages are strong: Jesus confronted racism with love; Jesus was sick of hypocrisy too; Jesus was a refugee; Jesus went all in, too; Jesus welcomed the poor; Jesus was fed up with politics, too; Jesus let his hair down, too.
But is it justifiable to spend $1 billion on an advertising campaign when that money could have been spent elsewhere?
Reframing faith
We face this question often.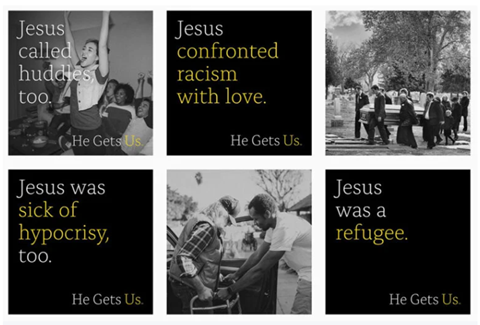 13 years ago, we set up a PR agency called Jersey Road. Our vision is to reframe public perceptions of Christianity. We want to tell good news stories of what Christian organisations are doing to make a difference in the world and protect their reputation.
And all of this takes investment. PR is not cheap. And it shouldn't be.
To do it well takes time in building relationships with the media, experience in identifying and shaping stories, establishing infrastructure that provides clear analytics and allows transparent impact reporting.
What we do takes financial commitment, but the results speak for themselves. And it's the same for advertising.
Reaching a new audience
We are currently in the second generation of families who have never been to church. The fact is, no matter how warm your welcome is on a Sunday or how creative your church's Facebook feed - those we are trying to reach are often just not there. We are talking to ourselves, restricted to echo chambers that we are often not even aware of.
To reach those outside the Church, we must go to them. We must speak their language. And we must speak to their pain points and felt needs.
The 'He Gets Us' campaign is not just an advertising campaign, it is also a network of tens of thousands of churches who are preparing themselves and their church members to proactively engage those around them. There is not only a message but also a method which aims to take that conversation from a YouTube ad or billboard to the coffee shop or kitchen table where, one-on-one, individuals can be introduced to Jesus.
A worthwhile sacrifice
In Luke 7, we read of a woman who had messed up - she is described as having lived a "sinful life". Raise your hand if you can relate.
She came to a pharisee's house where she knew Jesus was visiting, with a jar of perfume that was worth around $55,000. When is the last time you came to Church with an offering of that value?
When she saw Jesus, she knelt at his feet - no doubt overcome with shame, fear, and gratitude that she was not thrown out of the house. Then she broke the jar.
The contents were valuable in so many ways. The ointment or perfume was probably to be used for her own funeral, so it had personal significance. It would have also cost her life savings, so there was a significant financial sacrifice.
But she didn't think twice, because an encounter with Jesus was worth it all.
There is no doubt that the money being spent on the 'He Gets Us' campaign could be spent on helping those struggling in poverty or finding a cure for disease or contributing to the fight against climate change.
But why must there be a choice?
Those areas are also being supported financially. Billionaires such as Bill and Melinda Gates and Jeff Bezos are committing their personal finance to many such issues.
How much more should we be championing those willing to support a campaign to introduce people to Jesus with their own wealth?
In a post Christian context, provoking people to think about Jesus, explore the man who lived 2,000 years ago and claimed to be the Son of God, and open up the possibility of them accepting who he claimed to be, is a noble and vital aim.
The 'He Gets Us' campaign has been covered in the Daily Mail, Fortune, Forbes, The Washington Post and many other outlets. People are engaging with a conversation around Jesus who have never been to church.
For me, that is priceless.

Gareth Russell is managing director of Jersey Road, a Christian PR company that helps organisations give their story a voice.