New transgender rules coming into force in Scotland will give men access to women-only spaces. The potential harm is not to be underestimated, says Stuart Weir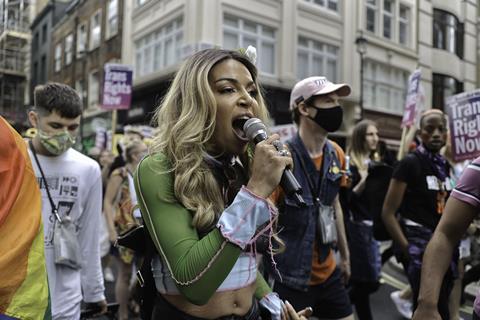 The Scottish Government has introduced its long-awaited Gender Recognition Reform Bill. It follows years of toxic debate and two public consultations. The debate on these plans is complex and can be confusing for Christians watching on. But we need to be able to speak into it – as with any other societal debate. In doing so, we become light and salt, appealing to the consciences of our fellow citizens and testifying to God's good design for human life.
First, a bit of background on the law. The Scottish Government is seeking to liberalise existing legislation – the Gender Recognition Act (GRA). Passed in 2004, it allowed people in the whole of the UK to legally change the sex recorded on their official documents. To do this, you currently have to get a Gender Recognition Certificate (GRC): a person needs to demonstrate they are 18+, have lived in their 'acquired gender' for the past two years and intend to do so for the rest of their life. In addition, two medical reports are needed: confirming gender dysphoria diagnosis and setting out any transition-related medical treatment to a Gender Recognition Panel. The panel will decide whether to approve or deny the application.
The new system could be exploited by men who seek to hide their sex to access women-only spaces
Campaigners have argued this process is overly intrusive and slow. It can take up to five years for a person to be approved for a GRC. They think people should be able to 'self-identify' by signing a statutory declaration. The Scottish Government has taken the side of trans activists seeking an easier process. But their support for this is highly controversial. Women's groups and many others argue that simplifying the process will erode protections for women and girls. The rules around who can access women-only services like prisons, lavatories and changing rooms would be completely changed. The new system could be exploited by men who seek to hide their sex to access to such spaces.
Two public consultations have been held in Scotland over the past five years. In both, women's groups registered strong concerns about the "potential impact on society in general and on the safety and wellbeing of women and girls". In the second consultation, there was much said about the toxicity of the current debate. Over the past few years, critics of GRA reform, including high profile figures like author JK Rowling, have faced awful abuse and threats online.
Despite clear, legitimate, and strongly held concerns among women in Scotland in particular, on 3 March, the Scottish Government introduced the Gender Recognition Reform (Scotland) Bill to remove the need for a medical diagnosis and allow people aged 16 and above to "self-identify". The proposed new process would require people to live in their "acquired gender" for three months, "reflect" for three months, then be granted a Gender Recognition Certificate.
How should Christians respond?
We know these proposals are controversial and we want to speak up for truth, while engaging with compassion and respect for our neighbours. There are two guiding principles. First, we must welcome all with the free offer of the good news. God desires all kinds of people to be saved (1 Timothy 2:4) and he doesn't want anyone to perish (2 Peter 3:9). Moreover, we must love our neighbour as ourselves (Mark 12:30-31).
Secondly, we must also firmly but graciously challenge contemporary thinking and trans ideology. Men and women are different at the very deepest level of their being. Our chromosomes are different. Our brains are different. Our body shapes are different. Our reproductive systems are different. One cannot simply overcome these fundamental differences because we feel as though we're a member of the opposite sex. We affirm that biological sex is immutable.
This is not 'hate speech', or indeed condemnation of the trans community. It's the very opposite. Supressing who God has made us to be is a path to misery. True joy lies in honouring God's brilliant design and finding help, when confronted with gender dysphoria, to live in the biological sex God has given us. The thing about God's truth is that it's obvious. We have a rational faith, and our contention that living as the opposite sex is harmful to human beings is demonstrable.
Affirming that biological sex is immutable is not 'hate speech'
As we approach this issue, we should be aware of the men and women across society who have been harmed by medical interventions designed to affirm a transgender identity. Young women are coming forward in droves to warn that they were deeply harmed by surgery and hormones designed to make their bodies more male in appearance. It didn't solve the underlying problem, which is often psychological.
Our society is suggesting harmful solutions to the deep-seated confusion that men and women, and young, impressionable children, can feel. Let us pray God will turn hearts and minds around and expose the harm that is being done.