If something is being hindered by human rights laws, it's usually an indicator that it's wrong. The fact that it's stopping the Scottish government from censoring pro-life volunteers is a credit to the international legal system, says Lois McLatchie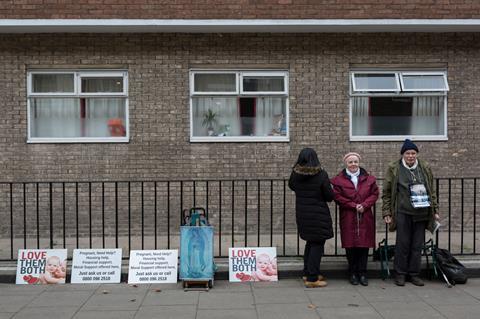 Despite bold public statements from leaders about standing with women in support of abortion, few have stopped to consider if championing abortion is really what women want. 70 per cent of UK females surveyed want to see protections for unborn life begin earlier than the current 24 weeks. And new polling from the BBC shows that more than one in ten women have felt "coerced" into having an abortion. If not talked into it by abusive partners or 'friends', many feel they have no option because of social or economic pressures.
It's these women – who would like to keep their child if only they had the support – that pro-life volunteers have been faithfully serving over the years. Groups such as The Good Council Network smash the negative and unjust stigma that pro-lifers 'don't care about women'. Rather, their offer – should a woman wish to hear it and take it up – is to meet her financial, material and emotional needs while she carries her child, and after birth.
The campaign to install censorial buffer zones actually removes real choice from women
The fruits of these charitable efforts are remarkable. Take Alina Dulgheriu. Abandoned by her boyfriend and fired from her job, she found herself pregnant, desperate and alone. When she asked an abortion facility about her options, they glibly replied: "We only offer abortion." But thanks to a volunteer who offered her a leaflet just before her appointment, she found the help that would empower her to make the choice she really wanted to make. Alina is now mother to nine-year-old Sarah and became a volunteer herself in order to keep the option of help open to other women.
Buffer zones
They say that all is fair in love and culture wars, but amid the ideological furore surrounding abortion in the UK today, activists are campaigning to have charitable pro-life workers banned from the streets outside abortion clinics; censored for their beliefs. The campaigners claim that pro-lifers 'harass' women arriving for appointments. Harassing anyone - particularly vulnerable women - would be deeply wrong. But harassment is already illegal, and we can rest assured that if volunteers were to engage in it, it would be prosecuted.
In reality, a 2018 review from the UK Home Office found that any instances of harassment were rare outliers. And, more importantly, police already have sufficient powers to tackle such unlawful conduct.
Reducing help, not harm
So in the end, it's not harm, but help, that would be hindered if buffer zones were installed around abortion clinics in the UK. And, ultimately, it won't be the pro-life counsellors who will suffer the real impact of this censorship, it will be the women, like Alina, who would be prevented from receiving offers of support. The irony is clear. In the name of choice, the campaign to install censorial buffer zones actually removes real choice from women.
The pressure placed on national leaders to implement these zones is serious. The Northern Ireland Assembly rolled them out nationwide last month. Media pressure on the Scottish government to follow suit is at an all-time high, with headlines calling volunteers "disgusting" for holding signs saying "Pregnant? We care. We will help you."
One in ten women have felt "coerced" into having an abortion
But as Nicola Sturgeon acknowledged yesterday, to banish pro-lifers from the public street may be a breach of nothing less than international human rights law.
Right to life
Although human rights are often misconstrued in the ideological debates of our time, these are specific, codified provisions, derived from the equal inherent dignity of every human being, and locked into international treaties. There is no human right to abortion. There is, on the other hand, a right to life that explicitly includes the unborn child; and to speech, assembly and religious freedom.
In England, concerns have been repeatedly raised that buffer zones would violate human rights. Yet Ealing and Richmond councils have already implemented this policy, making even silent prayer - the most basic manifestation of religious freedom - illegal on the public street. Refusal to pay a fine for this 'thought crime' can lead to prosecution.
Indeed, the freedoms to assemble and speak freely in public are not only protected in international law, but are a cornerstone of a liberal society. Free speech allows us to hear, learn, challenge one another and progress towards something better for everyone. Restricting that right not only deprives some from speaking, but others from hearing ideas (and life-changing offers) in the public square - if they want to. To decide for women what they do and don't want to hear is, at best, deeply patronising.
Sturgeon would do well to withstand the pressure and stand up for the interests of vulnerable women like Alina - and the thousands of women across Scotland who might appreciate the empowering offer of a little help. Censorship would detrimentally impact their rights. And women's rights, as they say, are indeed human rights.

Lois McLatchie writes for ADF UK, and can be found on Twitter at @loismclatch. To find out more about ADF UK's legal efforts to protect free speech, visit www.adf.uk.
View full Profile