When Rev Nicky Gumbel shared a photo of him meeting the Pope last week, it resulted in heavy criticism from some Christians. But Jesus never said, "Go and be right", says Christy Wimber. Instead he prayed that we would be brought to complete unity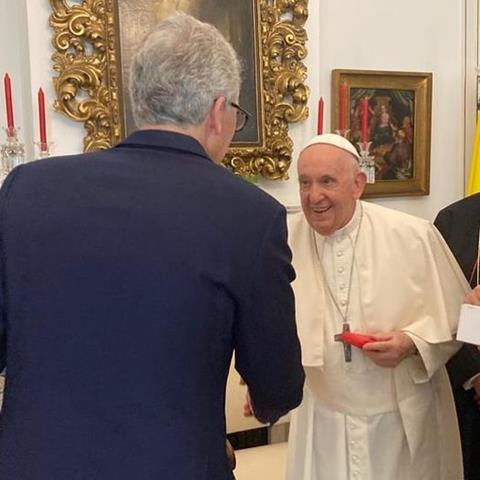 During the past few decades, I've had the opportunity to serve in many different streams of the Church. I have preached in Protestant churches and non-denominational churches around the world. At the same time, I have served on the board of Charis, a team commissioned by the Pope with an ecumenical approach to introducing the power of the Holy Spirit to the Catholic Church and beyond. It has been one of the greatest honors of my life.
Since I am not Catholic, each time I speak at a Catholic gathering, I am not permitted to receive communion. However, I am welcomed to receive a blessing from the priest. I realised many years ago that I could respond by living in offence to what I am not allowed to do, or I could see it as a privilege to receive what was offered.
These are not just the dynamics of the Church. We live in a world where we often navigate situations in which we have little control over the choices presented to us. But we can choose how we respond.
A prayer for unity
In John 17, Jesus prayed: "My prayer is not for them alone. I pray also for those who will believe in me through their message, that all of them may be one, Father, just as you are in me, and I am in you. May they also be in us so that the world may believe that you have sent me. I have given them the glory that you gave me, that they may be one as we are one— I in them and you in me—so that they may be brought to complete unity. Then the world will know that you sent me and have loved them even as you have loved me."
When we honour those with different theologies and practices, we will get the world's attention
Unity is the call of the Church. How we care, act or react to each other - as brothers and sisters in Christ - is our living message to the world. Whether we like it or not, Christ is not coming back for our part of the Church, but for his whole Church - his one bride. And that means until we can become one body, maintaining the unity that Christ has given to us, we will never become the beautiful bride we are called to be.
A gift and a requirement
Unity is a gift given by God for his purposes. As with any gift, how we steward and manage it determines the fruit and blessing that comes from it. And there is great blessing in unity, as it says in Psalm 133: "How good and pleasant it is when God's people live together in unity!…For there the Lord bestows his blessing, even life forevermore."
Unity is not a cliché or a nice idea, but a choice and a requirement. Jesus never said: "Go and be right", but he did pray that we would be brought to complete unity. If we want to live in a way that aligns with the heart of Jesus, we must choose unity even above our own need to be right.
Christ is not coming back for our part of the Church, but for his whole Church
To live the words of John 17 requires us to live from a place of love, not agreement. This side of heaven, we will never fully agree on everything - but we can choose love and respect despite our different theological beliefs. Often, how we respond when our beliefs are disagreed with reveals how like Jesus we truly are. It is impossible to act with hate and judgement against your brother and be fully united with Christ. Likewise, the strength of our love towards a person, church or denomination in the face of disagreement only reveals how strong our love truly is.
The hope of the world
Far too much of the time, the Church is known more for what we are against, rather than what we are for. If we have the world's attention for tearing each other apart, we've missed the point. It's easy to get along with those who believe the same things, but to say: "I love you and I choose to respect you, even in the midst of disagreement" is powerful. When we, as the Church, honour those with different theologies and practices, then, as Jesus said, we will get the world's attention.
The Church is not the hope of the world. Christ is. But as his followers, we are to build bridges towards unity, based on the love we have ourselves received. It doesn't mean we have to agree with, or like everything about every part of the Church. But if our first response is not love, we need to remember the words of Jesus: "I pray they all become one, just as you and I are one."

Christy Wimber has been involved in church ministry for over two decades. She is now focused on leadership, mental health, the training of leaders and the planting of new churches. She is director of Global Church Planting for Friends Churches (FSW). She has two adult children and one grandchild.
View full Profile