The theme of this World Quaker Day is the little-known African word 'ubuntu'. In an increasingly divided world, understanding what unites us as Christians is vital, says Tim Gee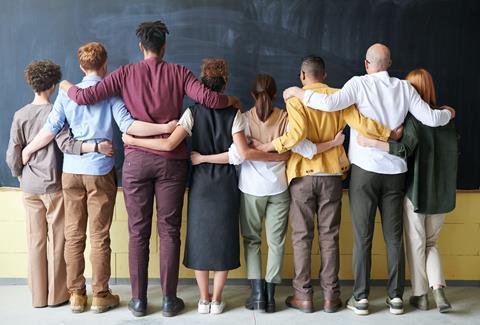 If you're a Christian, you might have heard of the Quakers, perhaps as one of the smaller denominations, a historic peace church, or a group that worships principally in silence. But you might not know that globally, there are around 400,000 Quakers - the majority of whom are in Africa - spanning a range of theologies from evangelical to liberal, with a wide variety of worship styles.
As General Secretary to the world committee, I am tasked with holding this diverse community together, and I spend a lot of time thinking about the things we have in common. There are at least three, namely; a direct, unmediated relationship with the divine, a shared history, and our work for peace and justice.
Interconnected
Lately, though, I have been considering a fourth. The word ubuntu may be little known outside of Africa. A Bantu word, it emphasises the interdependence of humanity. It is often explained using the proverb: "A person is a person through other persons." To say that someone has ubuntu is to say they live with compassion for others, understanding the ways we are all connected.
While ubuntu can refer to kindness, it is not simply an exhortation to be nicer to one another
In its Christian articulation, it is widely associated with Most Rev Desmond Tutu, whose writings were formative in my own becoming a Christian. At that stage, I did not know that the word ubuntu had been fully embraced by the Quaker community in southern Africa as a reflection of their outlook.
The golden rule
What I did recognise, both then and now, is how ubuntu speaks to some of the most fundamental tenets of the Christian faith. It is there in the 'golden rule' - to "love your neighbour as yourself" (Mark 12:31), and is also echoed in Jesus' parting command to his disciples in John 13:34 to "love one another". It's also present in Paul's teaching in Galatians 3:28 that we "are all one in Christ Jesus."
More recently, assisted significantly by online dictionaries, I've tried reading passages from versions of the Bible which use the word ubuntu. For example:
2 Chronicles 24:22 reads: "King Joash did not remember the kindness Zechariah's father Jehoiada had shown him." In isiXhosa, this is: "Ukumkani uYowashe wabulibala ubuntu awayebenzelwe nguyise kaZakariya."
Jeremiah 51:10 says: "The Lord has revealed our righteousness." In isiNdebele this is: "USomnini uvuselele ubuntu bethu!"
It is also used throughout translations used in Rwanda and Burundi, where ubuntu also means 'grace'. The famous passage from Ephesians 2:8 which begins: "For it is by grace you have been saved" reads in Kinyarwanda as "Koko mwakijijwe n'ubuntu". My colleagues in Burundi tell me that 'living ubuntu' also means to know an inward purity that informs how you live, in such a way that others would seek to do so, too.
Working together
It is true that ubuntu can mean different things to different people. To my mind, though, there are some things that ubuntu Christianity plainly is not. For example, any teaching that encourages or seeks to justify individualism, inequality, racism or discrimination wouldn't be a reflection of ubuntu.
And while, on the surface of things, ubuntu can refer to kindness, the encouragement to engage with this word is not simply an exhortation to be nicer to one another (although that would be a good start!) Instead it is a profound moral and spiritual query: How would our relationships, institutions, economics and politics look if we truly took on the insight that 'I am because we are'?
Ubuntu speaks to some of the most fundamental tenets of the Christian faith
As a non-African Quaker who is based in London, I am aware of the possible pitfalls of promoting a way of thinking rooted in a place that is not my home. But I'm also aware that in my country, a great deal of Christian education focusses disproportionately on the worldviews of European and North American theologians. The invitation to engage with ubuntu feels like an opportunity to rebalance this towards a more globally inclusive spiritual wholeness.

Tim Gee is the General Secretary of Friends World Committee for Consultation (FWCC), the international organisation of Quakers worldwide. He has previously worked for Friends of the Earth, Christian Aid and Amnesty International. Tim has written for publications including The Guardian, New Internationalist and the Independent. His latest book is Open for Liberation: an activist reads the Bible (Christian Alternative Books).
View full Profile