Despite the Church's best efforts, Christian belief continues to decline among younger generations. Could home education form part of the answer?
Jenni Cassidy has educated all of her seven children at home. "There are so many things that are great about homeschooling," she tells me. "The children can thrive and become the people God has called them to be, in an environment that God has created for them to do that."
Her enthusiasm is common among home educators, and there are more of them than ever before in the UK. Home education has been popular among Christians for some time. The Eastern Orthodox writer Rod Dreher advocated homeschooling in his popular 2017 book The Benedict Option (Sentinel), and it is often promoted on social media by Christian leaders.
One reason is the increasingly acrimonious debate over teaching on sex and gender in some mainstream schools. Some material, it is argued, goes beyond promoting tolerance and kindness towards people who are transgender, and instead encourages young children to question their own gender identity.
THE MAIN PURPOSE OF THE HOME EDUCATORS I KNOW IS TO SEE THEIR CHILDREN COME TO SALVATION
Sexually explicit instructions on how to masturbate have been given to children as young as nine in some schools in the UK, and are widely available in Vagina Matters (Fine Acts), a book recommended for twelve-year-olds, which encourages people "of all ages" to read it. Then there is the ongoing mental health crisis in young people, widely attributed to the use of smartphones and the intensification of peer pressure through social media.
Despite these worrying trends, people who home educate emphasise the positives of home education rather than their concerns about mainstream schools. Many parents discovered its benefits when home educating during Covid-19, according to Wendy Charles-Warner at charity Education Otherwise. "When we questioned parents, many thought they couldn't have done it before the pandemic," she says. "But they found their child was happier, better educated and thriving, and so decided to continue."
More flexibility to work from home has helped, as there is no need to conform to a timetable, and children can use self-study materials. The internet provides a library at your fingertips, and tutoring and online courses mean a 'hybrid' option of school and home is possible that gives access to expert teaching.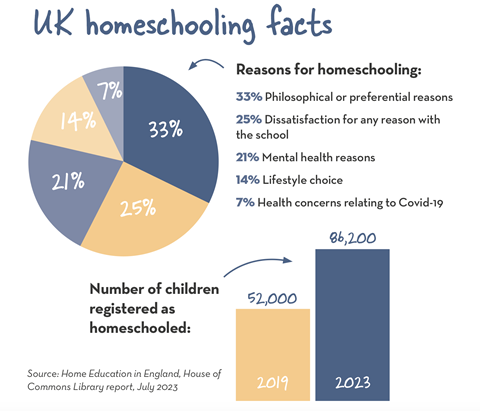 Alternative choices
Parents give a number of reasons for educating at home in official surveys. The most common is philosophical, which could include religion, but may also indicate a preference for alternative teaching methods such as Montessori or Steiner. Some parents even want to 'unschool', allowing children to decide for themselves what to learn. Others want their children to spend more time outdoors or travelling the world than school allows.
There is also anecdotal evidence that more Christians are joining the homeschool movement. "We have seen a significant increase in Christian home educators," says Nigel Steele, public affairs consultant for Christian Education Europe, which provides the Accelerated Christian Education (ACE) homeschooling curriculum. "Some parents thought [after Covid]: 'I can do this. It's wonderful having my children at home.' They want to be more involved in their children's education. They want them to have an education that is consistent with their values and their church. They want to have more time with their children."
He and his wife homeschooled their three children to give them a more biblical worldview. "For us it is the most beautiful way of looking at life, the most consistent, coherent, rational way of seeing the wonderful world we're living in," he says. "I wanted our children to be able to look at life through that lens."
It is this freedom to teach a radically different worldview that attracts many, but it also provides parents with the autonomy to educate in a way that suits the individual child. "The beauty of home education is the flexibility," says Juliet English, a Christian who educated her own seven children and runs the Learn Free Conference. "If you have a child that needs structure, you can offer them structure. If you have a child that learns better by doing, you can do that. You can be flexible for every child in your family. We took over a year with the Egyptians because they were so fascinated. You get to know your child really well."
Passing on the faith
For Christians, a common motive is simply to encourage their child's faith. "The main purpose of home educators I know is to see their children come to salvation," says Michael Lane, the chair of the Christian Home Education Support Service, a network of around 400 families, and a home educator himself. "We didn't feel even a Christian school would give that day-to-day walk with the Lord that we wanted to show to our kids."
There is some evidence that it is harder for a child to develop a faith in secular mainstream education. The US-based Nehemiah Institute developed a test to assess how biblical a child's worldview is, and found that children in both state and even some Christian schools have become dramatically more secular over the past 30 years. Schools teaching a 'biblical worldview', as well as homeschoolers, bucked this trend.
Case study: Learning in the light of God
Jenni Cassidy, 53, homeschooled all seven of her children. Three have since graduated from university. She co-founded Dumb Ox Learning, which provides supplemental courses to other children in home education. She began homeschooling when living overseas, but quickly found that it united the family and grew their faith.
I went to a standard British comprehensive secondary school. Maybe we learned about Christianity, but it was a bit of that and a bit of the other. But even in a school that you think is not teaching religion, [children are] being formed in whatever that way of thinking is – usually a religion of relativism [the belief that there is no one truth]. As Christians, we believe there is a truth and that God exists, so you have to learn everything in the light of that.
Our first contact with homeschooling was when we stayed with a family and could see their family unit was really strong. We decided to homeschool when my husband was studying in Austria. There was an amazing community there. We learned a lot from the other homeschooling families. We used the Mother of Divine Grace programme for our children, which is a Catholic, classical curriculum designed to form the child in how to think, and how to think well, in the light of faith.
It has not been an easy ride. We have had times when schooling has not gone smoothly, and there have been gaps in what we were supposed to teach. I can't believe the way we've fumbled through. But somehow, with the grace of God – and in all humility – it works because, if you're united as a family and as a couple, always putting God first, always praying, he honours that and makes a rough path smooth.
Our kids know that God exists not just because they've experienced God, in the sense of being born again or feeling God's presence; they know because it makes sense, almost from an academic point of view.
I see my adult children now and I'm so proud of them. They're full of faith, they all pray daily, they all want to homeschool their own children. It's all the things you would dream for your children.
More information at dumboxlearning.co.uk
This is one reason for a boom in 'classical' education in the US, which is increasingly popular with British Christian home educators too. This approach teaches concepts such as logic, reasoning and grammar in a traditional way, and emphasises original sources of literature and philosophy rather than textbooks.
The Association of Classical Christian Schools (ACCS) currently has two member schools in the UK. "Classical Christian education focuses primarily on worldview development", says a brochure. "[It] works to integrate Christ in all studies, so that students consider Christ first in all areas of their lives, not just church and Bible class." It also emphasises the teaching and development of virtue, a love for "truth, goodness and beauty" and an explicitly Christian way of looking at the world, or "paideia".
There is evidence that the classical approach also produces better social, vocational and spiritual outcomes. Research conducted by Dr David Sikkink at the University of Notre Dame, USA, found that 90 per cent of young adult ACCS alumni had higher than average rates of church attendance and 70 per cent read their Bible more than average. They described a stronger spiritual life, praying with family and talking about God more, as well as optimism about the future and marriage stability. They also showed more signs of independent thinking and tolerance towards other religions, had more friends who think differently, and more close friends in total.
The idea is catching on in the UK with some state schools adopting a more classical approach. A new network of state school teachers plan to launch as many as six new classical independent schools in the next few years.
Some homeschoolers are warming to schools if they are classical. Felipe Selides has been part of a classical Christian homeschooling co-op for many years and now plans to launch a school in the Southampton area. "We knew we didn't want [our children] to be like the culture, and we wanted them to receive the values we have," he says. "People are surprised if we send our children to Caesar and they come back Romans."
Suspicious minds
The ability to provide a child with a different worldview has attracted criticism and suspicion from some. The government claims it can be used as a cover for truanting children or even radicalisation. UK councils are even lobbying for legal powers to intervene. "Social Services in the UK tend to hold a deep suspicion of home education", conclude researchers Helen Lees and Fiona Nicholson in their chapter in The Wiley Handbook of Home Education (Wiley-Blackwell).
A frequently heard accusation is that homeschooled children miss out on learning essential social skills, or that they need to 'toughen up' in mainstream schools. It is a contested area in academia, but even the sceptical US-based Coalition for Responsible Home Education acknowledges that: "Most of this research finds that being homeschooled does not harm children's development of social skills", with some research finding that children who are home educated are better socialised than those who attend school.
WE DIDN'T WANT OUR CHILDREN TO BE LIKE THE CULTURE. WE WANTED THEM TO RECEIVE THE VALUES WE HAVE
All home educators interviewed for this article emphasised the importance of group activities such as sports clubs and meeting up with other home-educated children. "I wouldn't want my kids socialised the way they are in school, because of the bullying and negative peer pressure," says English. "If you send a child who is young and vulnerable to school, a child has to develop all kinds of defence mechanisms to cope with that."
The movement wasn't helped by recent Amazon Prime docuseries Shiny Happy People, exploring the Duggar family and their reality TV show, 19 Kids and Counting. Their quirky Christian traditionalist ways, which included homeschooling, were a hit across the Atlantic. However, the series ended in 2015 following revelations that the eldest son, Josh, had molested some of his sisters. He is now in prison for possessing child pornography.
The Duggars used a fundamentalist home-education programme that the documentary presented as the engine of a patriarchal cult that inevitably leads to abuse. It is a reminder that education (and people) can be good or bad at home, just as in school. "No matter what area of life, some people are abusive to children," says Charles-Warner. "But home education itself is not a source of child abuse."
If the surrounding culture continues to become increasingly hostile to the Christian faith, more parents may take the plunge. "A lot of people go into it because they want to avoid the evils of sex education…the pressure of mobile phones or materialism or whatever," says Cassidy. But it becomes, she says, about: "how your kids can flourish…and be exposed to really good education, and formed into using their reason, and allowed to follow the things that they love."

Heather Tomlinson is a freelance journalist and regular contributor to Premier Christianity magazine. She likes to communicate the Christian faith to anyone who will listen: find more on her blog - heathert.org
View full Profile