As Jesy Nelson does her first interview since splitting from Little Mix five months ago, Philippa Hanna, who toured with the band in 2016, reflects on the power of influence and the pressure of social media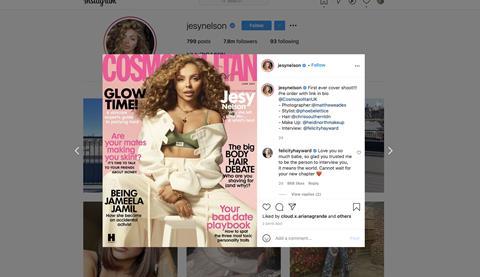 There were some raised eyebrows when I announced I was going on tour with Little Mix. Some may think touring with a pop band a strange thing for a Christian artist to do. To me, it made perfect sense. For years I'd been writing songs that a young, female audience seemed to connect with. Getting in front of the crowd that looked up to Little Mix was exactly the kind of thing I wanted to do.
We come up short when we measure ourselves against social media rather than seeing ourselves through the eyes of our Father in heaven.
I travelled across Europe with Little Mix as the opening act on their 'Get Weird' tour in 2016. It was no easy task, playing my acoustic set in 10,000 capacity venues, packed with adoring 'mixers' (the affectionate name for the band's legion of fans). But I was amazed by the response and still count it among the most exciting times of my life. It was an opportunity I hadn't even dared to dream of and the crazy thing was, it actually worked. The Little Mix narrative set the stage brilliantly for a message about self-worth and identity.
Setting the stage
The girls have waged a public war on trolling and negative press since 2011. As they edged toward the X Factor final, social media insults about Jesy's weight began. As a young woman working in the music industry, it hit a real nerve with me; I already knew what it felt like to be told I wasn't 'the full package', fielding suggestions from professionals about how to 'improve' my look. But for Little Mix, the trolling tsunami provided a unique opportunity to speak directly to the hearts of millions of teenagers. With songs like 'Wings' they set out their stall, claiming: "No matter what you say, it won't hurt me." You might even say it helped them secure the X Factor win. On the tour in 2016, it seemed that Jesy had overcome her demons. She was adored by fans and from where I was standing, it appeared she had silenced the critics. It made me understand that bands like Little Mix don't just sell music to young people, they sell confidence.
Touring with Little Mix spoke to me about the hunger within and the importance of understanding our value in God
So the news that Jesy Nelson was leaving the band definitely got my attention. I can't say it was a total surprise, especially after watching the BBC documentary Odd One Out, but I was saddened to see things had gotten so tough behind the scenes. Just like that, the girl band member whose body shape most closely represented mine had been toppled from her stage, thanks in part to the pressures of social media. I'm sure it struck a chord with thousands of young people too.
A hunger within
Touring with Little Mix spoke to me deeply about the hunger within young people for that big sister/mentor voice in their life and the importance of understanding our value in God. In 2020 I started writing a book for young women, due for release later this year, which tackles issues such as identity and social media from a Christian persepctive. I describe the internet as being "like a new planet we're exploring: exotic, exciting and filled with possibility. But there are also dangers and poisons we don't yet understand."
Bullies used to be confined to buses and school playgrounds. Now, thanks to smartphones, they can travel home in our kid's pockets. Comparison syndrome - which can affect every social media user, not just vulnerable teenage girls - is a real and present threat. Glossy Instagram feeds have us comparing our homes, relationships and work lives, our faces and bodies. We often feel that we come up short when we measure ourselves against this mirror, rather than seeing ourselves through the eyes of our Father in heaven who loves us and created us uniquely and perfectly in his image.
So how do we protect young people - and ourselves - from the potentially harmful and lasting impact of social media use? As Christians, I think it is crucial we realise that social media isn't going anywhere. Apps are being integrated into every area of life from gaming to learning, business to dating. Clearly, we can't rely on those writing the code or building the platforms to protect us. It's simply growing faster than it can be tamed.
Switching our filter
I'm hoping that books like the one I'm writing will help. Learning how to identify the filter of marketing and switch it for the filter of God's truth is something we all need to practice.
There will always be someone to compare ourselves to. There will always be someone whose body or life appears a little more 'put together' than ours. Young people need social media training. Young Christians need coaching on how to apply scriptural truth to what they're seeing. And it's not easy! We all need to be a little more intentional about it, as the apps that we love – and have come to rely upon in many areas of our life - have been intentionally designed to disable our cognitive defences.
We also need to remind ourselves daily that changing the way we look is not the key to happiness. Our worth is not based on our weight, our wardrobe or our wallpaper. The path to love, joy and peace lies in learning to see ourselves through God's filter. Seeking his truth on who we are and understanding our place as precious sons and daughters of the King will give us a much better shot at feeling beautiful, valuable and loved.