Leah has become a symbol of Christian courage. But there are thousands more like her, and Western governments need to start intervening, says Illia Djadi from Open Doors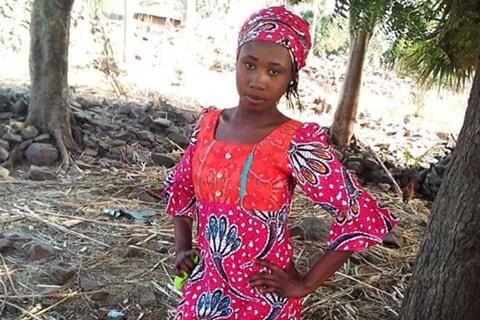 The story of Leah Sharibu has been shared around the world and it's not hard to see why.
She was taken four years ago this weekend (Feb 19, 2018), along with 109 other students from a school in Dapchi, north-eastern Nigeria by the Islamic State of West Africa (ISWAP), an offshoot of the notorious Islamist group Boko Haram. While her fellow students were released within a month, Leah was kept because she refused to renounce her Christian faith and convert to Islam.
I have a young daughter myself, also called Leah. As I listen to Leah Sharibu's mother speak of her ordeal, I ask myself "what if my daughter was abducted like that?" It is too painful to contemplate for long.
Leah Sharibu's family have not been short of reassurances that their daughter will be returned to them. During a visit to the USA in 2018, Nigeria's President Muhammadu Buhari pledged to secure her freedom. Earlier this year, General Lucky Irabor, Nigeria's Chief of Défense Staff told the TV show Good Morning Nigeria "With the privileged position that I hold, I am aware of plans and, of course, processes that are in place to ensure that not just Leah Sharibu but every other person held captive is released."
Leah's family would be forgiven for taking the latest assurances with a healthy dose of scepticism, as would the thousands more families whose loved ones have been abducted in recent years.
According to research for Open Doors' 2022 World Watch List, which records levels of persecution towards Christians around the world, the number of Christians abducted for faith-related reasons in Nigeria, during the last reporting period rose to a staggering 2,510 – that's two thirds of the worldwide total!
It is not only Christians who are at risk. However, especially in the north-eastern states believers are especially vulnerable.
In northern Nigeria especially, the situation for Christian women and girls is dire. Raids by Islamist groups such as Boko Haram have terrorized Christian communities. Women and girls have been kidnapped, forcibly converted and married off.
And men too, are by no means shielded from this reality. They can be targeted and killed in raids. Survivors of these attacks often face forced recruitment into the insurgent armies. Young boys risk being recruited as child soldiers, and there are reports of church leaders and members being abducted for ransom, and killed.
Kidnapping is a big business in Nigeria. A few years ago, it was mostly contained within three states in the north-east of the country. Now, though, it is growing and spreading fast. States in the north-west are now affected by well-armed gangs. Even schoolchildren are getting in on the act.
The fight against the insurgent groups has become a big business too. Many use the fear of kidnap and attack for their own political interests, making grand promises to clamp down. Today if you check the military budget of Nigeria, it's one of the largest in Africa. They use the fight against Boko Haram, ISWAP and the other groups as a rationale to increase their military budget, but where is all the money going? Stories are regularly told of soldiers without enough food or military equipment to fight the Islamists. How can this be the case?
Even worse, the insurgents are successfully stealing much of the weaponry bought to fight them, making them even deadlier.
Many Nigerians have a strong feeling of there being a lack of leadership in dealing with the kidnappings; a sense that not enough is being done to make things right. It's not just a matter of military might either; it requires a comprehensive approach to deal with the root cause. When we see the history of Boko Haram, we can see it's also an issue of poverty. Young unemployed people in Northern Nigeria, became easy prey for the Islamists and the bandits. And they become indoctrinated by the perverted teachings of Boko Haram and ISWAP. The level of poverty in Northern Nigeria is making young people an easy prey to this fanaticism.
The international community should apply pressure upon the Nigerian Government to truly resolve this crisis
In the shorter term, Open Doors is calling on the Nigerian government to set up a liaison officer to speak to the families and help them cope with the endless agony and trauma of a son or daughter, husband or wife being kidnapped. Leah Sharibu's family complain that outside of a few high-profile assurances, they hear nothing from the government about the fate of her daughter. There are thousands who have received even less care and attention.
My fear is that with all the attention focused on nations like Afghanistan and Ukraine the dire situation in Nigeria will not get the attention around the world that it deserves.
The international community should apply pressure upon the Nigerian Government to truly resolve this crisis. And they should also support faith-based organisations and churches as they work to provide care for thousands of families affected and offer unemployed young people an alternative to life in Boko Haram, ISWAP and other gangs.
Leah has become a symbol of Christian courage, and rightly so. Together with the roughly 100 young women who remain in captivity after they were taken from Chibok school in 2014, she has inspired the faith of many. Sadly, though, there are thousands of other 'Leahs' whose names we many never know still in horrific captivity. We must remember them all. And we must call for this terrible epidemic of abductions to be dealt with once and for all.

Illia Djadi is Open Doors' senior analyst on freedom of religion and belief in sub-Saharan Africa.
View full Profile