The massacre of 50 people at a Catholic church by Islamic extremists is the latest horrific attack on Christians in Nigeria. As the frequency and severity of violence reaches new heights, the ramifications for security across West Africa could be huge, warns Christian charity Open Doors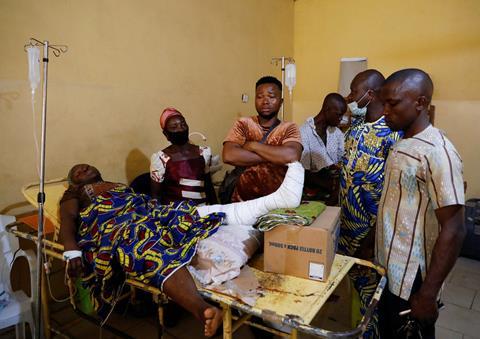 In a diabolical attack on Christians in Nigeria celebrating Pentecost at a Sunday service, we have lost at least another 50 members of our worldwide Church family to extremist violence. It is desperately sad to learn of this loss, utterly horrifying to discover the level of gratuitous violence that was inflicted, and terrifying to see how the Nigerian government is failing to defeat Islamic extremists in their country.
In the last few years, thousands of people have been murdered and kidnapped by extremist Islamic groups, including Boko Haram, radicalised Fulani herdsmen and the Islamic State in West Africa Province (ISWAP). As kidnappings become endemic and killings go on unabated, it seems that the Government has lost its grip on security. Nigeria is at a crossroads.
The latest massacre, at St Francis Catholic Church in the south-western town of Owo, shows that there is good reason to be concerned. Extremist violence is spreading from its traditional home in the north of the country to the majority-Christian south of Nigeria.
So far, no one has claimed responsibility for the shooting. However, Adeyemi Olayemi, a lawmaker in Ondo, told The Guardian that it is believed to be the work of ethnic Fulani terrorists. Initial reports suggest that gunmen killed around 50 people before abducting the priest and an unknown number of church attendees.
Escalating violence
Unfortunately, it is not an isolated incident. Just last week, the head of the Methodist Church in Nigeria was abducted, along with two other clerics, in the south-east of the country. The prelate said a $240,000 (£190,000) ransom was paid by the Church for their freedom.
Nigeria is by far the most violent place for Christians to live
A fortnight ago, two Catholic priests were kidnapped in Katsina, President Muhammadu Buhari's home state in the north of the country. They have not yet been released.
Some of the attacks and abductions have got the attention of the international media, such as the Christian college student beaten and burnt to death by her Muslim classmates for alleged blasphemy last month. Or Leah Sharibu, the school girl abducted with 109 other students by ISWAP back in 2018. But, all too often, the kidnappings and killings go unnoticed, unreported and unpunished.
Like the young boy who watched his father beheaded by radicalised Fulani herders. His older brothers survived, but were left with deep scars around their necks.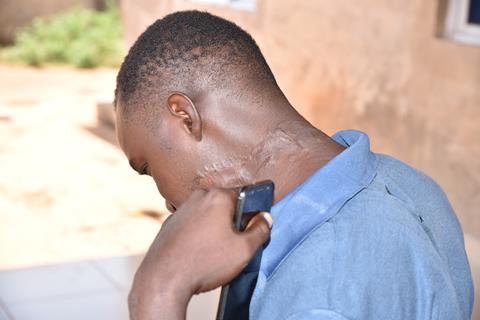 Or the sisters who were abducted and forced to watch as the other was raped. Or the older man who had to tell his village that a whole group of younger men had been butchered, thrown into a house and then set alight. Or the woman whose newborn baby was taken by the strong currents of the river as she fled for her life when Fulani extremists rode into her village on motorbikes, shooting.
Like a festering sore
While Christians are often specifically targeted, anyone who doesn't support extremist Islamic ideology can be slaughtered or abducted. Violence like this has been allowed to fester in Nigeria for years, but this last year has seen a significant increase in attacks. Worse still, the violence is spilling over the border into neighbouring countries, threatening to destabilise the whole of West Africa. As the UK House of Commons committee report Lagos Calling: Nigeria and the integrated review says: "Nigeria is the pilot of the African plane…Africa's future will largely be determined by what happens in Nigeria."
Some analysts are already arguing that Nigeria is a failed state, and that the resulting refugee crisis could dwarf anything we've already seen from Syria or Afghanistan. It is clear that the time to act is now, while there is still a chance of restoring stability.
All too often, the kidnappings and killings go unnoticed, unreported and unpunished
Nigeria's president, Muhammadu Buhari, has condemned this latest shooting, calling it "heinous". But, so far, he has failed to do what Nigerian citizens really need him to - establish security. The longer these acts go unpunished, the longer they will continue.
Strong stance
Ahead of the elections in February 2023, every parliamentary candidate is putting security at the top of their agenda. We must support them, increasing our engagement with governments across West Africa as a matter of urgency. We must strengthen cooperation and assistance to ensure that the fragile state of Christian groups in the region does not deteriorate further.
At Open Doors, we are calling on the Nigerian government to adequately discharge its legal obligation of duty to protect its citizens, under international and domestic law. We are also calling on the authorities to take a strong stance against all violence, properly investigating crimes and holding perpetrators accountable under the justice system.
According to the Open Doors World Watch List, which ranks the 50 countries where Christians face the most extreme persecution annually, Afghanistan and North Korea are the most dangerous countries overall. However, Nigeria is by far the most violent place for Christians to live. It is time to break the cycle of violence that is now rapidly expanding to other areas of the country – and beyond.

Ben Cohen is the head of media and PR at Open Doors UK and Ireland, a charity that speaks up for and supports Christians around the world who are persecuted for their faith. When he's not gazing at a screen he is frantically unpacking his life's artefacts or looking at the world slightly askance.
View full Profile