Changing the law to undermine the traditional Christian understanding of sexuality and marriage - and the ability to support those who wish to live it out - will hinder the progress that's been made to better support LGBT people in our churches, says Living Out's Andrew Bunt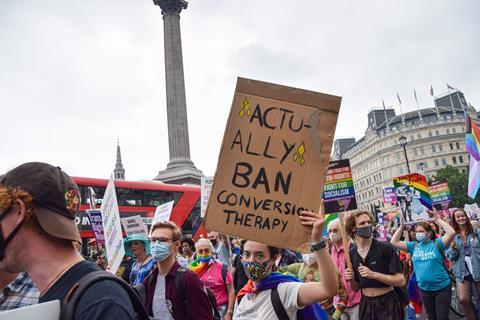 As the conversation about the government's commitment to end conversion therapy continues, more and more stories of the experiences of LGBT people in churches are emerging. As a gay Christian, I have been following these stories closely. Often, they have made for difficult reading.
Gay and trans people have been told that their experience is the result of demonic activity. Some have been forcibly subjected to prayer, sometimes involving physical violence. Others have been treated in ways that suggest same-sex sexual activity is an unforgivable sin or, even worse, that just experiencing same-sex attraction or gender dysphoria renders them unacceptable to God. Things have been said and done to LGBT people that should not be said or done to anyone.
Necessary change
Conversion therapy is not easy to define. It's hard to say whether it is the best term to encapsulate all of these experiences but, regardless of what we call them, these experiences provide evidence of ongoing misunderstanding, ignorance and mistreatment of LGBT people in a small number of UK churches. The accounts have often left me longing, and praying, for change.
Law cannot change theology. And it cannot change heart attitudes
And there is no doubt that change is necessary. Not a change in people's sexual orientation, but a change in the understanding and practice of some churches. I believe this change is happening – I have seen and experienced it myself.
I am a man who is exclusively attracted to other men. I am also a Christian, who believes the traditional Christian teaching that sex is for within marriage between one man and one woman. Like many other Christians who experience same-sex attraction, I can testify to that fact that our experience of being in UK churches is different today than it was even a decade ago. Many of us are in churches who love and faithfully support us as we seek to follow Jesus in all areas of our lives, including our sexuality. As part of the team at Living Out – a charity that helps people talk about faith and sexuality – I know that there is a huge appetite among church leaders to learn how to better love and support LGBT people. More change is needed, but change is happening.
A change of heart
But this positive change could grind to a halt. Many want a ban on conversion therapy that not only criminalises harmful attempts to change someone's sexuality, but that could also outlaw the teaching of the traditional Christian understanding of sexuality and marriage - and the provision of support to live it out for those who wish to access it.
Protecting religious freedom is key to protecting LGBT people
The problem is, the law will not and cannot bring about real change in people's understanding and approach to something like LGBT experience. Law cannot change theology. And it cannot change heart attitudes. To facilitate the sort of real, deep-level change required to protect LGBT people, we need the freedom to teach, discuss and grow. The ban some want could take away these freedoms.
If the ban takes the form that some are fighting for, it could criminalise work that seeks to challenge the homophobic and other unchristian attitudes towards LGBT people that are, sadly, still sometimes present in some UK churches. Rather than being challenged, these wrong and harmful attitudes would go unaddressed as Christians would live in fear of transgressing the law if they were to seek to better explain the Christian understanding of sexuality. Such a law would not only stop attempts to change people's sexuality, it would also stop attempts to change churches in order to protect LGBT people.
Real change
If we want to see real change take place – change that seeks to make all churches safe places for LGBT people – we need to make sure that the traditional Christian perspective can still be taught, and that Christians are still free to encourage and challenge each other as we seek to live as faithful followers of Jesus. Making sure that the conversion therapy ban safeguards key human rights like freedom of religion and expression is necessary if we want to safeguard LGBT people.
Those who are campaigning for a broad ban on conversion therapy want to make churches safer places for LGBT people. So do I. But we can't do that by limiting religious freedom. Protecting religious freedom is key to protecting LGBT people.
You can have your say on the upcoming conversion therapy ban by responding to the Government consultation that is accepting responses until 10 December. Find out more here.

Andrew is part of a church on the south east coast and is emerging generations director at Living Out (livingout.org). He studied theology at Durham University and King's College London and loves wrestling with big cultural ideas and helping people to understand and apply the Bible. He is the author of People Not Pronouns: Reflections on transgender experience (Grove) and Finding Your Best Identity: A short Christian introduction to identity, sexuality and gender (IVP).
View full Profile