Samantha Smith was studying for her A-Levels when schools were closed due to Covid-19. Like many vulnerable young people, it turned her world upside down. The education secretary has now admitted it was a "mistake" to ban kids from the classroom, but she believes the government must do more to repair the damage done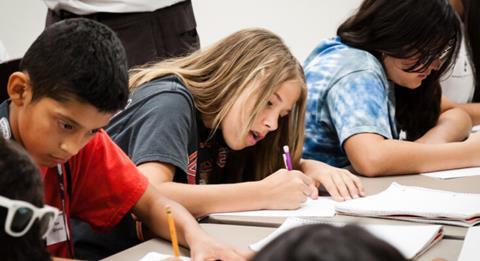 When the pandemic first hit, I was 17 years old, homeless and working three jobs to support myself through my studies. For kids like me, school was not just a place of learning: it represented safety, security and a guaranteed hot meal. School was the place where I showered when I didn't have access to one; where I napped when I hadn't had anywhere to sleep the night before; my Head of Year washed my clothes when I didn't have access to a washing machine and my school bought me a towel and toiletries to keep myself clean. At school, there was always a shoulder to cry on and someone to talk to.
When word of a new, highly transmissible and potentially deadly virus reached the United Kingdom in early 2020, the thought of losing all that was beyond comprehension. I remember sitting in a maths lesson with my phone on the desk, watching the death toll climb up. My classmates and I could feel the world around us – an existence that revolved around the academic calendar – falling apart. We huddled together in study rooms after school to watch the Prime Minister address the nation, waiting for the announcement that we all knew was coming.
Sometimes, a comforting word and the knowledge that they are not alone is all a child needs
In the end, we were given just two days' notice. In two days, the school gates would shut indefinitely and millions of children would have to adapt to life locked inside their homes, alone for hours on end with nothing but the faint blue glow of their computer screen to keep them company.
Safe through the storm
If it weren't for my faith in God – and the knowledge that he would keep me safe through the turmoil that followed – I don't know how I would have coped. In time, I came to understand that the hardship I had experienced was a necessary foundation for a brighter future. I prayed that we would see the end of those dark days and emerge kinder, stronger, and more united. Now, two years on from the start of the pandemic, apologies are beginning to roll in from those responsible.
In a recent interview, education secretary Nadhim Zahawi admitted that it was a "mistake" to ban kids from the classroom during the height of the coronavirus outbreak. He stated that "keeping kids in education must always be a priority and going forward it is absolutely a priority".
But looking back over everything that I – and millions of young people like me – went through, I am still finding it hard to accept these apologies. The impact of school closures on kids from difficult backgrounds, like my own, was unimaginable. If society is judged by how they treat their most vulnerable – the poor, the sick and the young – then the wilful disregard with which our education was treated is a damning indictment of modern Britain.
Significant damage
In his interview, Mr Zahawi admitted that the damage to young people, particularly in terms of their wellbeing and education, has been "significant". Recent studies by Ofsted, the NSPCC and the Institute of Fiscal Studies have reached the same conclusion. Younger pupils are approximately 22 months behind what would typically be expected from children their age. Older students have lost physical fitness as well as reading and writing skills.
Children as young as five are having panic attacks or suffering from serious mental health disorders. Many young people are experiencing mental health problems for the first time in their lives – depression, eating disorders and self-harm figures all increased as vulnerable children were left feeling isolated from their usual support networks – while others have regressed to the point where they have forgotten the skills and knowledge they had previously learned.
A poor substitute
From the very beginning, it was clear that online learning was no replacement for face-to-face teaching. After all, a Zoom call cannot replicate human interaction, nor is it an adequate substitute for children with complex support needs. The government insisted that children were resilient and would "bounce back" from the past two years of disruption and isolation, but I have my doubts. Yes, children are strong and capable, but the impact of the pandemic on young people will be felt for years to come.
Depression, eating disorders and self-harm figures all increased as vulnerable children were left isolated
The Department for Education cannot simply sweep their responsibilities under the rug with half-hearted apologies and promises to "learn from their mistakes". If the government is serious about bridging the gaps in children's development, investment is now key. Children's mental health services were woefully underfunded before the pandemic. Now, they're falling apart at the seams. There needs to be more investment in catch-up programmes and social services to support the most vulnerable in society.
Simply put, children need support in all areas of their lives, both inside and outside the classroom. As Christians, we must be ready to welcome them with open arms and a listening ear. Sometimes, a comforting word and the knowledge that they are not alone is all a child needs, and that is something we can all provide.
I have faith that the government wants to do right by young people, but it is time for them to put words into action, and ensure that pupils will never again have to wonder when they will next be able to go to school.

Samantha is a conservative journalist and commentator at the Spectator, The Daily Mail and The Telegraph.