In protesting against the death of Mahsa Amini, women and girls in Iran are showing breathtaking courage. So why have we in the West been so lukewarm in our support, asks George Pitcher?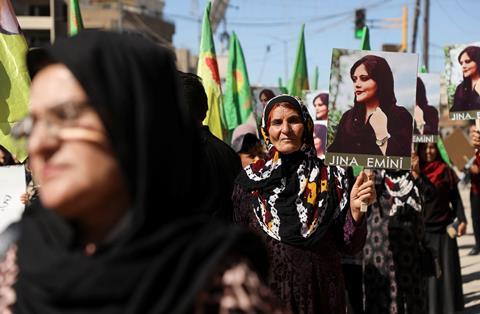 Mahsa Amini, a 22-year-old Kurdish student, set off a little over a month ago for a sightseeing and shopping trip to Tehran. Emerging from a train station, she was approached by the morality police, who arrested her for being improperly veiled and showing some hair. Some hours later she was admitted to hospital, beaten and bruised. She later died there.
This week, an Iranian sports climber, Elnaz Rekabi, reportedly went missing at the Asian Championships in Seoul after competing without wearing her hijab. Shortly after, she was flown back to Iran "in disgrace" (in Tehran's words). Some journalists have suggested that the apology issued on social media, saying her hijab "inadvertently" came off, was written under duress. Her current location is unknown, and there are some concerns that she may be incarcerated in Evin prison, infamous for holding Iranian dissidents and the location of riots that have so far killed 13 people this week.
Whether she, too, suffers a mysterious fall, knocks her head and dies of "natural causes" (as was claimed by the authorities in the case of Amini) may well depend on the success of the unprecedented women's protests in the wake of the latter's death.
Pride and protest
With breathtaking courage, women and girls of all ethnicities have taken to the streets in Iran and rallied behind the slogan: "Women, Life, Freedom", launching an apparently fearless challenge to Iran's theocracy. A video shared on social media last week showed schoolgirls in Tehran giggling as they stamped on a framed photo of Khomeini and his successor Ayatollah Ali Khamenei.
If the Archbishops and/or The Pope have launched a joint statement against Iran's violent misogyny, I must have missed it
Middle fingers have been brandished at the supreme leaders, headscarves publicly burned and women have cut their hair off in defiance of the patriarchy. One seasoned female reporter in the UK told me: "It makes you weep with pride." Rana Rahimpour, The BBC World Service's Iran specialist, posted a clip of three little girls, no more than ten years old, joyously waving their hijabs, their thick manes swinging freely.
Weep with pride we may, but the West should also cringe with shame.
Where is the firm affirmation of these extraordinary women's rights to freedom? Where is the pledge to stand with them against oppression? US President Joe Biden has threatened "further costs" to those responsible for violence against peaceful protestors. France has pushed for the EU to "target senior officials and hold them responsible." The UK government has summoned the Iranian ambassador, with foreign secretary, James Cleverly, describing levels of violence against women in the country as "truly shocking".
Taking a stand
Quite frankly, that's pathetic. If Western governments offered Iranian women one-tenth of the support that they offered the people of Ukraine, they would be escalating already imposed sanctions against Iran and arming the dissidents. But existing sanctions are only about Iran supplying drones to Russia for its invasion of Ukraine.
And where is the Western Church? If the Archbishops and/or The Pope have launched a joint statement of condemnation against Iran's violent misogyny, I must have missed it.
It's almost as if the Church has form on paternalism and the oppression of women. Perish the thought…
It surely can't be that church leaders are still struck by the apostle Paul's injunction to the Corinthians that "the head of the woman is man" and that "every woman who prays or prophesies with her head uncovered dishonours her head—it is the same as having her head shaved." (1 Corinthians 11:3,6). Paul was a man of his time. But we are people of our own time too. We are entitled to see what is happening in Iran through our own moral and societal lens, just as Paul was entitled to view his society through his.
The greater example
We might add that the greater example is set to us from the Gospels, with the apostleship of Mary Magdalene, the liberation of the Samaritan woman at the well (John 4), the healing of the bleeding woman (Luke 8) and the levelling-up of the Syro-Phoenician woman who begs "crumbs from the table" (Matthew 15) – to name but a few.
To ignore the women of Iran is to be complicit in the oppression not just of them, but of those women in the Gospels. And that must be a sacrilege.
With breathtaking courage, women and girls of all ethnicities have taken to the streets in Iran
A defence (of sorts) of Western nations, which seek to serve by only standing and waiting, is to take refuge in geo-politics; these demonstrations are not an attack on Islam, as Kamin Mohammadi wrote in The Guardian, but a call to end the abuses of a state that has taken Muslim symbols and used them as a weapon to suppress half the population. But the Ayatollahs have never shied away from conflating their politics and religion – and nor should we in the face of such cruelty and oppression.
Ultimately, it's about where we believe power resides. In the ancient world, hair had mystical power. In the Hebrew Bible's story of Samson, his lover Delilah saps his power by cutting his hair. In the New Testament, Paul believed that women shamed themselves by cutting their hair. But today, Iran's women have found their power by doing so. We might witness to that inversion of power as resonant with our gospel of good news, affirm it and act accordingly.