In the race to become Scotland's new First Minister, research says the candidates shouldn't be focussing on sex and gender but the future of the planet, says Laura Young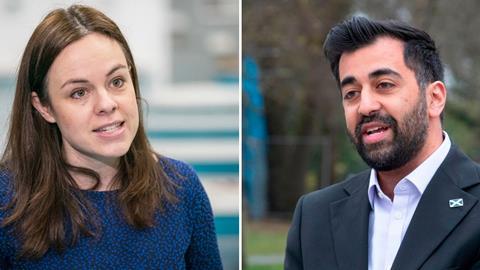 Here in Scotland, there's been one topic dominating conversation over the past couple of weeks: can you be deeply religious – or at least follow a religion that holds conservative views on some of the biggest issues of our day – and hold a top government job?
For some, the answer is no: you should never mix religion and politics, and any personal views should be kept out of decision-making. For others, it's impossible to separate religious beliefs that are integral to how a person sees the world – from how they vote to how they make decisions about legislation.
Younger people are more likely to oppose a climate change denier than a candidate who opposes abortion
As the religious convictions of Kate Forbes and Hamza Yousaf – both frontrunners in the race to replace Nicola Sturgeon as leader of the SNP – are put under the spotlight, how they view issues such as same-sex marriage, abortion and gender self-identification are being questioned.
Committed to justice
My generation is often characterised by our commitment to justice and the outrage we feel when groups are marginalised because of their race, gender or sexuality. We're pretty vocal about any sort of discrimination. But there's one thing, above all other so-called hot topic issues, that keeps us up at night, and that's climate catastrophe.
A new YouGov poll commissioned by the religion and society think tank Theos explores which views might be so controversial as to bar people from holding public office (at least according to the public). It suggests that views on climate change are the biggest litmus test among the younger generation.
Younger people (18-24 year olds) were more likely (68 per cent) to oppose a climate change denier holding a top political job than a political candidate who would oppose abortion (62 per cent) or same-sex marriage (56 per cent). For my generation, it's not sex we're obsessed with, it's climate change.
A different obsession
While most of us would oppose any candidate perceived to be against some of the hard-fought identity and reproductive rights won over recent decades, the thought of a climate denier having political power is a terrifying one.
Because this is by far the biggest issue facing the world. As Greta Thunberg said: "Almost no other question is going to matter in the future". Continued inaction, or lack of radical action on the climate catastrophe we're in means we simply won't have a future. We won't exist.
And it's not just about our future, but about the present. For those living in poverty and facing the full effects of climate change in the global South, it's not just about a distant future fear, but a present, tortuous reality.
This the top concern of this generation. But is anyone listening?
Leading by example
A separate survey of more than 10,000 16-25 year olds from around the world on climate anxiety in 2021 found that 65 per cent of young people thought governments are failing young people in their response to climate change. And 60 per cent said governments were dismissing people's distress.
For my generation, it's not sex we're obsessed with, it's climate change
Of course, it isn't just down to political leadership – we're not completely helpless. That's why I campaign tirelessly on issues such as nature-based solutions to climate resilience, plastics reduction and waste reuse, as well as the growing issue of single-use disposable electronic vapes which are now littering our streets, wasting precious materials and fuelling a throwaway culture.
But it can't be all on us. We need political leaders who are kept awake at night by the scale of what needs to be done on climate change, not those who are side-tracked by culture wars.

Laura Young (aka Less Waste Laura) is an award winning climate activist, environmental scientist, and ethical influencer. She is currently working on a PhD in climate resilience work at the University of Abertay and the University of Dundee. She campaigns on numerous environmental issues. Her recent campaign to ban disposable plastic vapes led one newspaper to call her "the vape crusader." She was recently awarded the Scottish Influencer of the Year
View full Profile