Kate Forbes has been "incredibly brave" in the way she's fielded questions on her Christian beliefs in recent days, says Tim Farron. Given she's continuing to top the polls in the race to become Scotland's next First Minister, the public clearly value her honesty and integrity, he says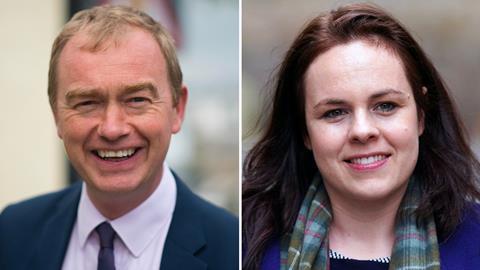 Kate Forbes' Christian faith has led to some vocal opposition to her candidacy for SNP leader and First Minister of Scotland. The media is, once more, consumed with questions about whether someone with a faith can hold high office in our political system – and even whether Christians should be allowed to bring their views into the public square at all.
It's OK to hold a faith, it seems, so long as it is treated as a private hobby, carried out in your spare time, like fell-running or stamp-collecting. It might seem a bit odd to others, but it's fairly harmless.
Moral maze
This view is so mainstream that I have read it in a perfectly serious column in The Times this week. Journalist Alice Thomson stated that of course your strong religious beliefs should not preclude you from standing as a political leader, just as long as (a) you distance yourself from all the contentious bits and (b) you don't actually tell anyone about your views. In other words, you're most welcome to participate, but please ensure your faith doesn't actually guide anything you think, say or do.
Nobody can accuse Forbes of being evasive. Surely this is a positive trait
This position is ridiculously inconsistent. Everyone has a moral framework that they bring into their decision making. It's ludicrous to say that atheists and secularists can bring their worldview into the room but Christians can't. The persistence of the idea is based on a fundamental misunderstanding of faith by a religiously illiterate society.
A different way
Today's dominant worldview encourages us to choose, create and defend our own identities with the ultimate aim of self-fulfilment. But the Christian story tells us that we do not belong to ourselves; we have been saved by God's self-sacrificial love and redeeming grace, and not through any of our own efforts.
This is a radical and uncomfortable idea in any age, as is the notion that we should be so overwhelmed by what Jesus has done for us that we should choose to live our lives for him, in the light of eternity. To hold to what the Bible teaches on how we live our lives will always be counter-cultural.
If Christians seem strange to others, even offensive, well, that's kind of the idea. But it also means we have more work to do to effectively communicate our message of hope to an uncomprehending world.
Honest and open
In 2017, when I was leader of the Liberal Democrats, I faced similar media scrutiny over my personal religious convictions. Kate Forbes clearly decided that she didn't want to re-create my 'rabbit in the headlights' look, and I think she has been incredibly brave in her decision to lay all her cards on the table at the outset.
I could have been wiser in the way I handled the issues. But nobody can accuse Forbes of being evasive about her views. Surely this should be seen as a positive trait. The public is always calling on politicians to be more honest, to not side-step tricky questions and to say what they actually think.
It's ludicrous to say secularists can bring their worldview into the room, but Christians can't
If Forbes has been this upfront about (potentially) the most difficult questions she will ever be asked, she will surely be trustworthy when setting out her views on other issues. This is a sign of great integrity, and one that voters and society should be applauding, whether they agree with her or not.
United front
It remains to be seen whether the debate will now move on to give Forbes' views on other key issues - such as the economy, poverty and Scottish independence – such a share of air time.
Kate Forbes and I are on opposite sides of the political divide. I believe strongly in the Union of our four nations and, if I was looking purely at the politics of this issue, I would not want her to win the election. She is clearly the best person for the job, as well as being the biggest threat to the United Kingdom.
But she is also my sister in Christ. And so I am praying for her to stand firm against the personal onslaught she is facing against her faith and her motivations. She is just as entitled as any of her colleagues to step into the fray and, arguably, more talented, and honest.

Tim Farron is MP for Westmorland and Lonsdale, and former Leader of the Liberal Democrats. He is the author of A Mucky Business: Why Christians should get involved in politics. Tim is also the host of Premier's 'A Mucky Business' podcast, which you can listen to on your chosen podcast provider.
View full Profile