Is the focus on what the ex-prime minister knew about gatherings at No 10 a distraction from the real issues of politics, asks Tim Farron, or is it an opportunity to highlight the importance of honesty and integrity in high office?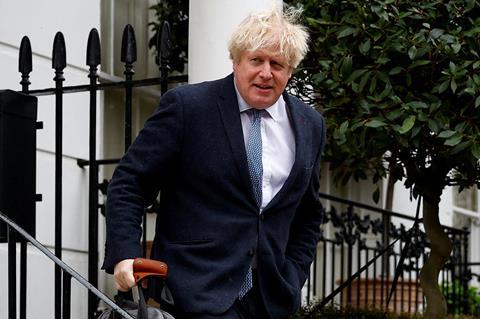 Amid a show of strength from the Russian and Chinese leaders, an international banking scare and an utterly damning report about the Met Police, the story grabbing most of the media attention this week is…Boris Johnson.
The former Prime Minister is due to appear before the Commons Privileges Committee as part of its investigation into whether he misled Parliament by denying that Downing Street was holding parties during the Covid-19 pandemic, when such gatherings were banned by his own government in order to slow infections, protect the NHS and save lives.
We need to be wise in the way in which we ingest and react to outrage whipped up on both sides
The subsequent revelation of photographic evidence, and a series of WhatsApp messages where officials tried to work out how to justify the gatherings, ultimately led to Mr Johnson being ousted as Prime Mnister by his own MPs last summer.
Weaponising the fight
The cross-party committee has been deliberating for months now, and the flurry of anticipation at his appearance this week reminds us just what a prominent status he still holds. For Mr Johnson, the committee's decision could lead to his suspension from the Commons. This could open the way for a petition of 'recall' by his constituents.
Some of his opponents would undoubtedly use this to try to force a by-election to eject him from Parliament. Meanwhile, the Conservative Post have suggested the committee is a "kangaroo court" and are calling on his supporters to – ironically – "protect the integrity of our political system".
Both sides are weaponising the circumstances, heightening the current culture of mistrust and political posturing. And it plays right into the hands of an over-excited media, who know that Boris Johnson is celebrity gold when it comes to selling papers – or, in today's online world, generating clicks.
Above the rules
In my opinion, Mr Johnson's current predicament stems from the fact that he has never felt the rules applied to him, and this has now landed him in a particularly sticky situation. And for those looking on, it once again seems to prove that, as someone once said, politics is indeed a mucky business.
But is this all just a massive distraction from the (arguably) many more important things that are going on in the world?
If Christians in politics can agree on one thing, it must surely be that integrity matters when it comes to holding public office. We need leaders who will focus on the challenges rather than the optics; seeking to address the underlying issues affecting our society and economy rather than playing to the gallery.
We know a general election is coming in the next 18 months and therefore politicians are even more aware of their need to chase approval. But my experience of talking to my constituents on their doorsteps demonstrates that they want a serious government who will get on with the process of governing in the interests of others.
And my experience of being an MP for the last 18 years tells me that most of my colleagues really do care about standards in public life, and genuinely want to make a positive difference to society. Yet we are focusing on who said what in a WhatsApp message and how it can best be interpreted to save the political bacon – or put the final nail in the coffin – of a former prime minister.
The real deal
But if character and integrity are as important as we think, then perhaps the focus on Boris Johnson isn't a side show distraction after all? Perhaps it really will help us to promote the importance of honesty and decent behaviour in high office?
We need leaders who will focus on the challenges rather than the optics
Christians should be continually praying for leaders who will prioritise a love of neighbour and care for the vulnerable. We need to pray for those with whom we disagree, and to be wise in the way in which we ingest and react to outrage whipped up on both sides.
In 1 Timothy 2:1-4, Paul urges "that petitions, prayers, intercession and thanksgiving be made for all people – for kings and all those in authority, that we may live peaceful and quiet lives in all godliness and holiness".
Prayer is our opportunity to go directly to the creator of the universe, to the one who holds all things in his hands, and who is intimately concerned with how we are governed by those wielding influence over our lives.
Let's pray for integrity and truth to be prioritised in the way that we do politics today.
Each week Christian MP Tim Farron unpacks the murky world of politics and encourages believers around the UK to engage prayerfully. Tim will share what life is like in Parliament, which issues Christians should care about and what you can do to make a difference. Listen now at www.premierchristianity.com/muckybusiness

Tim Farron is MP for Westmorland and Lonsdale, and former Leader of the Liberal Democrats. He is the author of A Mucky Business: Why Christians should get involved in politics. Tim is also the host of Premier's 'A Mucky Business' podcast, which you can listen to on your chosen podcast provider.
View full Profile