Evangelism is a ministry for the whole Church, not just a few, says James Lawrence. But it doesn't have to be intimidating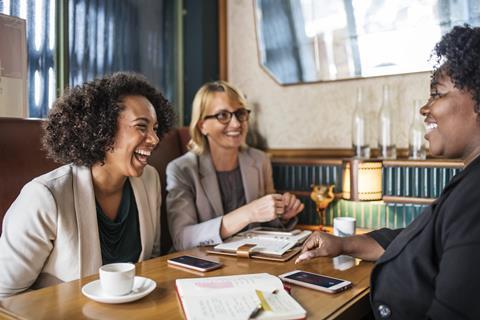 Take a moment to think about how you came to faith. As you reflect, can you identify someone - or some people - who helped you on your journey? A parent who nurtured faith in you from early childhood. A brother or sister who took you along to a youth group. A friend who talked about their Christian faith with you. A colleague or neighbour who invited you to church. A minister who encouraged you to attend an enquirer's course. You get the idea.
In my experience, nearly everyone can identify someone, and the vast majority are everyday, unknown Christians who God has written into our stories. From the way God wrote Ananias into Saul's life in Acts 10, through to the person he has written in your story, this is the main way people come to faith. Research backs this up. It isn't normally a paid Christian worker, minister or evangelist that people talk about, it is an ordinary Christian. Someone like you. You are the main player in God's desire to reach all people with the good news about his son, Jesus Christ.
That is great news, because through ordinary Christians in their everyday lives we are connected with millions of people across our nations. So how might we best share our faith?
1. Pray
Prayer reminds us that God is the evangelist not us, it isn't all up to us. I love the 'Pray for 5' initiative at the heart of Thy Kingdom Come. Identify five people you know who aren't yet disciples of Jesus and pray that they may come to know the life transforming love of Christ. If you are unsure what or how to pray, we've created a simple resource to help you.
2. Serve
Look to bless others and serve them in word and deed. We serve by blessing people through kind words (there is a reason why the Bible has so much to say about the use of our tongues), offering to help others whenever we can (a willingness to go the extra mile), and sharing what we have (because ultimately nothing we have is ours, we are simply stewards of what God has given to us). Take a cake in to celebrate someone's birthday at work. Cut your neighbour's grass when they are away. Encourage someone after they have done something well. Comfort someone by listening attentively.
You are the main player in God's desire to reach all people with the good news
3. Own up
It is much easier to keep quiet about our faith, but God invites us to own our faith in simple but significant ways during everyday conversation. When asked about your weekend, don't forget to mention something about church in the midst of the other things you did. When asked about how you are coping in a challenging time, own up to the part your faith plays in helping you through. When talking about a global issue, speak about how your faith shapes your approach to it. When someone shares a concern or difficulty with you, explain you are a Christian and ask if you can pray for them. There are lots of opportunities that arise in regular conversation to 'own up' to our faith in sensitive and appropriate ways.
4. Invite
There are a range of things we can invite people to. Here are some suggestions:
To a connecting event such as a coffee, a drink at the pub, a meal out, food at home, a social event with others from church or an online gathering.
To join us in serving the needs of others such as a foodbank, night shelter, lunch club, overseas mission trip or street clean.
To consider Jesus: through giving them a gospel, blog post, article or book to read; inviting them to watch a film or YouTube video, listen to a sermon, spoken word or podcast; encouraging them to attend a service, event or enquirers' course geared for those who are not yet Christians.
5. Nurture
Key to all this is to ensure our churches are places where we nurture a faith-sharing culture, because evangelism is a body ministry, something we are called to do together, not on our own. This isn't easy, because there are so many other things that require our attention in church life, but it is possible. To help with this, we've created a resource that looks at seven core shifts a church can make to help the ministry of evangelism become more central to the life of a church.
I wonder whose story God is looking to write you into this week.

James Lawrence is the Leadership Principal at CPAS, and writes, teaches and trains on leadership and evangelism in the UK. He is passionate about resourcing the local church to be well led and mission focused, is a semi-professional photographer, and loves ironing!
View full Profile