As many churches hold in-person meetings again, Peter Lynas believes we're in a period of significant change.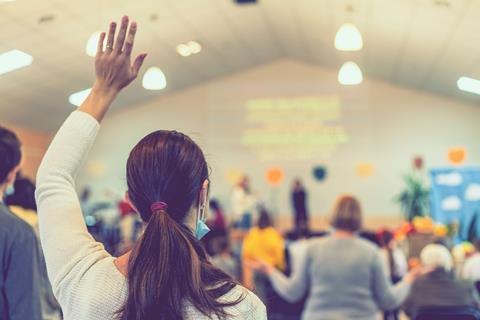 One of the great things about my job is hearing from church leaders right across the UK. We are in a season of significant change and the Evangelical Alliance will shortly be running survey trying to better understand what is going on and help churches as they navigate the new landscape. Based on conversations with lots of leaders in different contexts and some informal polls, here, in no particular order, is what I am hearing and seeing in terms of church re-gathering.
Volunteers - less people are volunteering to do less things. There is a healthy reset in this but also a challenge in providing ministries. Tough but necessary choices are being made as to what to run.
Hybrid/online - some have stopped to encourage in person, some see hybrid as crucial and a few think online church is the future (though many more don't). It's resource intense and many leaders are reviewing it.
Finances - a mixed bag here. Many are doing OK and some have grown. Some are just feeling it now as people are only now making decisions about church and giving. But generally the feedback is good.
Frequency - people are returning but showing up less frequently. Before a congregation of 150 people meant just over 100 showing up on a given Sunday, now its maybe 75. Roughly 10% have left, 10% have moved church, 10% aren't back yet and the rest show up less often.
Discipleship - previous shortcomings have been exposed. Lots of talk of spiritual formation, family discipleship/worship, and inter-generational challenges. We need to learn form other contexts who build resilience not based on meeting weekly.
Community/pastoring - those who made the phone calls, dropped round printed sermons and generally showed up in the pandemic are doing OK. Those known for pastoring are attracting new people, especially with the rising mental health challenge.
Evangelism - this has been tough as people have retreated into smaller circles/bubbles seeing less people. But the pandemic forced many to reassess and ask big questions and online has worked for some and some of those are showing up at church in person.
Fracturing - there's a small but consistent challenge around masks, vaccines, vaccine passports and conspiracy theories. These can be quite destructive with long term members leaving over such issues.
Youth/Kids/Young families - lots of youth leaders were furloughed, youth work struggled more than most, family patterns/habits seem to have changed most. There are huge challenges and opportunities here.
Grief - there is still a lot of grief to be processed. Some churches have conducted community services for those who have died and created a space for mourning which has been well received.
Deconstruction - People are reflecting differently on life and faith. Some of this is a healthy reset looking at why church and why gather, some is less so as the support structures and community aren't there in the same way leading from doubt to disengagement.
Unity - there is a heart and passion for unity. Few want to go it alone and most are looking for new ways to partner. Leaders are tired and unsure what is ahead, but they want to work together and support each other and believe that God is doing a new thing.
Perhaps the last thing I would add is that everyone's experience is of course slightly different. There are some recurring themes as noted above, but each church ministers in a different context, with a different history and each story is and will be different. We would love to know what you are hearing and seeing. We will be gathering more stats and stories to share and you can join the conversation on Twitter

Peter Lynas is the UK director the Evangelical Alliance and co-leads the Being Human project.
View full Profile