The Christian MP Sir David Amess has died after being stabbed inside a Methodist Church in Essex. Mervyn Thomas pays tribute to him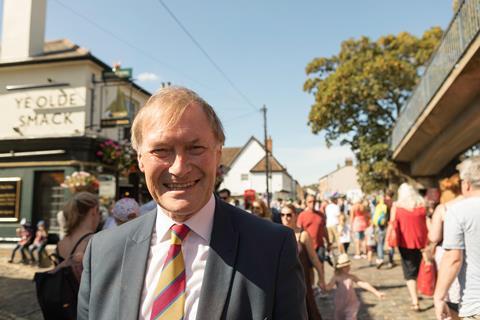 I've known David for just short of 50 years. We both grew up together in Essex and were involved in Young Conservatives.
I remember the first trip we ever did together - I took him to Communist Russia in 1987. I remember picking him up at 5:30am in the morning and he was complaining because his kids were already up and watching TV. He was a member of the North Korea APPG for many years working on religious freedom.
David was great fun to be around. He was always cracking jokes and had a great sense of humour. David was also deeply religious. He was a devout Catholic and a God-fearing man. He was kind, compassionate and deeply caring. That came across in everything he said and did.
David had been a member of Parliament since 1983. He campaigned on human rights, animal rights and religious freedom. He was a social conservative, but in other ways was quite right wing. He was certainly a Brexiteer and took firm stances on gay marriage and abortion, and yet he was popular across the house. Politicians of all parties liked and revered David.
When I heard the news, I burst into tears
This happening to anyone is absolutely tragic. It's also not the first case of its kind. Another Christian MP Stephen Timms was stabbed in his surgery in 2010. He survived and Roshonara Choudhry, a British former student and an Islamic extremist, was later found guilty of attempted murder. More recently, Jo Cox MP was also stabbed and killed on the way to her surgery.
You do ask yourself, "Why?".
It's certainly come as a shock to me. I loved David and I'm really going to miss him.
Everyone knows that David was a man of faith. And sometimes people can blame God in situations like this. But we should pray this turns people toward God, rather than the other way around.
When I heard about this news, I burst into tears. So I can't even begin to think what his wife Julia and their five children are going through. We need to uphold them in prayer. We should pray for his constiuency, his staff in parliament and those who were close to him.
We should pray for protection too. It's quite obvious now after this, and what happened both with Stephen Timms and Jo Cox, that when our MPs go to their surgeries on a Friday or Saturday, they are vulnerable. We must pray for protection on all our members of Parliament.
Mervyn Thomas was speaking on Premier Christian Radio's 'Daytime with Cara Bentley' programme

Mervyn Thomas is Founder President of CSW, a Christian human rights organisation standing with those facing injustice for their beliefs and advocating for Freedom of Religion or Belief.
View full Profile