Last week the UK hosted the International Ministerial Conference on Freedom of Religion or Belief in London. Mervyn Thomas explains what took place, and why it matters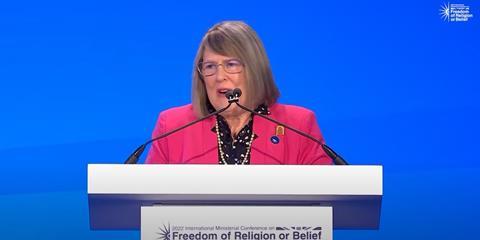 Last week more than 800 government representatives and members of civil society from 100 different countries came together in London for the International Ministerial Conference on Freedom of Religion or Belief (FoRB).
It was an amazing privilege to meet with policy makers, parliamentarians, activists, human rights defenders, journalists, lawyers and many others to discuss pressing issues and challenges to the right to FoRB, and most importantly, to identify ways to move forward.
As I emphasised in my remarks in the concluding plenary session, the Ministerial was proof of the record high levels of political awareness on FoRB at the moment, but what we need to do now is go from being a movement to a mass movement.
Crucially, we need to engage a new, younger generation of FoRB defenders, those who can carry the torch and keep the momentum going. One of the best ways to do this is through education – we need to make sure that young people are taught at school about the fundamental importance of FoRB, and of the ways in which it can intersect with many other human rights. We also need to ensure that this education is extended to diplomats around the world, equipping them with an understanding of exactly what FoRB is, what and who it protects, and crucially, what it isn't and does not protect.
In addition, and as the UK Prime Minister's Special Envoy on FoRB Fiona Bruce MP (pictured, above) put it, we must absolutely make sure that the commitments made over the last few days are implemented.
This Ministerial cannot become a nice memory of a talking shop where we all got together and shared our ideas; we need to follow this with concrete action.
One step that we would like governments to take is to sign up to the International Religious Freedom or Belief Alliance (IRFBA), which brings together representatives from around the world on a regular basis to discuss and react to FoRB issues as and when the need arises.
We also want to see more countries appointing high level FoRB envoys, like we have here in the UK and in several other European countries such as Denmark, Germany and the Netherlands. These individuals can play a unique role in championing the right to FoRB in government policy, and governments must also ensure that they are fully resourced to carry out their work effectively.
It is also essential that we continue to work together. The Ministerial was an excellent testimony to the spirit of community, of refusing to be divided by our beliefs or nationalities, and instead standing united in pursuit of our common goal to see the right to freedom of religion or belief realised for everyone, everywhere. Governments must co-ordinate their efforts, and continue to work closely with civil society organisations to hold to account any nation or individual that is responsible for FoRB violations, no matter how powerful they may be.
If we can do all this, the Ministerial will mark the start of a vital new chapter in the situation of FoRB around the world. Let's seize this opportunity while we can.

Mervyn Thomas is Founder President of CSW, a Christian human rights organisation standing with those facing injustice for their beliefs and advocating for Freedom of Religion or Belief.
View full Profile