Many in the West feel powerless to help. But as Emma Fowle discovers, Christians in the UK are making a difference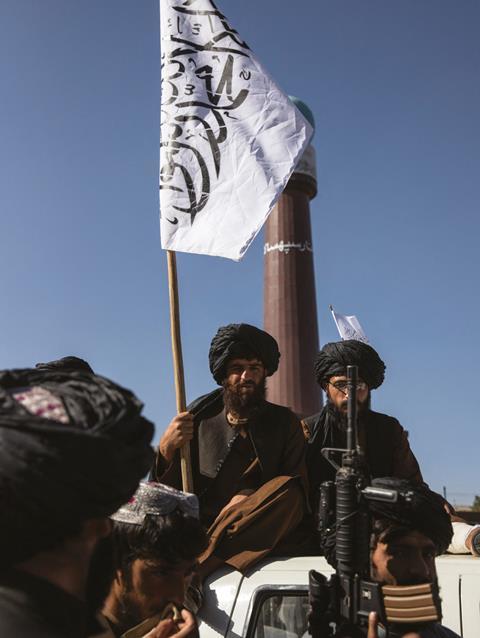 When President Joe Biden spoke to reporters about the withdrawal of US troops from Afghanistan in July, he said he did not expect a Taliban takeover of the country. "It is not inevitable," said Biden. Just weeks later, however, he was forced to admit that events had unravelled far "more quickly than we had anticipated".
For Christians in Afghanistan, the return of the Taliban brings mortal danger. Converting to Christianity was already illegal, even under the previous US and UK-backed government, making it the second most dangerous country in the world to be a Christian, according to the anti-persecution charity Open Doors. Now, with the return of the Taliban's brutal enforcement of sharia law, International Christian Concern (ICC) says that Afghanistan's Christian community, which exists largely underground, is filled with fear.
There are an estimated 12,000 Christians in Afghanistan, the largest religious minority group in the nation. Almost all have converted from Islam, which is considered a crime. And under sharia law, apostasy carries a death sentence.
"Some Christians are already receiving threatening phone calls," a Christian leader in Afghanistan, whose name has been withheld for security reasons, told ICC. "Unknown people say: 'We are coming for you.'" In a statement from Frontier Alliance International, Christian leaders warned that the Taliban are hunting Christians down. Reports suggest they have been searching phones, checking for Bible apps, reportedly killing people on the spot if they discover the scriptures on their devices.
"The Taliban has a hit list of known Christians they are targeting to pursue and kill," they said, and were "going door-to-door taking women and children". There was "no longer a safe place for believers to take refuge" in Afghanistan, they added. "People are fleeing into the mountains. They are fully reliant on God, who is the only one who can and will protect them."
Mike Pompeo, the former US secretary of state has warned that the situation is "likely to become a genocide against Christians" if no decisive action is taken. In the UK, the Most Rev Justin Welby, Archbishop of Canterbury, tweeted: "The tragic failures we are witnessing in Afghanistan – and their devastating impact on its men, women and children – demand prayer and urgent humanitarian action." He also said the UK had "an undeniable moral obligation to welcome refugees".
WELCOMING REFUGEES
With our newsfeeds filled with heartbreaking images – people clinging desperately to the fuselage of a departing aeroplane, beauty shops boarded up and women protesting against exclusion from public office – many are feeling there is little that they can do to help. And yet, with refugees arriving in the UK daily from Afghanistan, there are opportunities to be Christ's hands and feet to those escaping unimaginable horror. Krish Kandiah, of Afghan Welcome, which brings together churches and charities to support refugees from Afghanistan, has said that Christians in the UK now have "a wonderful opportunity to show the love of Christ in very practical ways".
In Milton Keynes, Rev Steve Woods helped to organise a cricket match to welcome the refugees placed in temporary accommodation close to his church. Woods described the event, which drew national media coverage, as the "most iconic moment in our response to date". Bringing together the Church and local community to create a moment of joy for those uprooted from their homes, he told Premier Christianity the game had been a reminder that "our very actions are the gospel" and that God had "once again reminded us that his kingdom is primarily for those outside our buildings, rather than those inside them, wherever they may be from".
In London, St Paul's Church Marylebone welcomed more than 70 refugees placed in a nearby hotel by helping staff to prepare a welcome area and organising donations of baby essentials, clothing and toiletries. Rector Clare Dowding said it was "very moving to see how much the families appreciated the support, especially those who had lost luggage or had to leave with literally the clothes on their back". She was struck "by the very basic needs for baby essentials, formula, bottles, nappies – as well as a large number of children and adults without extra clothing".
PEOPLE ARE FLEEING INTO THE MOUNTAINS. THEY ARE FULLY RELIANT ON GOD, WHO IS THE ONLY ONE WHO CAN PROTECT THEM
To meet this need, Afghan Welcome has set up wishlists, enabling people to purchase essentials such as baby food, nappies and toiletries. So far, more than 17,000 items have been purchased, and 550 churches have signed up to partner with them. Kandiah has called it a "unique moment" for the UK Church, urging Christians to respond as they can – by donating money or goods, praying for an end to conflict in Afghanistan and for those who can no longer safely stay there and welcoming refugees into their communities and churches.
As the media glare dies down and the news agenda moves on, it could be easy to forget that many left behind in Afghanistan remain in grave danger. May we continue to hold them in our prayers. And may we continue to welcome those who seek refuge in the UK, demonstrating God's love in as many practical, creative and joy-filled ways as we can imagine.

Emma Fowle is assistant editor of Premier Christianity and editor of Voice of Hope, Premier's quarterly devotional magazine. Emma is a trustee for Christian festival Creation Fest and lives in Cornwall with her husband and two teenage daughters. She loves to read, swim in the sea, play netball and lift weights with her dad.
View full Profile